This tasty Fish Paella is full of veggies with just a light touch of seafood, for those who aren't quite ready to tackle a full out seafood paella.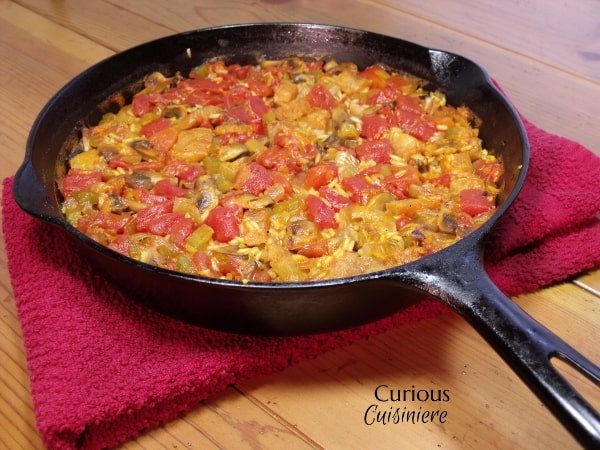 What is Paella?
Have you heard of paella?
It's a Spanish rice dish that originates from Valencia, a region along Spain's Eastern coast. It is such a traditional Spanish dish that many would consider it the national dish of Spain.
While there are three classic types of paella: seafood, mixed (meat and seafood), and Valencian (meat, green vegetables, and beans), like many dishes that are rooted in tradition, paella is more of a technique than a set recipe.
Hopefully I'm not over-simplifying things. But, looking at the dish this way helped us to take paella from a seemingly un-approachable feat, to quite a tasty challenge.
How To Make Paella
Here are the basics:
Meat is sauteed in olive oil. Vegetables and seasonings are then added and sauteed. Next, the rice is added. Finally, the water or broth is added, along with any seafood, and the dish is simmered over a fairly high heat, uncovered and undisturbed, until the rice is cooked.
(For the Valencian version the water is added before the rice and allowed to simmer with the meat and veggies to create the broth that the rice cooks in.)
This makes Paella a fantastic one-dish meal that is incredibly versatile and brings out the flavors of whichever ingredients you have on hand.
Our Mushroom and White Fish Paella Recipe
For this vegetable and fish paella, we used mushrooms and white fish, making this paella a nice introduction to paella for those who might not be up to a full blown seafood paella medley.
The combination of mushrooms and fish gives this paella a nice and mellow flavor that beautifully complements the bright tomatoes.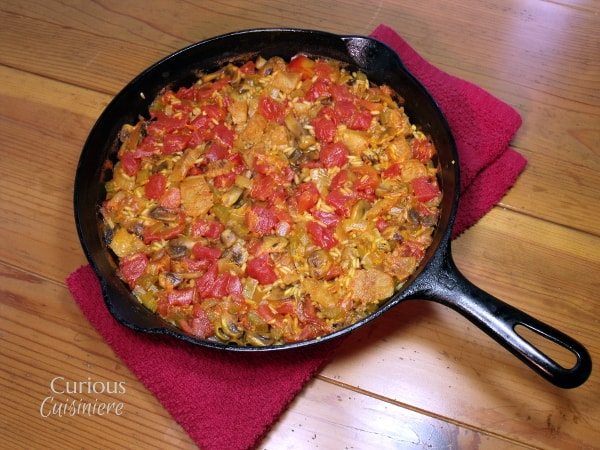 If you love paella, be sure to check out our more traditional shrimp and chicken paella too!
Mushroom and White Fish Paella
This tasty Fish Paella is full of veggies with just a light touch of seafood, for those who aren't quite ready to tackle a full out seafood paella.
Yield: 1 (12 inch) skillet
Ingredients
1

Tbsp

olive oil

1

onion,

diced

1

celery stalk,

diced

8

oz

mushrooms,

sliced

3

garlic cloves,

minced

1

c

white rice,

dry

1

(14.5 oz) can

diced tomatoes

2

c

chicken stock

(we prefer low sodium)

½

c

white wine

2

tsp

parsley

1

tsp

thyme

1

tsp

salt

1/4

tsp

ground black pepper

1

lb

white fish

(pollock, cod, etc), cut into 1" chunks

1

c

water

(as needed)
Instructions
In a 12" cast iron skillet heat olive oil over medium high heat. Add onion, celery, mushrooms, and garlic and sauté until soft, 5 min.

Add rice and sauté until lightly toasted and shiny, 1-2 min.

Add tomatoes, stock, and wine along with parsley, thyme, salt, and pepper. Mix to combine. Add fish nestling the pieces in the mixture.

Simmer over medium heat, uncovered and undisturbed, for 10 min. If your mixture begins to dry out add a little water. After 10 minutes, lower the heat to medium low and continue cooking until the rice is tender. (When you are finished, you should have a slight crispness to the bottom layer of rice. Not burnt, mind you, just a slight crisp browning. If you start to smell burning during the cooking process, turn your heat down.)

Remove the pan from the heat, and let stand for 5 - 10 minutes for any final moisture to absorb.
If you liked this recipe, here are some similar dishes you may enjoy!