Arroz Rojo is a Mexican rice dish with many names. Whether you know it by the name Spanish Rice or Mexican Red Rice, this side dish is a tasty accompaniment to any meal. 
Arroz Rojo
In Mexico, rice is served with nearly every meal.
There are so many ways to prepare rice. This staple is far from a bland and boring addition to the table.
Take arroz rojo, or 'red rice'.
If you've been to a Mexican restaurant, you've probably tasted some form of this flavorful rice side dish.
At its most basic, arroz rojo is a rice pilaf that is flavored with tomatoes and garlic. Sometimes you will find vegetables added in, and sometimes you will find it plain. But, either way, it is a great way to jazz up your typical rice side dish.
What's The Difference Between Spanish Rice And Mexican Rice?
What would you call this side dish of red rice?
Mexican rice?
Spanish rice?
Most people we know would call this dish "Spanish rice".
Funny thing is, this tomato and rice dish is unknown in the cuisine of Spain. (Spanish pilaf-style rice dishes are often yellow in color because of saffron, like paella.)
In Mexico, the dish is typically just called arroz rojo, or 'red rice'.
I'm inclined to believe that the confusion was started by those grocery store boxed side dish mixes as they tried to diversify their offerings and make it seem like these were two different things.
So, now the general public thinks Spanish rice and Mexican rice are two distinct dishes, when in fact, Spanish rice doesn't really exist at all.
Strange how things evolve.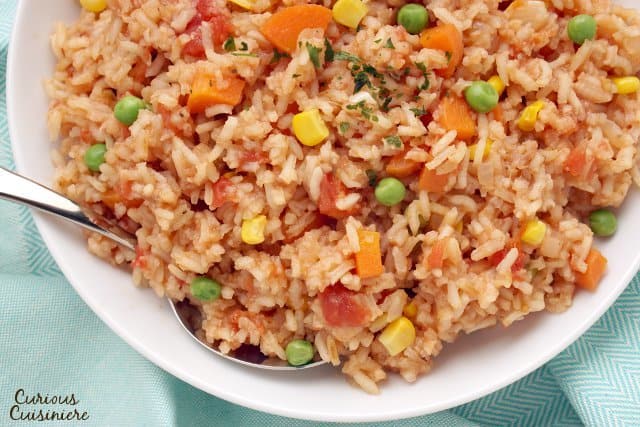 Tips To The Perfect Mexican Red Rice
So now that we know what it should be called, here are a few tips to making perfect, restaurant quality Mexican red rice.
Rinse your rice. This simple step stops the rice from clumping as it cooks.
Toast your rice. Another simple step adds a great depth to the dish.
Use stock, not water. Cooking the rice in stock adds another layer of flavor.
Chop your carrots. You want any veggies you add in to your Mexican rice to be about the size of peas.
Don't lift The lid. Your mom was right. Rice needs steam to cook up nice and fluffy. Lifting the lid lets the steam escape before it does its job.
Why Make Homemade Mexican Rice?
Can't I just get a box from the store?
Sure, you could.
But really, this dish is so simple to make that you shouldn't think you need to reach for the boxed mix.
And, if you need them, here are a few more reasons to convince you why making it yourself is better.
Making it yourself takes just as long as making it from the box
Your veggies will be fresh, not re-hydrated
Homemade is lower in sodium than the box mix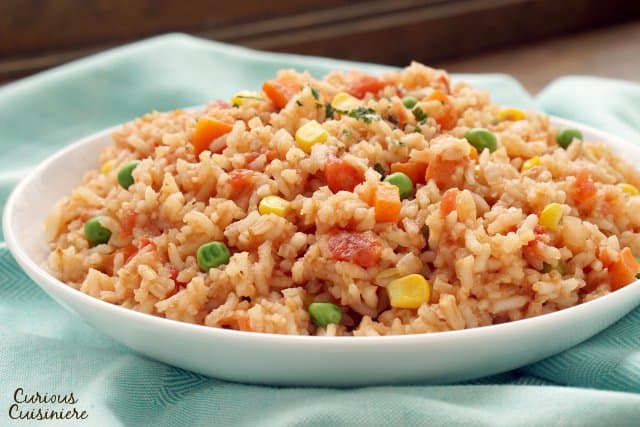 Our Arroz Rojo Recipe
Arroz rojo is such a versatile side dish.
You can make it with just tomatoes, onions, and garlic for a simple side dish.
Or, you can add another dimension of flavor and color by adding some small veggies to the rice.
Peas, corn, and small diced carrots are the most traditional veggies to add in.
But whatever you add, you just want to be sure to keep it diced small. This helps it to cook fast and gives the dish a good overall consistency.
How To Use Arroz Rojo
This dish makes a great side dish to go along with many Mexican dishes, like pork carnitas, red mole, or fish tacos.
But don't stop there!
We love adding rice to our burritos along with refried beans and salsa!
How do you like to serve Mexican rice?
Arroz Rojo (Mexican Red Rice)
Ingredients
1

Tbsp

oil

1

c dry

rice,

rinsed and drained

½

onion,

diced

2

cloves

garlic,

minced

1

(14 oz) can

diced tomatoes,

undrained

1 ½

c

chicken or vegetable stock,

warmed

1

c

mixed vegetables

(peas, corn, diced carrots)

½

tsp

salt
Instructions
Heat the oil in a medium saucepan. Add the rinsed and drained rice. Sauté the rice over medium high heat for 3-5 minutes, until golden.

Add the onions and garlic. Saute 2-3 minutes, until softened.

Add the diced tomatoes, warm broth, vegetables, and salt.

Bring the mixture to a simmer. Reduce the heat to medium low and cook, covered, for 20 minutes.

After 20 minutes, remove the pot from the heat and let the rice stand, covered, for 10 minutes.

After resting, fluff the rice with a fork. Taste and adjust the salt as desired.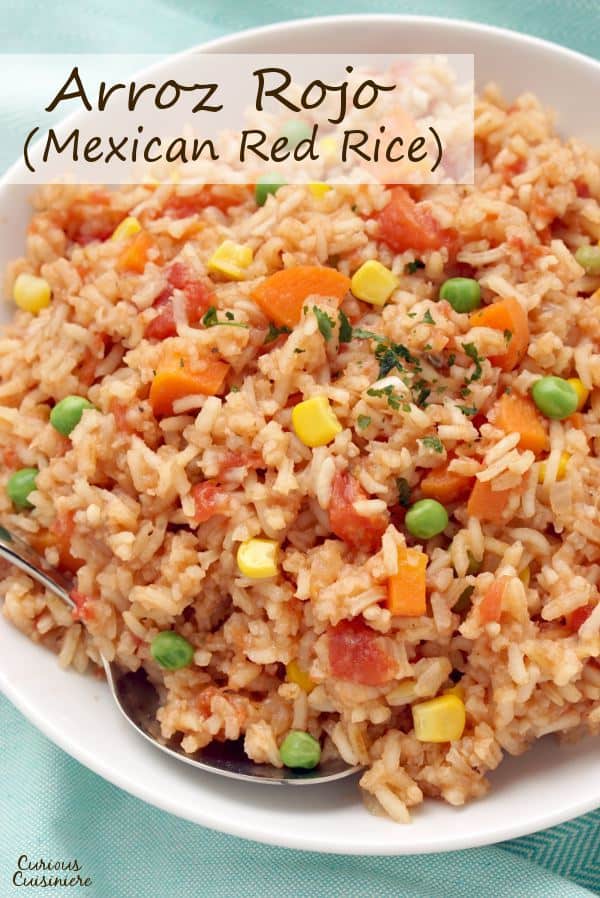 If you liked this recipe, here are some similar dishes you may enjoy!