We've taken all the essentials of Spanish Paella and added our own tricks to make an incredibly Easy Paella Recipe that can be made in 30 minutes!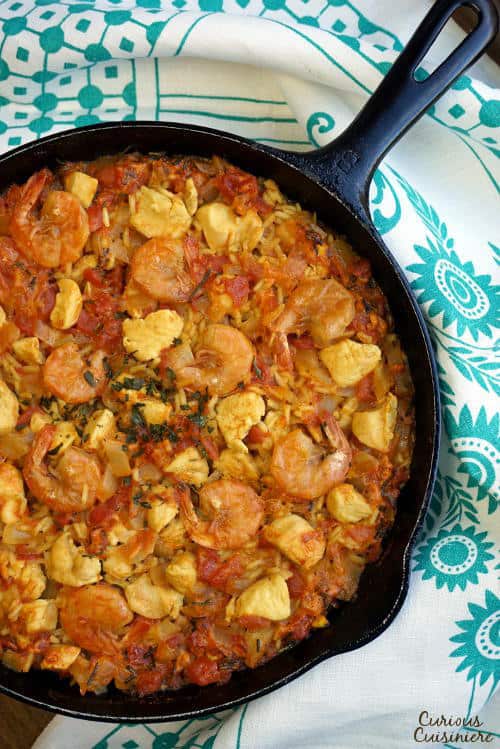 Paella is an iconic Spanish rice dish that originated from the town of Valencia on Spain's eastern coast.
It's easy to think of paella like just another rice pilaf or risotto. But, you would be mistaken. It is denser and smokier than most pilafs and much drier than a risotto.
The first time I tasted an authentic paella, I knew it was different. It can be hard to put your finger on it, but there is a definite smokiness and robust flavor that tells you this is no ordinary rice dish.
The Paella Pan
The term paella refers to the pan that the dish is cooked in. The paella pan is hard to mistake. It is wide and shallow, coming from the time when paella was cooked only over open wood fires. These fires were hot and quick, so a shallow pan was needed to cook everything evenly.
The beautiful thing about the fact that the pan is so wide and shallow is that more of the rice has contact to the bottom of the pan, creating a flavorful crust called a socarrat, that is characteristic of paella.
If you don't have a paella pan, don't worry. We don't either.
A cast iron skillet, or other heavy-bottomed saute pan works wonders with the tricks for easy paella that we are sharing today!
Basic Paella Ingredients
Rice
It goes without saying that rice is key to any paella. Traditionally, Spanish small grain or medium grain rice is used, because of its ability to soak up the flavors while keeping its shape. (In contrast with arboro rice that is used for Risotto, which breaks down to develop the creamy risotto texture.)
If you don't have short or medium grain rice, again, don't worry. We're making paella as easy a possible today, so keep reading!
Sofrito
After the rice, THE essential part of paella is the sofrito. This flavorful mixture of onions, garlic, and tomatoes is lightly caramelized and gives the dish the base of its flavor.
When you cook the soffrito to a nice, deep color you get more flavor and give your paella a great color too!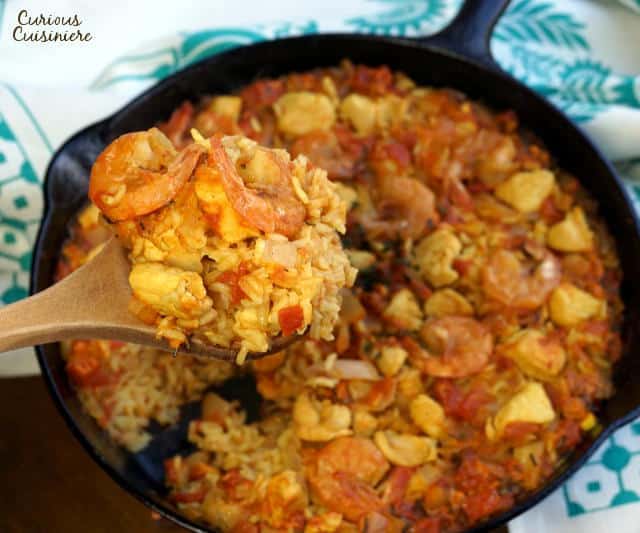 Meat and Vegetables
Originally, paella was made with a combination of chicken, rabbit, and snails. It wasn't until the mid 1900s, when tourism began to pick up in Spain, that the now classic combination of chicken and rice began.
If you travel up and down Spain's coast, you will find paella with every combination of meats, seafood, and vegetables.
So, once you get the technique down, feel free to experiment with whatever vegetables, meats, or seafood that you have on hand.
Paella can be a great way to use up leftovers!
Seasonings
Traditionally, saffron was and is still used in paella. Saffron was brought to Spain by Arab traders in the 900s. At that time, it was a preferred seasoning for rice, giving it a nice flavor and beautiful color.
Nowadays, saffron is VERY pricey. While many people still wouldn't think of making paella without saffron, others forgo the expense in favor of a more inexpensive coloring agent, like turmeric or paprika.
Making an Easy Paella
Ok, so now that you know a little about what makes a traditional paella, we're going to share with you our versions for a quick and easy paella that tastes just as good as the traditional version.
You already know that we use our cast iron skillet or other saute pan to make our paella. So, that's a good start. We kick the temperature up at the end of cooking time to mimic the high heat of the fire and create the tasty socarrat crust.
The other thing we do to mimic a flame-kissed dish is to re-create the smoky flavor of open fire cooking by seasoning the dish with smoked paprika and a bit of rosemary.
It's amazing what some well-placed seasonings can do!
Speaking of seasonings, we rarely have saffron to spare, particularly for a quick weeknight meal. So, instead, we use a combination of the paprika and a pinch of turmeric to give our paella a beautiful hue.
And, as for the rice, we've always made our paella with long grain rice, and never found it to be an issue. We always have some on hand, so it makes this recipe super easy.
What are you waiting for? Let's grab a slice of crusty bread and dig in!
Easy Shrimp and Chicken Paella
Classic Spanish Paella, made easy!
Ingredients
1

Tbsp

olive oil,

divided

1

lb

chicken breast,

cut into bite-sized chunks

1

onion,

diced

3

garlic cloves,

minced

1

can (14.5 oz)

tomatoes

(crushed or small diced)

2

tsp

paprika

(use smoked paprika for extra flavor)

1

tsp

rosemary

1

tsp

salt

½

tsp

pepper

¼

tsp

turmeric

(optional, for color)*

1 ½

c

rice,

dry

3

c

chicken stock

(we prefer low sodium)

½

lb

shrimp,

thawed if frozen
Instructions
Heat 1 tsp oil in a heavy, 12 inch, sauté pan (or high sided cast iron skillet). Add chicken and brown over medium high heat until golden on all sides, 1-2 min. Remove and set aside.

Add the remaining oil to the pan and heat over medium high heat. Add the garlic and onions and saute 1-2 min. Add the tomatoes (un-drained), paprika, rosemary, salt,and pepper. Sauté until the mixture begins to caramelize and darken, 3-4 min.

Mix in the dry rice and stock.

Mix in uncooked shrimp and chicken.

Bring the mixture to a simmer and reduce heat to medium low. Let the paella cook, uncovered and undisturbed, for 20-25 min, until it looks like all the liquid has been absorbed.

Then, crank the heat to high for 1 min until you can smell the rice toasting.

Serve immediately.
Notes
* Feel free to substitute ⅛ tsp saffron if you have it!
DISCLOSURE: This post contains Amazon affiliate links. These links are provided to help you find some of the more specialty products we mention in the recipe. If you make any purchase clicking through our links, we receive a small commission from Amazon, at no extra cost to you. Thank you for supporting Curious Cuisiniere!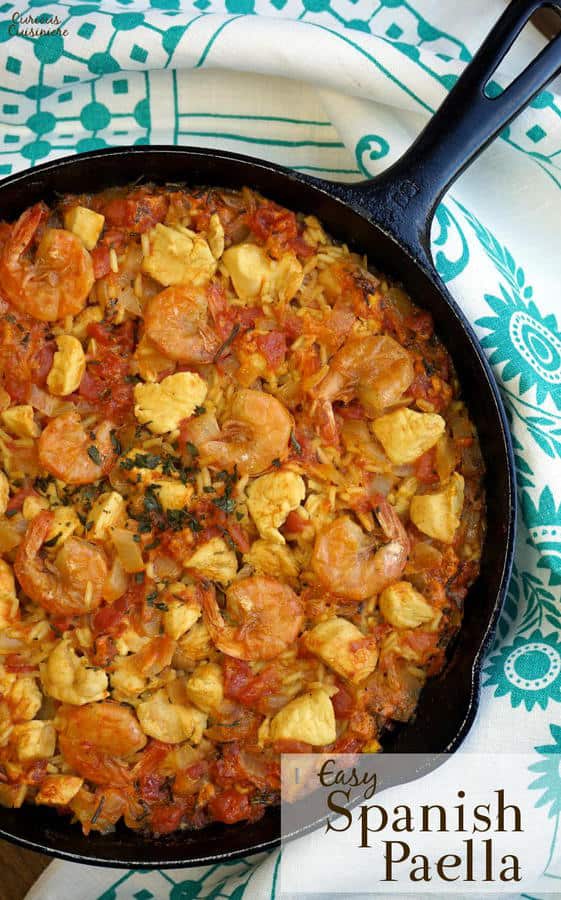 If you liked this recipe, here are some similar dishes you may enjoy!