This creamy squash risotto, Risotto alla Zucca, gets a slight sweetness from butternut squash. It's the perfect recipe for a warming fall dinner!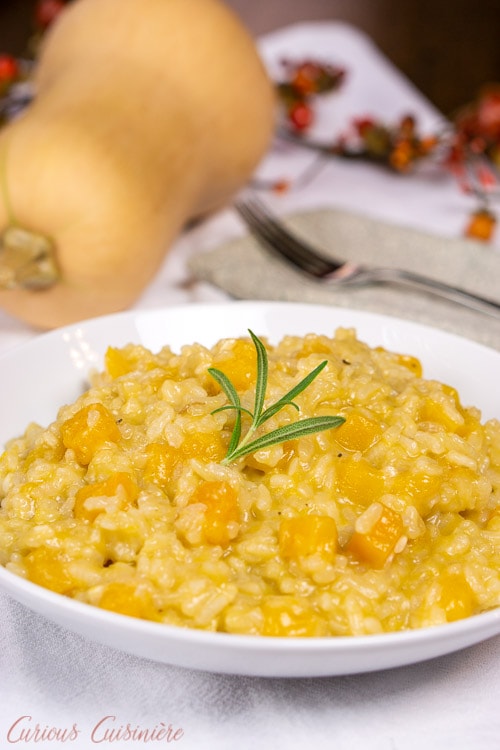 Risotto alla Zucca and Italian Pumpkin
A popular fall risotto, Risotto alla Zucca (pronounced ree-ZO-toe A-la SU-ka), is a winter squash risotto that traditionally uses Italian pumpkin.
However, Italian pumpkins differ slightly from American pumpkins. They are sweeter and less fibrous, much closer in flavor and texture to an American butternut squash.
It was the Spanish who brought the pumpkin and other squash to Spain from the New World. And, it was the Spanish who introduced pumpkins to southern Italy.
Their popularity quickly spread north to Venice and "zucca" became a staple food among Italian peasants.
Venice, of all places, became a mecca for growing and selling different varieties of "zucca". At one time it wasn't uncommon to find street vendors selling cooked and spiced slices of pumpkin as a sweet treat for travelers!
While Americans associate their pumpkins with pie or jack o' lanterns, the Italians associate their "zucca" with more savory fare like ravioli, gnocchi, and this classic risotto.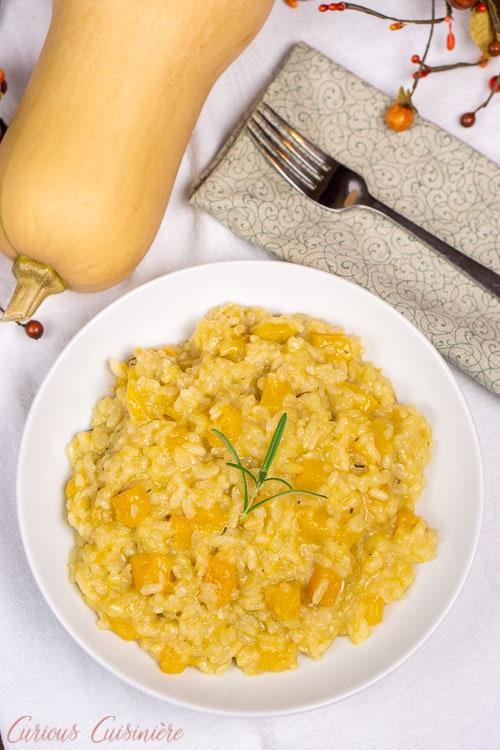 Our Italian Winter Squash Risotto Recipe
For our Risotto alla Zucca recipe we used butternut squash to mimic the sweet flavor of Italian pumpkin.
Combining sweet butternut squash with creamy arborio rice and Parmesan cheese makes for the perfect comforting meal for a chilly night.
If you are craving a bigger meal, sometimes sausage or sauteed mushrooms are added to this dish to make it more of a hearty main. Or, this risotto would act as a wonderful side dish to serve with pork or chicken.
This dish would also make a wonderful, unique squash side dish for your Thanksgiving table!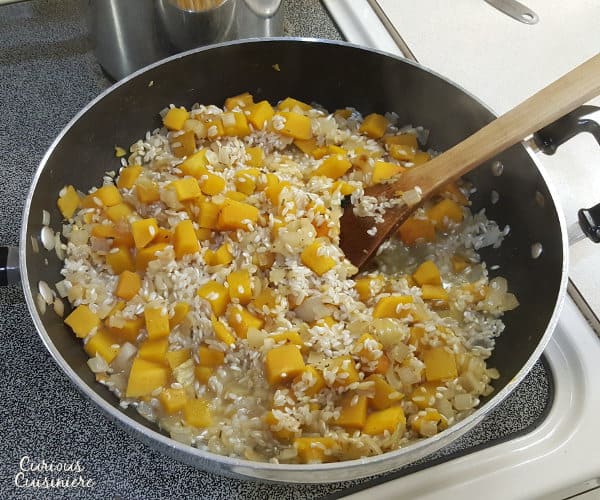 As you stand and stir your risotto, enjoy the smells of fall that fill your kitchen!
Risotto alla Zucca (Winter Squash Risotto)
This creamy squash risotto, Risotto alla Zucca, gets a slight sweetness from butternut squash. It's the perfect recipe for a warming fall dinner!
Yield: 8 cups of risotto
Ingredients
2

Tbsp

unsalted butter

1

onion,

diced

1

garlic clove,

minced

1

lb

butternut squash,

diced ½ inch (4 c diced)

1

tsp

salt

1

tsp

dry rosemary

6 ½

c

vegetable or chicken broth,

divided

1 ½

c

Arborio rice*

1

oz (1/3 c)

Parmesan cheese,

grated (plus additional for serving)
Instructions
In a large, 12" sauté pan with high sides, melt butter over medium heat. Add diced onion and garlic and sauté for 5 minutes, until softened. Add the squash, salt, rosemary, and ½ cup of broth and cook over medium heat until the squash begins to turn tender, 5-8 minutes.

While the squash is cooking, bring the remaining 6 broth to a simmer in a saucepan. Reduce the heat to low to maintain a slow simmer.

Add the rice to the squash mixture, and mix until evenly distributed.

Reduce the heat to medium low and add the broth, roughly 1/2 c at a time. Stirring between each addition and waiting until the broth has completely absorbed before adding any more. Continue to cook the risotto this way until the rice is soft and creamy, roughly 45 minutes. (You may not use all of the broth in your saucepan.)

Once the rice has reached your desired consistency, remove the pan from the heat and stir in the fresh, grated Parmesan cheese.

Serve immediately topped with additional Parmesan cheese.
Notes
* You can substitute regular white rice for the Arborio, however your risotto will not have as creamy of a consistency. The amount of broth and cooking time will also change slightly if using regular white rice.
Nutrition
---
We've updated our pictures since we first shared this recipe on Curious Cuisiniere, but we've left some originals here, in case you've found us in the past and are looking for that old, familiar image.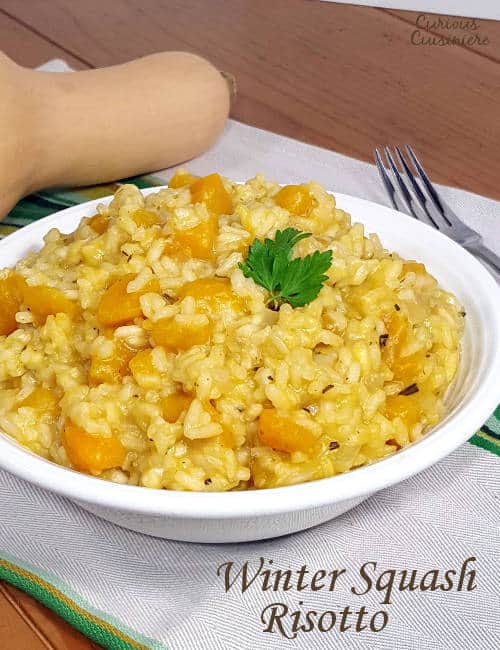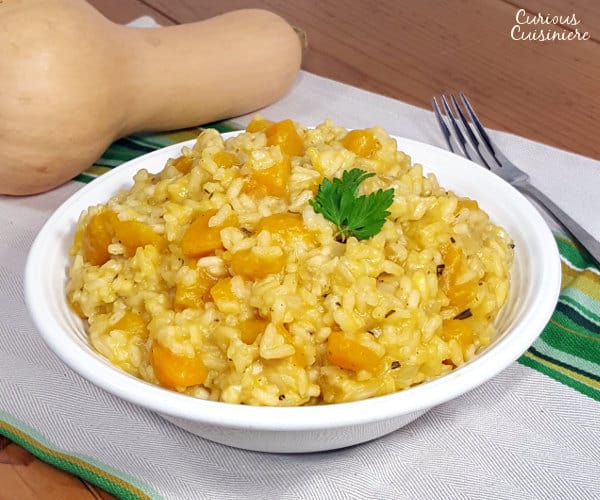 If you liked this recipe, here are some similar dishes you may enjoy!