Making Vegetable Pot Pie in a jar means that you have healthy, hearty, individual serving dinners right at your fingertips.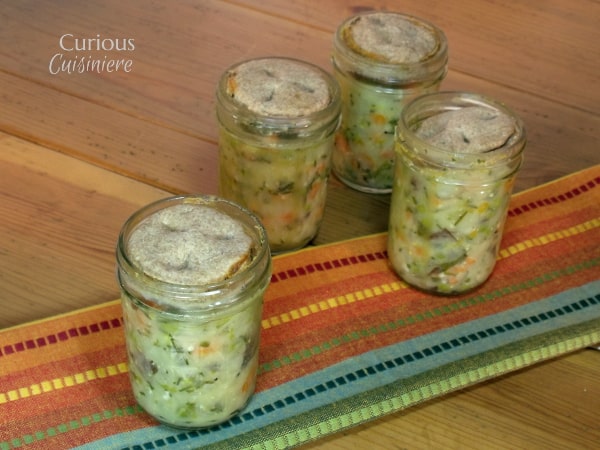 Using canning jars as serving, and even cooking, vessels is a big thing right now, but, a lot of what you see are single serving desserts.  So, we decided to step outside the box and take the "baked in a jar" concept savory with these individual vegetable pot pies with a whole wheat crust.
The whole "food in jars" thing seems to be all about the cute factor. Mini is cute. (Cake pops or cupcakes, anyone?) There are lots of people making really cute desserts and other dishes in jars. It's like the fact that some people are just naturally adorable and have that knack for coming up with cute creations.
Me? Well, it seems like try as I might, adorable just isn't something that comes easily.
I had grand visions for the "cute factor" of these little pot pies. And, I tried quite hard to get these guys looking as cute as a button. But they refused.
"I want to be sloppy and rustic," they said.
They may as well have been mocking my efforts at cute from the oven as they bubbled and sputtered.

Cute as they may or may not be, what they are is hearty and healthy. The filling is bursting with flavorful veggies in a rosemary sauce and the crust topping is hearty in a way that only whole wheat can be. They are quite tasty and the perfect serving size.
As an added bonus, they go easily from the fridge to the microwave for a quick, make-ahead dinner. I may be making more of them for those no-time-to cook nights. And that's a discovery that I'd call a win.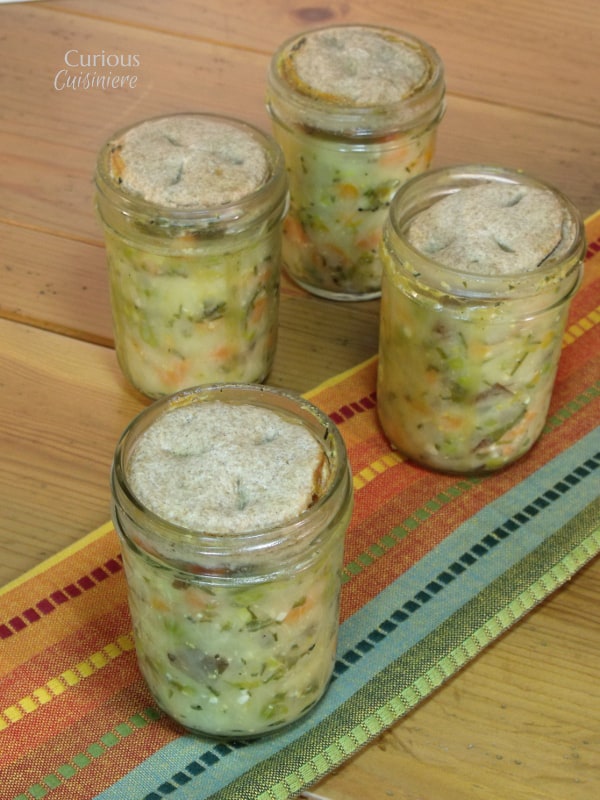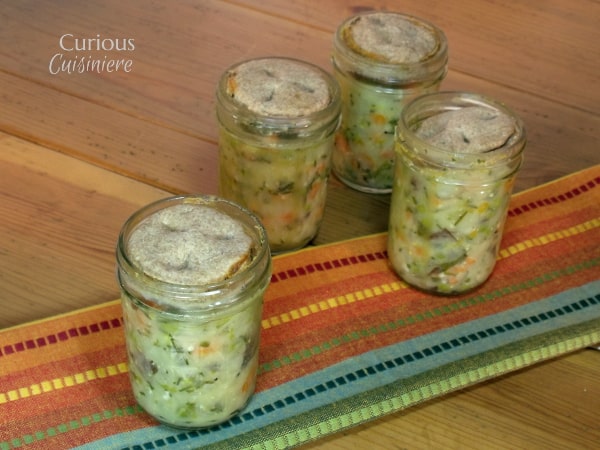 Vegetable Pot Pie in a Jar
Individual pot pies in jars are a fun way to serve this American classic.
Yield: 8 (8oz) pot pies
---
Ingredients
For the Filling
2

Tbsp

salted butter

1

onion,

diced

2

stalks

celery,

diced

4

garlic cloves,

minced

6

carrots,

diced

2

medium

potatoes,

diced

3 1/3

c

broth

(chicken, vegetable, etc)

2/3

c

dry white wine

(Chardonnay works well)

1

Tbsp

whole grain or dijon mustard

2

Tbsp

fresh rosemary,

minced (or 2 tsp dry)

½

tsp

salt

¼

tsp

ground black pepper

1

c

frozen peas

2

Tbsp

fresh chives,

chopped (or 2 tsp dry)

2

Tbsp

fresh parsley,

chopped (or 2 tsp dry)
For the Crust
½

tsp

salt

14

Tbsp

salted butter,

cold, cut into chunks

6

- 8 Tbsp

water,

ice cold (more as needed)
Instructions
For the Filling
In a medium soup pot, melt butter. Add onions, celery, and garlic and sauté until onions soften (1-2 min).

Add carrots and potatoes. Sauté an additional 3-5 min.

Sprinkle flour over vegetables and mix to coat.

Add broth, wine, mustard, rosemary, salt, and pepper. Bring to a boil and simmer over medium high heat until thickened slightly (5-7 min).

Remove mixture from heat, and add peas, chives, and parsley. Mix well and set mixture aside.
For the Crust
In a medium bowl, mix together flours and salt.

Add butter pieces and cut butter into the flour using a pastry blender or a fork.

When the butter bits are the size of small peas and very evenly distributed throughout the flower mixture, add the cold water, 1 Tbsp at a time, blending well with a fork as you add it. Continue adding water 1 Tbsp at a time, until the dough comes together around your fork and cleans the edges of the bowl. .

(If you will not be using the dough immediately, shape the dough into a ball and wrap it in plastic wrap to keep it from drying out. Place it in the refrigerator to keep the butter cool until you are ready to use it. If you're ready to make the pot pies, keep reading.)
Putting it all Together
Roll out crust to about a ¼" thickness. Use one of your jars to cut out rings of dough that will top off your pie.

Cut a few air vent slits in each circle of dough.

Fill each jar to ¼" below the rim with your pie filling. Top with your vented dough circle.

Place filled and crusted jars into a baking dish or cookie sheet. (This will keep any bubbling over from making a mess in your oven.).

Take the metal bands that typically hold the canning domes on, and tighten them loosely around the jar. (This will act like a pie shield and keep the crust edges from getting too dark. )

Place the dish with the jars in the oven and bake for 45 min, or until the crust is golden and the pot pies are bubbling like crazy.

Remove from the oven to a wire rack, and let cool 5-10 min before removing the metal rings and serving.
---
If you liked this recipe, here are some similar dishes you may enjoy!