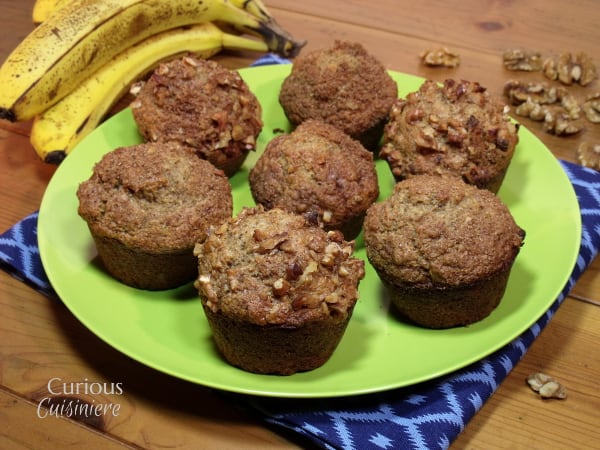 For many families, this time of year means back to school time!
Since we're not packing school lunches, and work lunches pretty regularly consist of leftovers from the week, we decided to take the route of food on the go.
Thinking about eating on the go made me think of my Dad, who would always stop to get muffins on his way to work. They were his breakfast in the car, and maybe his lunch, depending how busy his day became.
He always ate them a particular way too. As soon as the muffins were in his hands, the top came off. He'd eat the fluffy, exploded-over-the-sides-of-the-pan, top first, before peeling the wrapper and finishing off the bottom.
One of his favorites: Banana Nut.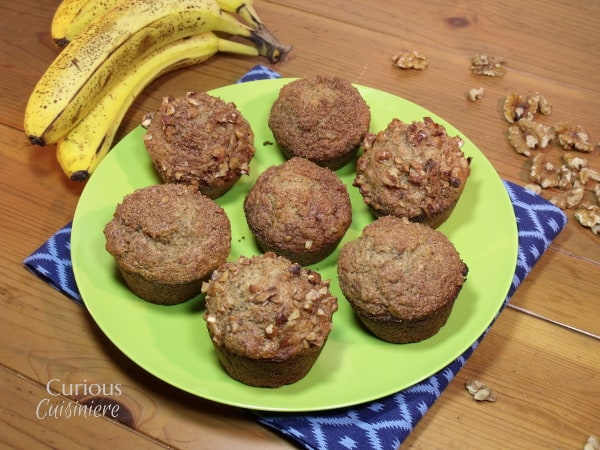 I was going for fantastic muffin tops with these guys, but they decided this would be the perfect opportunity to puff into lovely, robust domes.
Go figure.
And, since Tim likes his banana bread without the crunch, we've made the nuts optional.
With nuts or without, these muffins are bursting with moist banana flavor. And, you can still try to eat the top first.

Banana Bread Muffins
Yield: 1 dozen muffins
Author:
Sarah | Curious Cuisiniere
Ingredients
2 c over-ripe bananas, mashed (about 3)
⅔ c brown sugar
⅓ c white sugar
½ c milk
2 eggs
2 Tbsp oil
1 c all purpose flour
1 c white whole wheat flour (or all purpose)
1 c wheat flour
1 Tbsp baking powder
¾ tsp baking soda
½ tsp cinnamon
½ tsp salt
½ c walnuts, chopped (optional)
Topping
2 Tbsp brown sugar
½ tsp cinnamon
¼ c walnuts, chopped (optional)
Instructions
Preheat oven to 400F.
In a large bowl, cream together bananas, sugars, milk, eggs, and oil until well blended.
Add dry ingredients to wet mixture and mix with a spatula until just moistened.
Add walnuts (if using) and mix until just incorporated.
Spoon batter into greased muffin tins, filling ¾ of the way to the top.
In a small bowl, mix together topping ingredients. Sprinkle over the top of the batter.
Bake for 15 min, or until a knife inserted in the top of one muffin comes out clean.
Remove from oven and let cook in the pan for 5 min.
Remove muffins from pan and let cool on a wire rack.
Nutrition Information
Serving size:
1 muffin
Calories:
266
Fat:
7.6g
Saturated fat:
.6g
Carbohydrates:
45.8g
Sugar:
18.9g
Sodium:
158gm
Fiber:
2.9g
Protein:
6g
Cholesterol:
1mg
If you liked this recipe, here are some similar dishes you may enjoy!