Garden fresh tomatoes stuffed with a bright mixture of tuna and rice make for a perfect summer meal of baked tomatoes.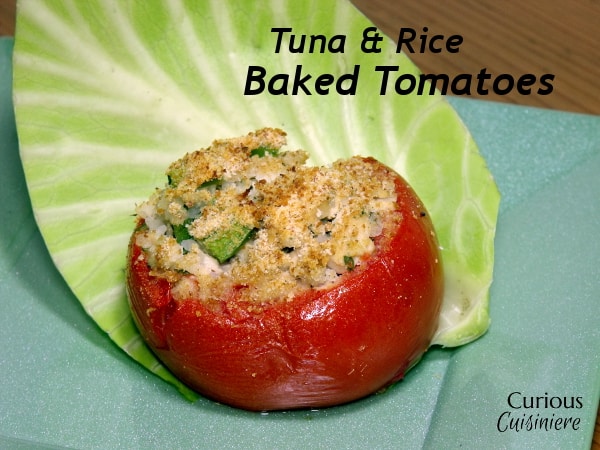 Here in Wisconsin, the tomatoes have started turning their brilliant red. That glorious color brings with it all the excitement of fresh, sun-ripened tomatoes, still warm from the vine. And, all that sweet tomato juice dripping right down your chin.
Stuffed Tomatoes
But, there are only so many tomatoes we can eat straight up or in salads. Then, it's time to start getting creative with ways to bring those bright fruits into every meal.
We often stuff squash or peppers. Even zucchini is a lesser-known veggie that works great for stuffing. But tomatoes?
Large, round tomatoes have the perfect skin for stuffing, even if they are not quite as firm as a squash or pepper.
Our Recipe For Tuna Rice Baked Tomatoes
Gently, remove the seeds and insides of the tomato, careful not to puncture the outer shell. These shells will become soft during cooking, so you want to give them as much structure as possible. Using a baking pan with 1-2″ sides where your tomatoes fit tightly together is another good way to give them support as they are baking.
The softer texture and bright flavor of tomatoes make them the perfect vessels for a rice and fish stuffing. as they become a quick and easy lunch or light dinner for the late summer months.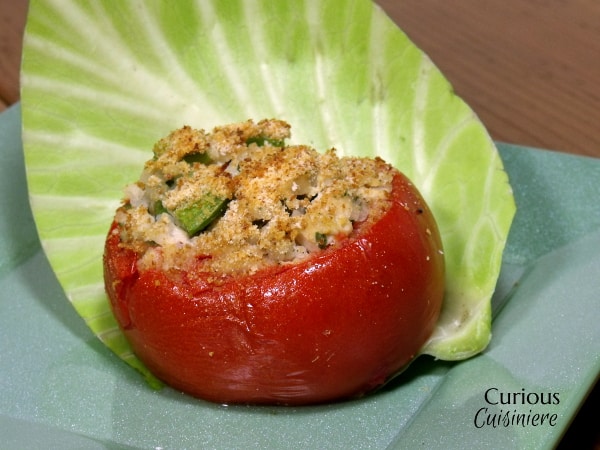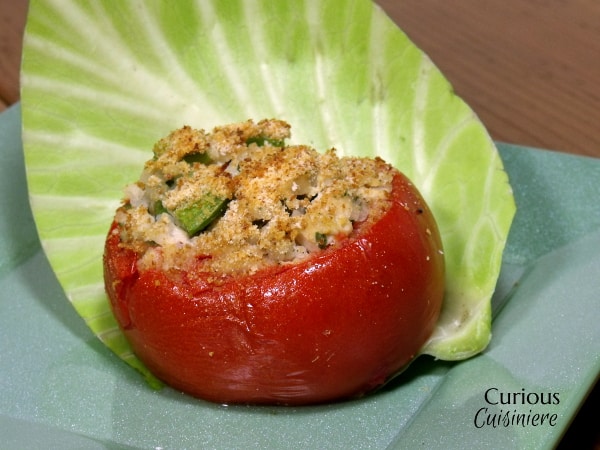 Tuna and Rice Baked Tomatoes
Garden fresh tomatoes stuffed with a bright mixture of tuna and rice make for a perfect summer meal of baked tomatoes.
---
Ingredients
1

(5 oz) can

tuna,

drained

1

c cooked

rice

½

c

onion,

minced

½

c

celery,

minced

1

garlic clove,

minced

1

Tbsp

lemon juice

1

Tbsp

parsley

¼

tsp

salt

4

tomatoes,

large, uniformly round

¼

c

whole grain breadcrumbs
Instructions
Preheat your oven to 400F.

In a medium bowl, combine tuna, cooked rice, onion, celery, garlic, lemon juice, parsley and salt.

Cut the top off of your tomatoes and gently scoop out the insides, leaving the thick wall intact.

Stuff the tomatoes with the tuna and rice mixture.

Place stuffed tomatoes in a greased baking dish (one with high sides works well to help keep the tomatoes standing while they cook. Top each tomato with 1 Tbsp breadcrumbs.

Bake tomatoes for 15-20 minutes, until the flesh begins to wrinkle and a knife inserted into the center of the tuna and rice mixture comes out hot.

Let stand 5 minutes for the juices to settle before serving.
---
If you liked this recipe, here are some similar dishes you may enjoy!