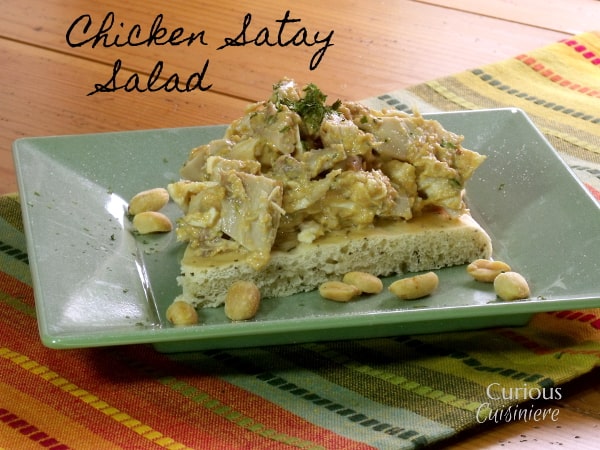 Have you had chicken satay?
A Satay is an Indonesian dish of seasoned, skewered and grilled meat served with a sauce, quite often a spicy peanut sauce.
We're straying a bit from the traditional chicken satay today, with a chicken salad inspired by the flavors of this Indonesian dish.
As much as we love satay, this dish isn't our brain child. It actually came from Dena over at Oh! You Cook! We were given Dena's blog for this month's Secret Recipe Club, and boy was browsing through her collection of recipes fun!
Her blog is a fun mix of Kosher recipes and Asian dishes made easy, with a lot of other fun stuff thrown in. There were so many unique dishes that we wanted to try, but after dinner the other night, we had some shredded chicken that was just crying to be used, and Diane's Chicken Satay Bites seemed like the perfect way to use up the leftovers.
This chicken satay – inspired chicken salad is a fun mix of peanut nuttiness, with bright lime, spicy hot sauce, and smooth cilantro.
It's a great chicken salad twist when you're looking for something just a bit out of the ordinary!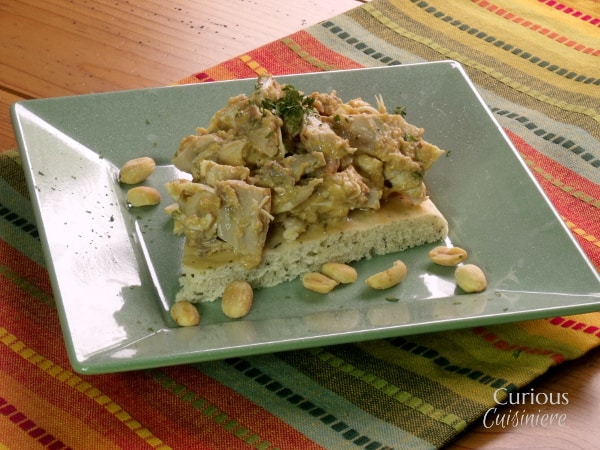 Chicken Satay Salad
Author:
Sarah | Curious Cuisiniere
Ingredients
¼ cup natural peanut butter
3 Tbsp lime juice
3 Tbsp water
2 tsp hot sauce of your choice (or use this recipe to make your own)
2 tsp ground ginger
1 tsp dried cilantro (or ¼ c chopped fresh)
½ tsp. salt
2 cups shredded cooked chicken breasts
2 Tbsp roasted, unsalted peanuts
Instructions
Mix together peanut butter, lime juice, water, hot sauce, ginger, cilantro, and salt until a thin paste forms.
In a large bowl combine chicken with peanut sauce and peanuts.
Serve mixture warm or chilled with pita or other flatbread.
Nutrition Information
Serving size:
½ c
Calories:
263
Fat:
15.5g
Saturated fat:
3.3g
Carbohydrates:
4.7g
Sugar:
1.2g
Sodium:
470mg
Fiber:
1.5g
Protein:
26.4g
Cholesterol:
62mg
If you liked this recipe, here are some similar dishes you may enjoy!