Hand-held skewers of tender Malaysian Satay, served with a nutty Peanut Sauce bring an exotic flair to your summer BBQ.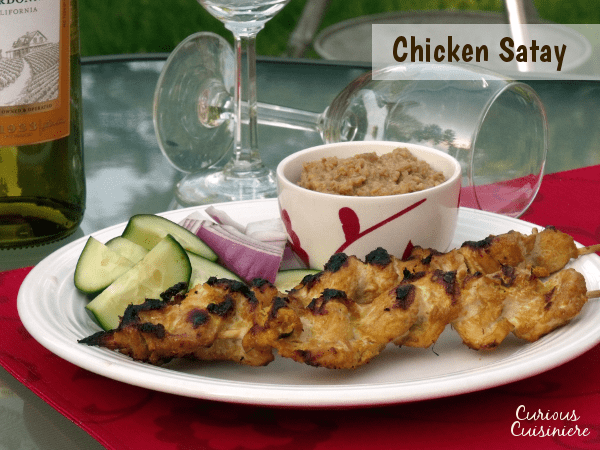 We love gathering together with family and friends for a great meal, and once the weather warms up, you'll always find us outside chillin' around the grill. There's something about the smell of grill smoke that puts everyone in a fantastic mood. While we do love a good burger or brat cookout, most of the time we try to mix things up a bit for our guests.
When deciding what to prepare we always keep two things in mind. First, most of the prep needs to be able to be done ahead of time. (We want to be able to enjoy lounging around with our guests!) Second, food needs to be easy to eat. A big, juicy steak is great, but if you're standing around with a drink in one hand, you don't want to have to mess with a knife and fork. Particularly if that drink is a chilled glass of Gallo Family Vineyards wine!
When Gallo Family invited us to share one of our favorite backyard BBQ dishes and pairings for today's Sunday Supper, we knew it needed to be something that was easy to enjoy with a glass of wine in hand. Our tender and flavorful Chicken Satay skewers were the perfect fit.
Where Did Satay Come From?
Satay is a dish of slightly confused origins. Is it Thai? Indonesian? Malaysian? Many countries in southeastern Asia claim it as their own. Despite the many claims, it is most commonly believed that it was in Java, Indonesia that satay developed from the Indian kebab, brought over by Muslim traders. From there, it spread to many other Southeast Asian countries.
Regional Variations Of Satay
Indonesian satay tends to be a bit sweeter than other varieties due to the use of ginger and sweetener in both the marinade and the peanut sauce. But, don't get tied down. Satay is the national dish of Indonesia, and there are more variations within the country than you could count!
Thai satay is distinct in its use of coconut milk as a part of the marinade and as a part of the peanut sauce, giving it a smooth and creamy texture. Thai satay is commonly made of chicken or pork and served with a pickled cucumber salad called achat.
Malaysian satay is typically chicken or beef and is served with a thick peanut sauce, chopped red onion, cucumber, and little squares of compressed rice known as ketupat.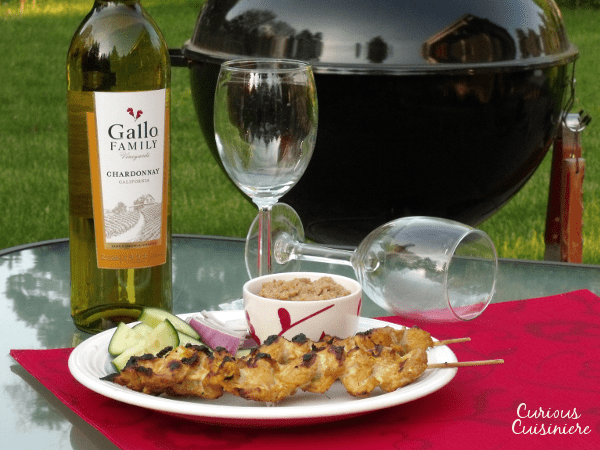 Our Malaysian Satay Recipe
The satay recipe we are sharing today falls most closely in the Malaysian style. Shallots, lemongrass, ginger, and soy sauce are key components of the marinade, which infuses the thin strips of chicken with a warm and robust flavor.
We served our satay with Gallo Family Vineyards Chardonnay. The Chardonnay is a fruit-forward, slightly acidic wine that balances the robust flavors of the satay and peanut sauce. The slight acidity of the wine works perfectly to cleanse your palate after each intensely flavorful bite, preparing you to dive into another skewer. If red wine is more your style, try Gallo Family's Pinot Noir for an easy-sipping wine that pairs well with the combination of flavors in the satay.
Malaysian Chicken Satay
Hand-held skewers of tender Malaysian Satay, served with a nutty Peanut Sauce bring an exotic flair to your summer BBQ.
Yield: 8 skewers
Ingredients
For the Chicken
1

lb

chicken breast

8

grilling skewers

(soaked in water for 10-15 minutes)

Peanut sauce for serving

(see recipe below)

Red onion and cucumber to serve
Instructions
For the Marinade
Coarsely chop the lemongrass stalk and shallot. Place them in your food processor along with the other marinade ingredients. Process until a thick paste forms.

Slice the chicken breasts into long strips, roughly ¼ inch thick. Place the chicken strips in a zip-lock bag. Add the marinade and knead it into the chicken breast until well coated. Marinate the chicken for at least one hour, up to 24 hours (refrigerated).
Grilling the Satay
Preheat your grill to medium high (400F if you have a thermometer, or you should be able to hold your hand a few inches over the grill grates for 5-7 seconds).

While the grill preheats, thread the marinated chicken strips on the skewers. Grill the chicken skewers for 3-4 minutes on the first side, until the meat begins to turn opaque and develops some grill marks. Flip the skewers and grill for an additional 2-3 minutes on the second side, until the chicken is cooked through.

Remove the skewers from the grill. Serve warm with cucumber and red onion, peanut sauce, and Jasmine rice.
Nutrition
Serving:
2
g
|
Calories:
247
kcal
|
Carbohydrates:
7
g
|
Protein:
37.7
g
|
Fat:
7.6
g
|
Cholesterol:
97
mg
|
Sodium:
585
mg
|
Fiber:
0.6
g
|
Sugar:
3.6
g
Malaysian Peanut Sauce
This is a nutty and fragrant, chunky peanut sauce that you will want to eat with a spoon!
Yield: 1 1/2 c sauce
Ingredients
1

stalk lemongrass

1

shallot

1

inch

fresh ginger

or 2 tsp dry, ground ginger

2

cloves

garlic

1/8-1/4

tsp

cayenne pepper

(optional)

1 ½

c

shelled peanuts

(dry roasted)

1

c

water

1 ½

Tbsp

soy sauce

½

Tbsp

brown sugar
Instructions
Place lemongrass, shallot, ginger, garlic, and cayenne into the bowl of your food processor. Pulse until finely chopped.

Heat ½ tsp oil in a saute pan and add vegetable puree to the hot oil. Sauté until fragrant over medium heat, 2-3 minutes.

Place the peanuts in the bowl of your food processor and process until finely chopped. Add the peanuts to the onion mixture in the pan and sauté until lightly toasted, 1-2 minutes.

Add the water, soy sauce, and brown sugar. Mix well. Bring the mixture to a simmer and simmer over medium heat until thickened to your desired consistency, 3-5 minutes.

Serve warm or refrigerated until needed and serve chilled or at room temperature.
Notes
While the calorie count here may look high, check the serving size on your favorite jarred peanut sauce. Typically, the serving size ranges from 2 tsp to 2 Tbsp. We're giving you a 1/4 c serving, because you'll want to eat this sauce with a spoon. Trust us.
Nutrition
Serving:
1
g
|
Calories:
229
kcal
|
Carbohydrates:
8.5
g
|
Protein:
10.7
g
|
Fat:
18.1
g
|
Saturated Fat:
2.6
g
|
Sodium:
234
mg
|
Fiber:
2.7
g
|
Sugar:
2.1
g
---
Ready to get grilling? Take a look at the Backyard BBQ recipes and Gallo Family Vineyards pairings from the other Sunday Supper bloggers.
Appetizers:
Main Dishes:
Sides and Salads:
Desserts:
BBQ Helpful Info:
Join the #SundaySupper conversation on twitter on Sunday! We tweet throughout the day and share recipes from all over the world. Our weekly chat starts at 7:00 pm ET. Follow the #SundaySupper hashtag and remember to include it in your tweets to join in the chat. To get more great Sunday Supper Recipes, visit our website or check out our Pinterest board.
Would you like to join the Sunday Supper Movement? It's easy. You can sign up by clicking here: Sunday Supper Movement.
Disclosure: Compensation was provided by Gallo Family Vineyards via Sunday Supper, LLC. The opinions expressed herein are those of the author, and are not indicative of the opinions or positions of Gallo Family Vineyards.
If you liked this recipe, here are some similar dishes you may enjoy!