Our Sangria Chicken is topped with a sweet onion and sangria sauce that brings all the flavors of the classic drink into your main dish.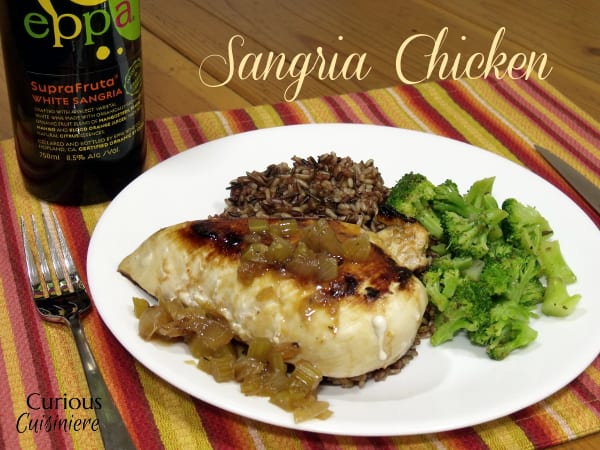 Cooking With Sangria
If you're a regular here, you know we prefer to use fresh ingredients to make our own foods, rather than mixes, so pre-mixed sangrias with their 'natual flavoring' and corn syrup sweetness have never really appealed to us. (We'd rather make our own sangria!)
But, when we had the opportunity to test Eppa SupraFruta Sangria, we were intrigued by their use of organically grown grapes and organic superfruit juices. Not only are all the juices real ingredients, but they give these sangrias twice the antioxidants of a glass of red wine!
Real ingredients and a good antioxidant boos souned like our kind of pre-mixed sangria!
We received both their White and Red Sangria, and the moment we opened the bottles, we knew these were different.
The fruit smells were amazing!
The White Sangria is a combination of white wine, Mangosteen, peach, mango and blood orange juices. The flavors were bright, sweet, and smooth, everything you would want from a chilled glass of sangria on a warm day.
We tasted the White first, and knew we had happened upon something special, but then we tried the Red, and we were blown away.
The combination for pomegranate, blueberry, blood orange, and acai juices with a deeply flavorful red wine gave a punch of fruity sweetness like we had never tasted before in a sangria.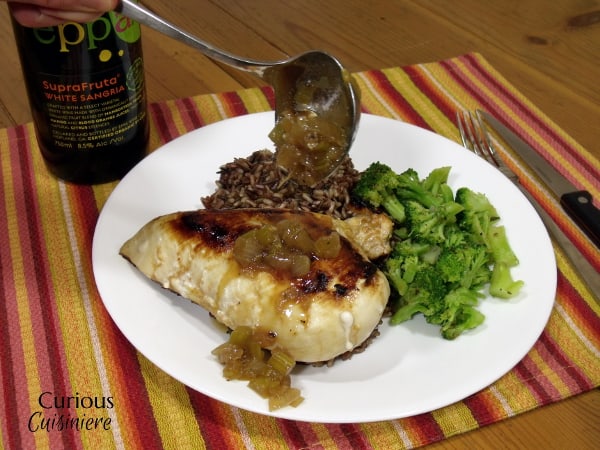 Making Sangria Chicken
These sangrias were so good, we really could have downed a whole bottle in one sitting.
Maybe a bottle each.
Don't judge!
But, I knew that I wanted to take on the challenge of creating a fantastic savory dish with this beautiful sweet sangria, so we showed a bit of restraint, making sure we had enough White Sangria to marinate some chicken for dinner.
(Honestly, our decision to use the White Sangria for our sangria chicken was probably fueled a teens-y bit by our desire to drink the whole bottle of the Red Sangria in an un-altered form. But, we had to pick some how!)
After marinating chicken breast in the White Sangria, we slowly simmered the marinade to reduce it down to a lovely, sweet sauce, which accented the flavors in the chicken and paired so well with a nutty rice pilaf.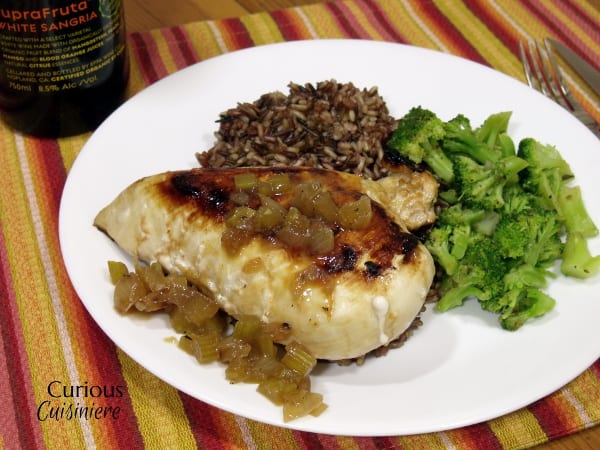 Sure, you could just drink your sangria, but why not eat it too?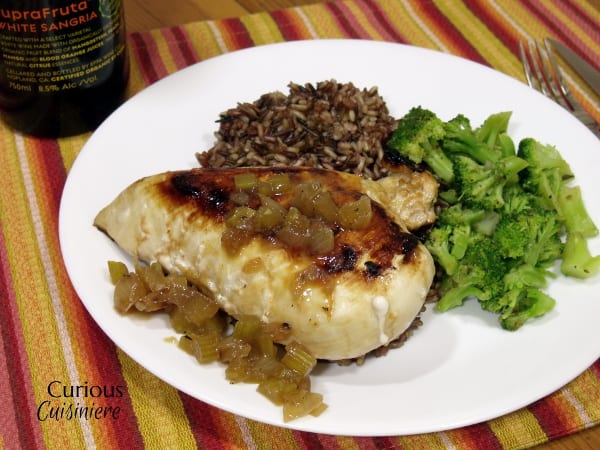 Sangria Chicken
Our Sangria Chicken is topped with a sweet onion and sangria sauce that brings all the flavors of the classic drink into your main dish.
---
Ingredients
1

lb

chicken breast

1

c

white sangria

or sweet white wine (like Moscato)

1

tsp

olive oil

½

celery stalk,

diced

½

onion,

diced

¼

tsp

cornstarch
Instructions
Place chicken breast in a shallow dish and cover with sangria. Cover and marinate, refrigerated, for 2 hours, up to overnight.

Remove chicken from marinade and grill on a non-stick skillet (or traditional grill) over medium heat, roughly 10 minutes per side, until cooked through. (Cooking time will vary depending on the thickness of your chicken breast.)

While the chicken is cooking, place the sangria marinade into a small saucepan and bring to a simmer. Continue to heat until wine has reduced by half (20 min).

In a small, non-stick frying pan, heat oil. Add celery and onion and sauté over medium heat until golden (10 min). Remove onion mixture from the heat and mix in cornstarch, so that no lumps remain.

Add veggies to reduced sangria and simmer 3-5 minutes to continue to thicken.

To serve, cover chicken with sangria sauce. Serve with rice and green vegetables.
---
Disclosure: We were provided samples of the sangria mentioned in this post. All opinions are our own.
If you liked this recipe, here are some similar dishes you may enjoy!