An oaky Chardonnay marinade gives this Grilled Chardonnay Chicken a depth of flavor that brings out the smokiness  you crave from grilled meats.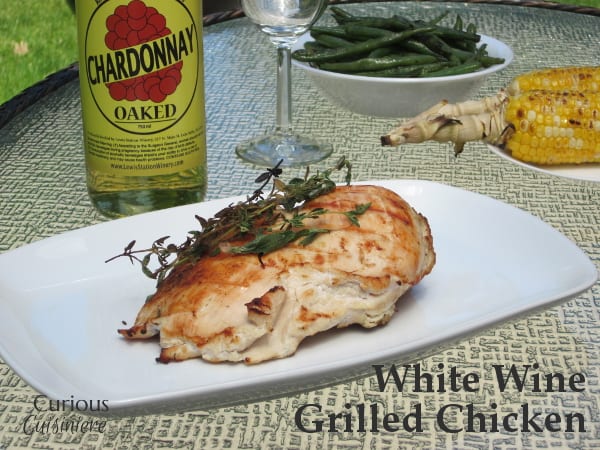 We're bringing you an extra post this week, and it's all in the name of wine.
Today is the first installment of Wine Pairing Weekend, a blogging event that is the brain child of David over at Cooking Chat. David noticed that there seem to be food bloggers and wine bloggers, but rarely food AND wine bloggers – those who talk about the wonderful world of pairing and using wine with cooking.
So, Wine Pairing Weekend (#winePW) was born. One weekend a month, bloggers with an appreciation for the beautiful way wine enhances food will come together to offer pairing suggestions around a particular theme.
This months theme: Wine and Grilled Meat
For us, a big part of pairing wine with food is using wine in the dishes we are cooking. Bringing the flavors of the wine you are drinking into the meal itself is a wonderful way to enhance the pairing experience.
We wanted a special wine for this first Wine Pairing Weekend, so we used the opportunity to head over to a winery we visited last summer: Lewis Station Winery. The owner of Lewis Station, Rob Lewis, is a Certified Sommelier with a passion for pairings and teaching wine appreciation. 
As we sampled their wines, this time with grilling in mind, the flavors in their Oaked Chardonnay leaped out at us. Its light honey and citrus notes were grounded with a toasty, oaky flavor that literally begged to be combined with grill smoke.
And, what meat?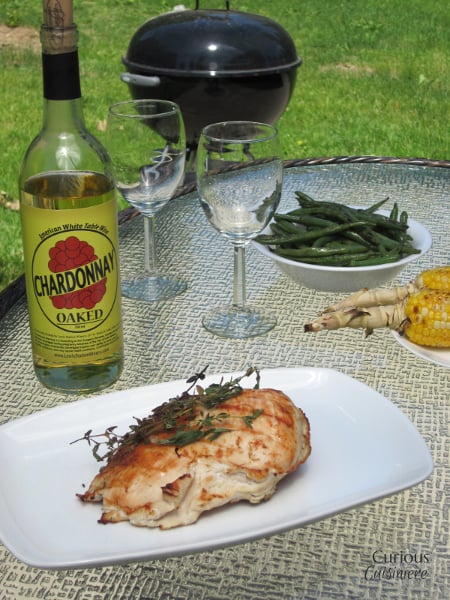 According to Rob, the key for pairing with a Chardonnay is to balance the acidity of the food with the high acidity of the wine by using foods that work well with acids, like salmon, swordfish or chicken breast, and add-ins like lemon, lime and tomatoes.
For us this time, chicken was the answer.
Now, we probably could have just grilled a chicken breast, seasoned only with a little salt and pepper, for a quick and easy meal that would still have paired incredibly well with this Oaked Chardonnay. But, true to our form, we wanted a bit more.
So, we decided to marinade the chicken in the wine and some herbs before grilling it. It only takes a little bit of thought ahead of time, and the results are out of this world! For the herbs, we picked rosemary, since it pairs quite well with citrus and chicken, and we added in just a hint of oregano and lavender to round out the earthy notes.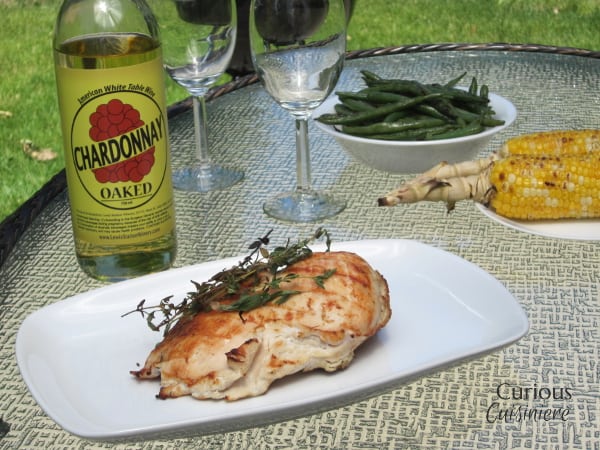 Grilled Chardonnay Chicken
Author:
Sarah | Curious Cuisiniere
Ingredients
1 lb boneless, skinless chicken breast
½ c Lewis Station Winery Oaked Chardonnay
2 springs fresh thyme (or ½ tsp dry)
1 sprig fresh oregano (or ¼ tsp dry)
1 small sprig fresh lavender (optional)
Instructions
Place all ingredients into a re-sealable zipper bag and marinade for 1 hour on the counter (or up to 12 hours in the fridge).
Preheat grill to medium high.
Cook chicken for 5-7 minutes on each side, until the internal temperature reaches 165F.
Serve with a glass of Lewis Station Winery Oaked Chardonnay.
Nutrition Information
Serving size:
4 oz
Calories:
222
Fat:
4.1g
Carbohydrates:
6.6g
Sodium:
131mg
Protein:
36.5g
Cholesterol:
97mg
---
Take a look at these other great summer grilling wine pairings
!
David of Cooking Chat started this event in June of 2014, and every month since then this group of wine and food lovers have had a great time! For more background, check out the original post announcing Wine Pairing Weekend. You can see the full list of past and upcoming #winePW events here.
If you liked this recipe, here are some similar dishes you may enjoy!