A green and gold take on the classic daiquiri, this pineapple and kiwi cocktail is perfect for your next summer party! 
What Is A Daiquiri?
I'm sure most of you are familiar with a Daiquiri: a slushy, tropical, rum-infused, lime and pineapple drink that makes you dream of sand between your toes and a warm ocean breeze.
Right?
Well, maybe in one sense. But, at its most basic level, a Daiquiri is not a blended drink at all, but a class of rum cocktails that include citrus (most commonly lime) and a sweetener, served in a cocktail (or martini) glass.
Think of it as the rum version of a margarita. It can be blended or straight and mixed with any number of different flavors or mix-ins, but the basic formula and concept stays the same: rum + lime + sweetener.
The drink hails from the 1800s in Cuba, and it became popular in the US in the 1940s when whiskey and vodka were hard to come by because of rationing, but rum was very available due to open trading between the US and Latin America.
Thank goodness for open trading with Latin America!
A Green and Gold Cocktail
We were asked by Blue Chair Bay Rum to craft a signature cocktail for the June 2015 Green Bay stop of the Kenny Chesney Big Revival Tour at the one and only Lambeau Field.
Blue Chair Bay Rum is a new rum line inspired by the island life of Kenny Chesney. They feature rum in a number of different flavors from the classic Coconut and Banana, to unique renditions like Coconut Spiced and Banana Cream. We chose to sample their classic White Rum, so that we could really get a feel for the quality of the product and let our creativity fly in our cocktail.
We found their White Rum to be incredibly smooth with surprising depth of flavor for a white rum. It is slightly sweet, but don't worry, you still get a nice rum kick on the back end, if you live for the tropical punch of a good, straight Caribbean rum.
Our goal for our cocktail was to create something with a Green Bay spin that really let the smoothness and flavor of the white rum shine. We wanted the flavors of the drink to accent the island inspiration for the rum, creating a cool and refreshing drink that would slip you away to tropical places.
So, we decided to start with the most classic of tropical drinks, the Daiquiri. For our Green Bay tribute, we brought on the green and gold in the unlikely combination of kiwi and pineapple.
Trust us here.
A Kiwi Cocktail
Pineapple is a given for tropical drinks. Bright, sweet, and acidic, it practically screams "I'm on a beach in the Caribbean!" But, when you have lime and pineapple, your drink starts to get a little heavy on the acidic side. That's where the beauty of the kiwi comes in. Kiwi brings a light and refreshing sweetness to the drink that makes it slide over your tongue with an almost creamy quality. Add in the Blue Chair Bay White Rum, and you have a cocktail that is an incredible balance of flavor, acidity, lightness, and alcohol.
It's just the drink we'd want if we were sitting on a beach in the Caribbean. And, with all the green and gold it has going on, we wouldn't think twice about pulling it out for a Lambeau tailgate party either!
Cheers!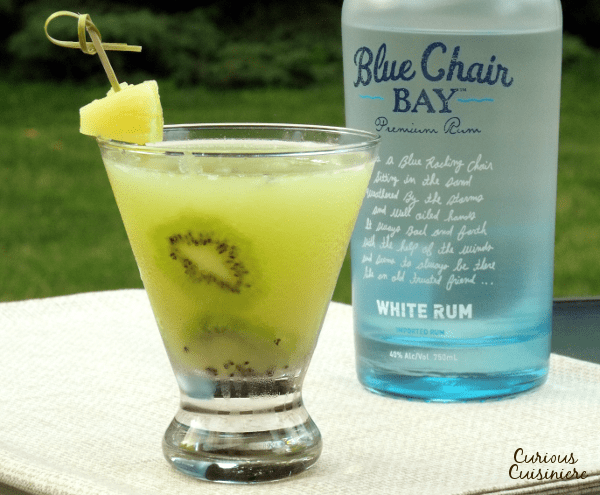 Green Bay Daiquiri Cocktail
A green and gold take on the classic daiquiri, this pineapple and kiwi cocktail is perfect for your next summer party!

Ingredients
1

kiwi,

peeled

4

parts (2 oz)

pineapple juice *

3

parts (1.5 oz)

white rum

1

part (.5 oz)

lime juice

(juice of ½ of a lime)

Pineapple chunks

(to serve)

Cocktail skewers

(for the garnish)
Instructions
Muddle ½ of the peeled kiwi in a cocktail shaker until well pulverized.

Add the pineapple juice, rum, and lime juice to the shaker along with 3-4 ice cubes. Cover and shake the drink until well chilled.

Strain the drink into a martini glass.

Skewer 3-4 pineapple chunks and place in the drink as a garnish. Slice the remaining ½ kiwi and float the slices in the drink around the skewer.

Serve immediately.
Notes
*We purchased a can of pineapple chunks in 100% juice and used the juice for the drink and the chunks as the garnish.
Nutrition
Serving:
1
g
|
Calories:
199
kcal
|
Carbohydrates:
25
g
|
Protein:
1.4
g
|
Fat:
0.5
g
|
Sodium:
5
mg
|
Fiber:
3
g
|
Sugar:
16.8
g
Disclosure: We were provided with a sample of Blue Chair Bay White Rum to review. As always, all opinions are our own. 
If you liked this recipe, here are some similar dishes you may enjoy!