The sweet and salty flavors of teriyaki sauce create quite a flavorful backdrop for juicy marinated chicken, nearly-roasted cabbage and carrots, and just enough cheese to pull it all together in this Teriyaki Chicken Pizza recipe.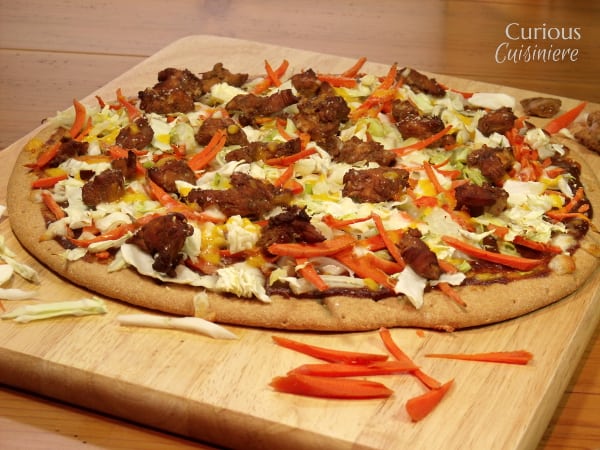 Creating A Fusion: Chicken Teriyaki Pizza
This is quite a simple fusion dish.
We used our own homemade teriyaki sauce to create a marinade for some chicken breast. The marinating, and even cooking the chicken can be done ahead of time, making this a quick dish that is perfect for a weeknight.
To go with our teriyaki chicken, we also topped the pizza with cabbage and carrots to create an imitation Asian slaw as the veggie element.
Cheese may sound like a strange addition to teriyaki chicken, but a little cheddar and mozzarella goes a long way for the light creaminess that you desire when you bite into a slice of pizza.
All the toppings were layered onto a par-baked pizza crust, but you could also make your own quick pizza crust in less than an hour.
How Does Chicken Teriyaki Pizza Taste?
Honestly, we loved the sweet and salty combo that the teriyaki added to this pizza. The veggies gave a nice crunch to the finished pizza slices and the teriyaki marinade gives the pizza just enough of a touch of Asian sweetness.
Have you ever tried a teriyaki pizza? What did you think?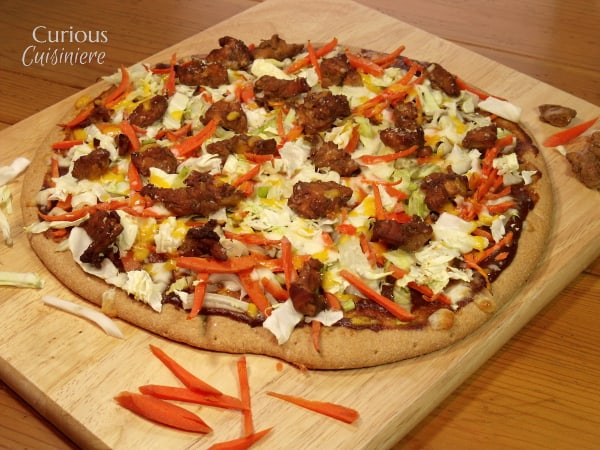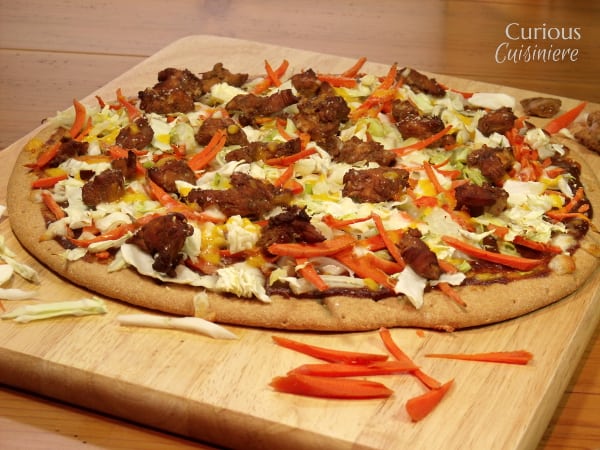 Teriyaki Chicken Pizza
Chicken teriyaki meets pizza in this crazy tasty fusion dish.
Yield: 1 (12 inch) pizza

---
Ingredients
2

chicken breasts

½

c

Teriyaki sauce

1

Tbsp

cornstarch

1

(12 inch) par-baked

pizza crust

3

c

cabbage,

shredded (about ¼ of a medium head)

1 ½

c

carrots,

sliced into thin match sticks (roughly 2 medium)

¼

c

mozzarella cheese

¼

c

cheddar cheese
Instructions
Preheat oven to 400F.

Cut chicken breast into ½" pieces. Place in a flat bottomed dish and cover with teriyaki marinade. Cover and refrigerate 30 min to 12 hours.

When you are ready to make the pizza, place chicken and marinade in a non-stick skillet. Simmer chicken in marinade over medium heat until chicken is firm and cooked through (10 min).

Remove chicken pieces from the skillet and place in a bowl, leaving the sauce behind.

In a small bowl, place 1 Tbsp cornstarch. Add 2-3 Tbsp of liquid from the pan and stir until the cornstarch has dissolved. Pour mixture back into the pan with the remaining marinade. Cook, stirring constantly with a rubber spatula, until the sauce has thickened (5 min). Remove from heat.*
Assembling the pizza
Place the crust on a baking sheet.

Spread sauce over the crust, leaving 1/2" around the edges, if desired.

Sprinkle shredded cabbage and sliced carrots over the sauce.

Add cooked chicken and top with a sprinkling of the cheeses.

Bake in preheated oven until cheese is melted and veggies begin to roast (10 min).
---
Recipe Notes
*For quicker pizza assembly, the chicken and sauce can be made ahead of time and refrigerated in separate containers until you are ready to construct the pizza.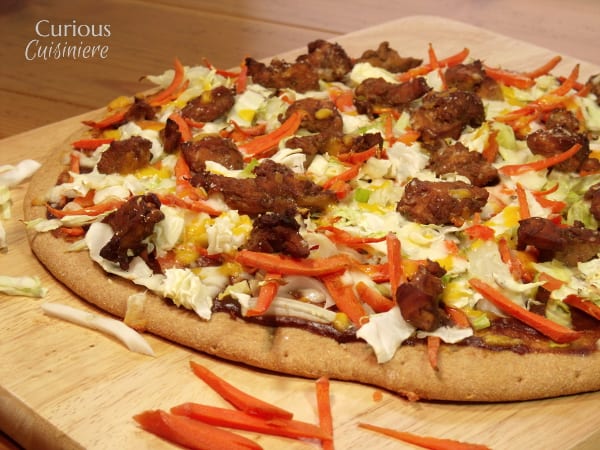 If you liked this recipe, here are some similar dishes you may enjoy!