A bright summer salad with sweet grilled peaches and toasted pecans. This grilled peach salad is easy to put together, making it ideal for a summer party!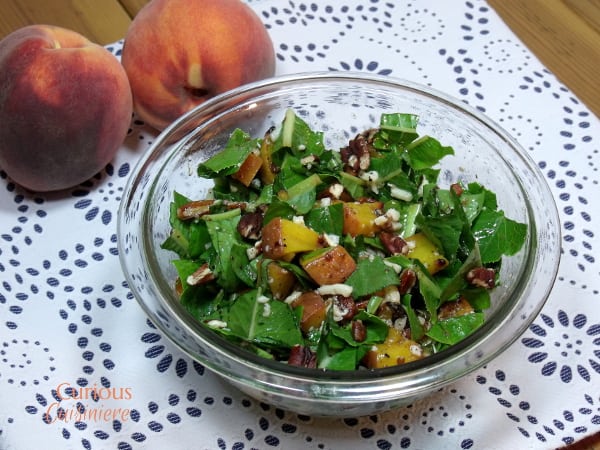 Grilling Fruit
What do you think of when you think about firing up the grill?
Do you think strictly meat, or will you throw anything over the coals?
We typically stick to meat or veggies, and the occasional foil pack if we're camping, but never fruit.
I'll be honest, Tim does all of the grilling around here. I'm slowly getting more comfortable from helping him, but it's still mostly his gig.
There's just something manly about standing over a fire with a sizzling hunk of meat.
And, lets face it, grilling fruit isn't particularly manly.
It's like the big burly guy who orders a Cosmo at the bar. There's nothing wrong with it in the slightest, but social assumptions make you do a double take.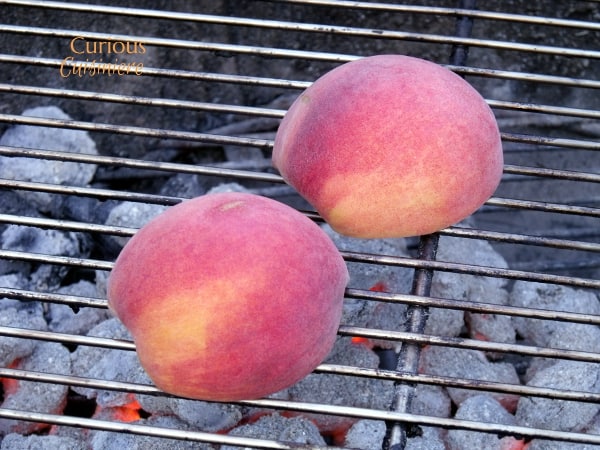 Our Grilled Peach Salad Recipe
If there's a man typically tending your grill, you may have to sneak these peaches next to the ribs and burgers, but let me tell you, the smoky peach pie scent that these babies give off when they're good and ready is enough to convince anyone that fruit has a place above the coals.
(I mean, come on, there's always an empty corner or two and slow, indirect heating works quite well to caramelize the sugars. Why not put the whole grill to good use?)
This salad makes use of these soft and juicy peaches, with toasted pecans, a light cheese, and a bright vinaigrette dressing.
It is a good salad for a get-together, because the parts can be made separately (toasting the nuts and making the dressing) before hand. Then, while the burgers are going, you can steal a corner for the fruit.
The peaches will typically cook faster than the meat, giving you time to chop the fruit and throw a fresh salad together for dinner.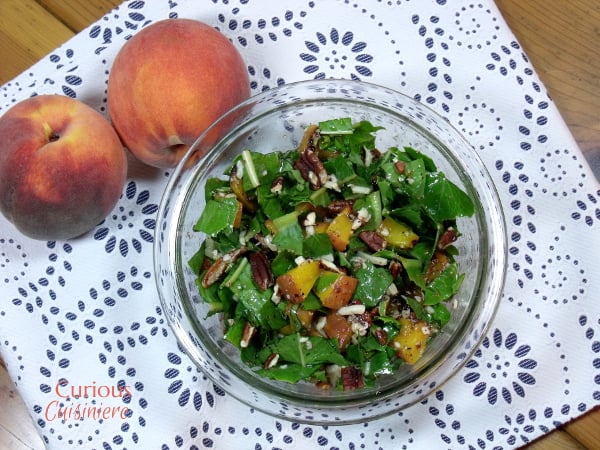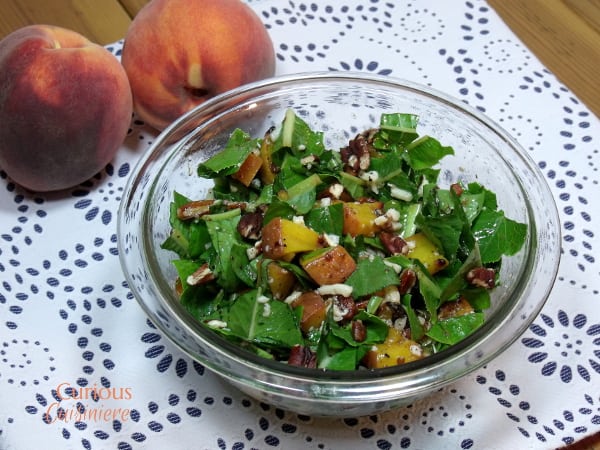 Grilled Peach Salad
A bright summer salad with sweet grilled peaches and toasted pecans. This grilled peach salad is easy to put together, making it ideal for a summer party!
---
Ingredients
2

peaches

2/3

c

pecans

6

c

leaf lettuce

(romaine, spinach, arugula, etc), washed

½

c

fresh basil,

washed and chopped

2/3

c

mozzarella cheese,

shredded
For the Dressing
¼

c

white wine vinegar

2

Tbsp

olive oil

1

Tbsp

honey

1

Tbsp

balsamic vinegar

½

tsp

ground black pepper

¼

tsp

salt
Instructions
Preheat the grill.

Wash, pit, and half the peaches. Place flesh-side down on the grill. The heat should be moderate, and the peaches should not be placed directly over any of the grill's hot spots. Cover, and grill peaches until soft (10-12 min). When the peaches are done, remove from the grill and allow to cool to touch.

While the peaches are grilling, heat a medium, non-stick frying pan over medium-high heat. Place pecans in dry pan and toast until fragrant (3-5 min), stirring occasionally. Remove from heat and let cool once toasted.

In a small bowl whisk together dressing ingredients and set aside.

Chop lettuce into bite sized pieces and place in a large serving bowl. Toss with basil and cheese.

Dice cooled peaches, and add to the lettuce mixture.

Pour dressing over salad, and toss to coat.

Coarsely chop the toasted pecans and sprinkle over top of the salad.

Serve immediately, or refrigerate for up to 24 hours before serving.
---
If you liked this recipe, here are some similar dishes you may enjoy!