If you like this dish, sign up for our newsletter to get tasty, cultural inspiration straight to your inbox. Where will you travel this week?
Smoky bacon and caramelized onions bring these savory German Bacon Cookies to life. This recipe is a perfect appetizer or small bite for a cocktail party. Today we are teaming up with Farmland Bacon's #BaconForSanta campaign to bring you this fun treat!
Cookies for Santa? Why not BACON for Santa?
Sure, most people leave cookies and milk for Santa, but this year Farmland is encouraging bacon lovers to leave bacon for Santa instead!
But, this campaign isn't just to celebrate the glories of bacon.
For each person that makes the pledge by tweeting #BaconForSanta, Farmland will donate one pound of protein to a local food bank. For those of us in Wisconsin, that means that from now through December 24th, Farmland will donate up to 25,000 pounds of protein to Feeding America Eastern Wisconsin. That's definitely a reason to change up traditions and leave Santa Bacon! (UPDATE: This campaign ran in 2015, but we're pretty sure Santa, or anyone, would love these bacon cookies any day!)
But, we're not talking just any bacon…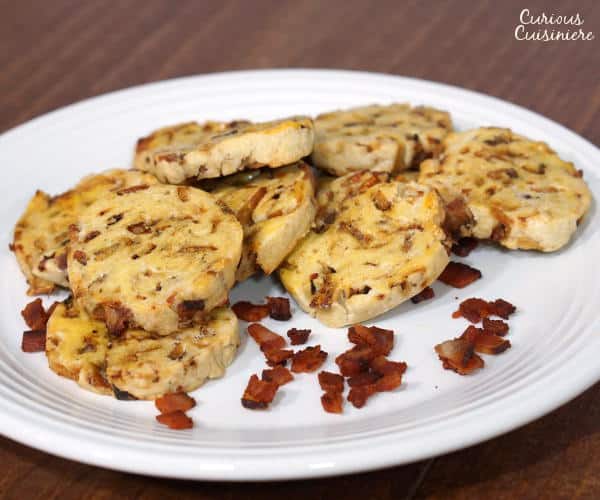 See, it's so classic to leave cookies for Santa, that we just had to find a way to combine bacon AND cookies. After all, with all that bacon, he might start to miss the cookies… just a little.
What we discovered is that there was already an answer in German cuisine. The popular Speck Plätzchen (pronounced SCH-pek PLEHT-schyun) or "Bacon Cookies" bring bacon into a crave-able cookie form.
German Bacon Cookies
These savory cookies might not be what you typically think about when you hear the word 'cookie', but they are perfect little bites full of bacon and caramelized onions. They would make a fun addition to a cookie platter, giving those who aren't big sweets eaters something to nibble on. And, they'd also make a fun appetizer for your holiday cocktail parties.
But, wherever you serve them, don't forget to leave them for Santa on Christmas Eve! That way Santa can have his cookies AND his bacon!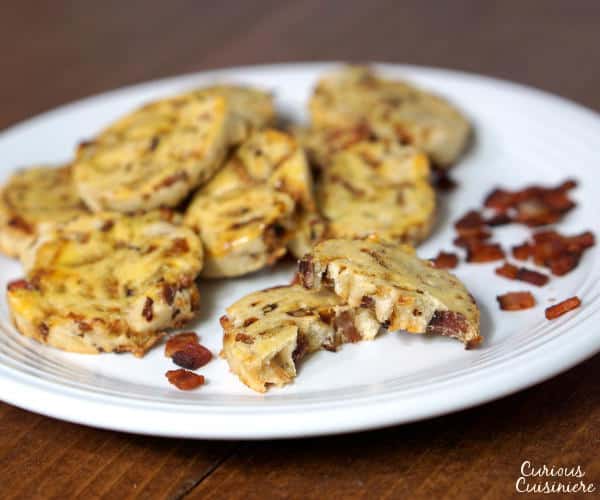 Speck Plätzchen (German Bacon Cookies)
Savory "cookies" perfect for an appetizer spread.
Yield: 32 (1 1/2 inch) cookies
Ingredients
3

slices

bacon,

diced

½

onion,

finely diced

1

tsp

baking powder

½

tsp

caraway seeds,

ground

½

tsp

salt

1/8

tsp

ground black pepper

¼

c

water

1

egg + 1 yolk,

divided

¼

tsp

cumin

(for dusting)
Instructions
Saute bacon in a small saute pan over medium-high heat until nearly crispy, 2-3 min. Reduce the heat to medium and add the diced onion. Saute until the onion is soft, 2-3 min. Using a spatula, transfer the mixture to bowl (including any extra bacon fat) and let it cool completely.

Place the flour, baking powder, ground caraway, salt, and black pepper into the bowl of your food processor. Pulse a few times on low to combine. Add the water and beaten egg. Pulse until the mixture resembles wet sand. Add the cooled bacon mixture and pulse to combine. Transfer the mixture to a large bowl and knead it together with your hands to form a very stiff dough.

Divide the dough in half and shape each half into a log, roughly 1 ½ inches in diameter and 6 ½ inches long. Wrap the dough in plastic wrap or place it in a sealed bag. Place it in the refrigerator for 30 minutes (up to overnight) to let the flavors develop.

When you are ready to bake the cookies, preheat your oven to 400F.

Remove the dough from the refrigerator and slice it into rounds, ¼ inch thick. Place the cookie rounds onto a baking sheet, spaced ½ inch apart.

Brush the sliced cookies with a little egg yolk and dust them with cumin.

Bake the cookies for 12-15 minutes, until set (until they are starting to turn golden brown around the edges).

Let the cookies cool on the pan for 1-2 minutes before transferring the cookies to a wire rack to cool completely.

Store the cookies in an air-tight container for up to 1 week.
Disclosure: This post was sponsored by Farmland Pork. As always, all opinions are our own. 
If you liked this recipe, here are some similar dishes you may enjoy!