Venison steak (or beef) is sliced thin, marinated, and piled high on flatbread to create a unique twist on a recipe for classic Greek street food.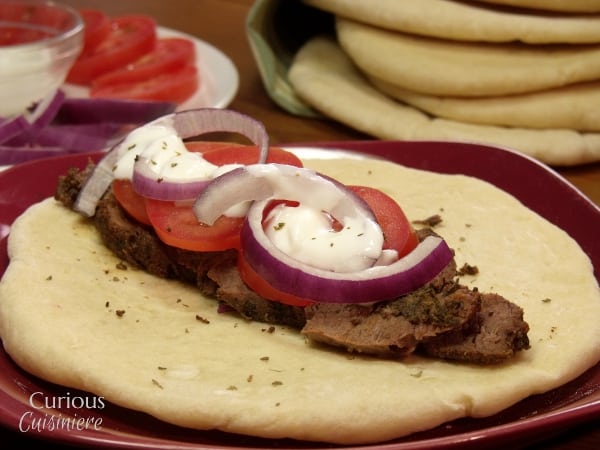 I was first introduced to gyros while studying in Paris.
A "Pita Grecque" – fluffy flatbread, flavorful meat straight off a spit, your choice of toppings, wrapped in a paper cone and piled as high as possible with crisp, piping hot fries – was the most cheap, delectable, filling meal you could find.
So good!
It wasn't until I returned to the Milwaukee and realized that those Gyro shops everyone on campus raved about were as close as I would find here in the States.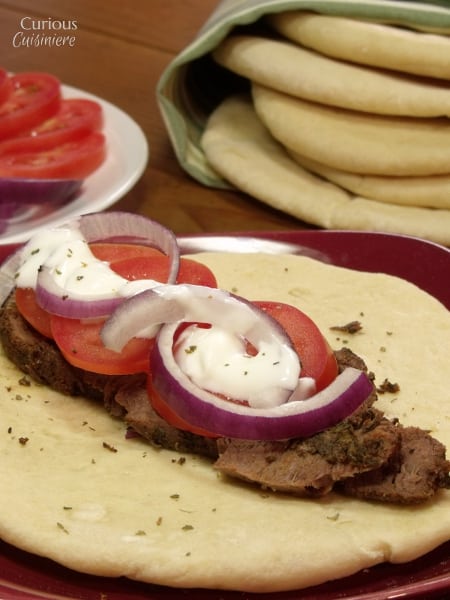 For some reason we don't cook much Greek-style food. As much and Tim and I enjoy it, it's just not something we've branched into yet. My mom brought this to my attention, and the bug was set for what we'd be making for today.
As I was researching recipes, I found two versions. One that called for ground lamb and beef (or just beef) baked, meatloaf-style, and sliced. The other version was to start with steaks (beef or lamb) and broil them after marinating.
If anyone can tell me which is more traditional, I'm curious to hear. But, we had venison steaks on hand, so that was the version we chose.
While nothing can live up to street food, these did turn out pretty darn good. The meat was familiarly flavorful. Starting with a soft and fluffy flatbread and topping the meat off with tomatoes, red onions, and yogurt made for quite the nostalgic dinner.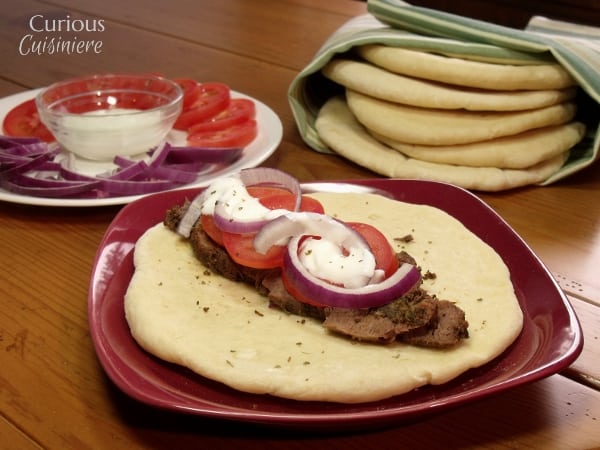 Venison Steak Gyros
Author:
Sarah | Curious Cuisiniere
Ingredients
For the meat
2 lbs venison or beef steaks
2 Tbsp lemon juice
2 Tbsp oil
2 tsp garlic
1 tsp dried mint
1 Tbsp oregano
1 tsp paprika
1 tsp salt
½ tsp pepper
Putting it all together
1 red onion, sliced
2 roma tomatoes, sliced
8-10 pita or flatbread
plain yogurt or tzatziki sauce
oregano for sprinkling on top if desired
Instructions
For the meat
Place steaks in a shallow baking dish.
Mix together lemon juice, oil, garlic, mint, oregano, paprika, salt, and pepper. Pour over steaks and marinate for at least 1 hour, turning once. (If you can marinate for longer, do so. If you marinate overnight, be sure to refrigerate your meat.)
When you are ready to cook the meat, preheat your oven's broiler.
Transfer meat to a metal baking pan (glass might crack under the broiler's heat.)
With your oven rack in its lowest position, place the baking dish with the meat (and marinade) in the oven and broil for 10-15 minutes, until the juices from the meat run clear when pricked.
Remove dish from the oven and transfer meat to a cutting board. Cut steaks into slices.
Putting it all together
Layer flatbread with meat, onions, and tomato. If desired top with plain yogurt or tzatziki sauce.
If you liked this recipe, here are some similar dishes you may enjoy!