Venison steak (or beef) is sliced thin, marinated, and piled high on flatbread to create a unique twist on a recipe for classic Greek street food.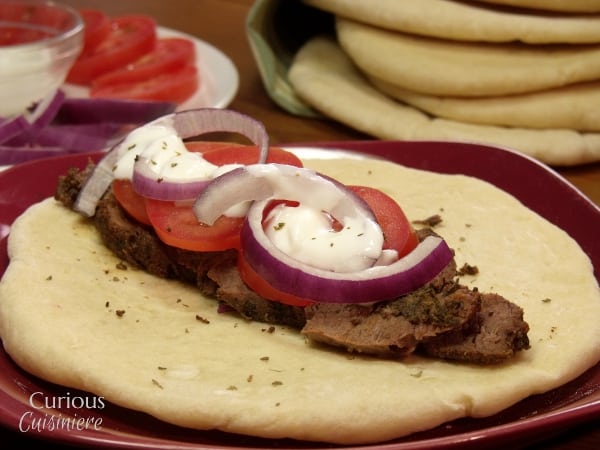 This month our #SundaySupper challenge was to branch out onto a new culinary adventure.
We all have those recipes that we want so badly to try, but for one reason or another (logical or not) we just avoid them like they'll blow our whole kitchen to smithereens if we ever attempt to complete them.
Well, this week we've taken a stab at tackling some of those recipes.
And, I don't think anyone's kitchen exploded… at least, not too badly.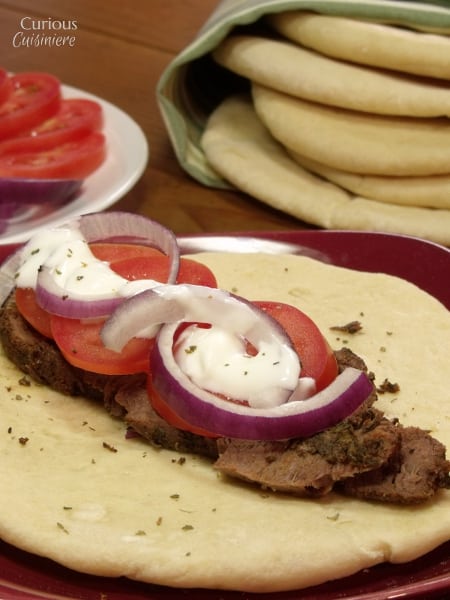 I was first introduced to gyros while studying in Paris.
A "Pita Grecque" – fluffy flatbread, flavorful meat straight off a spit, your choice of toppings, wrapped in a paper cone and piled as high as possible with crisp, piping hot fries – was the most cheap, delectable, filling meal you could find.
So good!
It wasn't until I returned to the Milwaukee and realized that those Gyro shops everyone on campus raved about were as close as I would find here in the States.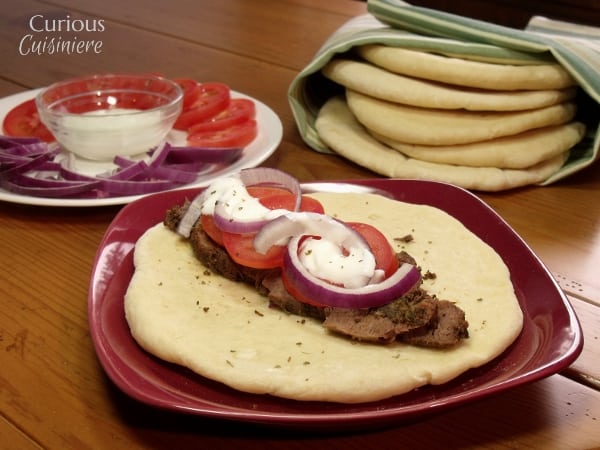 For some reason we don't cook much Greek-style food. As much and Tim and I enjoy it, it's just not something we've branched into yet. My mom brought this to my attention, and the bug was set for what we'd be making for today.
As I was researching recipes, I found two versions. One that called for ground lamb and beef (or just beef) baked, meatloaf-style, and sliced. The other version was to start with steaks (beef or lamb) and broil them after marinating.
If anyone can tell me which is more traditional, I'm curious to hear. But, we had venison steaks on hand, so that was the version we chose.
While nothing can live up to street food, these did turn out pretty darn good. The meat was familiarly flavorful. Starting with a soft and fluffy flatbread and topping the meat off with tomatoes, red onions, and yogurt made for quite the nostalgic dinner.

Venison Steak Gyros
Author:
Sarah | Curious Cuisiniere
Ingredients
For the meat
2 lbs venison or beef steaks
2 Tbsp lemon juice
2 Tbsp oil
2 tsp garlic
1 tsp dried mint
1 Tbsp oregano
1 tsp paprika
1 tsp salt
½ tsp pepper
Putting it all together
1 red onion, sliced
2 roma tomatoes, sliced
8-10 pita or flatbread
plain yogurt or tzatziki sauce
oregano for sprinkling on top if desired
Instructions
For the meat
Place steaks in a shallow baking dish.
Mix together lemon juice, oil, garlic, mint, oregano, paprika, salt, and pepper. Pour over steaks and marinate for at least 1 hour, turning once. (If you can marinate for longer, do so. If you marinate overnight, be sure to refrigerate your meat.)
When you are ready to cook the meat, preheat your oven's broiler.
Transfer meat to a metal baking pan (glass might crack under the broiler's heat.)
With your oven rack in its lowest position, place the baking dish with the meat (and marinade) in the oven and broil for 10-15 minutes, until the juices from the meat run clear when pricked.
Remove dish from the oven and transfer meat to a cutting board. Cut steaks into slices.
Putting it all together
Layer flatbread with meat, onions, and tomato. If desired top with plain yogurt or tzatziki sauce.
I'm sure you're curious what recipes had the rest of the team breaking out of their comfort zone. There are sure to be some epic stories to go along with this week's tasty recipies.
Thanks to Connie at The Foodie Army Wife for hosting this week's #SundaySupper.
New Expeditions (Sides, Starters & Staples)

Homemade Corn Tortillas from Pescetarian Journal

Easy Oven Polenta from Shockingly Delicious

Homemade Spiced Flour Tortillas from Chocolate Moosey

Naan from Hezzi-D's Books and Cooks

Homemade Tofu from Kimchi MOM

Indian Moong Beans from Magnolia Days

Baked Lemon Coconut Risotto from Soni's Food

Homemade Peanut Butter from Home Cooking Memories

Homemade Ricotta Cheese from Webicurean

Portuguese Chorizo Bread from Family Foodie

 

Grand Quests (Main Dishes)

Traditional Pork Tamales from Gourmet Drizzles

Braised Lamb Brisket with Lemon Oregano Yogurt Sauce from The Girl In The Little Red Kitchen

Pan-fried Scallops with Garlic Chili Linguine from Food Lust People Love

Miso-Glazed Salmon from The Foodie Patootie

Penne with Mustard and Chives from My Other City By The Bay

Arepas Rellenas (Stuffed Arepas) from The Wimpy Vegetarian

Spanish Baked Scallops from Momma's Meals

Black Beans and Cheese Empanadas from Basic N Delicious

Venison Steak Gyros from Curious Cuisiniere

Baked Tilapia with Parmesan Basil Sauce from Growing Up Gabel

Vegetarian Hortobagyi Pancakes from Happy Baking Days

Caribou & Andouille Chili from The Foodie Army Wife

 

Escapades (Sweet Treats & Spirited Companions)

Vegan Chocolate Mousse from The Not So Cheesy Kitchen

Zebra Cake from That Skinny Chick Can Bake

Multilayer Bars from What Smells So Good?

Rut-Busting Wines For New Cooking Adventures from ENOFYLZ Wine Blog

Homemade Vanilla Marshmallows from Vintage Kitchen

Strawberry Raspberry Fruit Leather from Juanita's Cocina

Making Macarons – FAIL! from girlichef

Macaroons from Noshing With The Nolands

Fresh Strawberry Frozen Yogurt from The Messy Baker

Bircher Muesli from Peanut Butter and Peppers

Homemade Cinnamon Rolls from In The Kitchen With KP

Dorie Greenspan's Orange Almond Tart from Hip Foodie Mom

Ombre Mini Cakes from Daily Dish Recipes

Chocolate Dipped Madeleines from Big Bear's Wife

Join the #SundaySupper conversation on Twitter on Sunday, April 28th to talk all about our foodie fears! We'll tweet throughout the day and share recipes from all over the world. Our weekly chat starts at 3:00 pm AKST/7:00 pm EST. Follow the #SundaySupper hashtag, and remember to include it in your tweets to join in the chat. Check out our #SundaySupper Pinterest board for more delicious recipes and food photos.

Check out the Food & Wine Conference sponsored by Sunday Supper! Being held July 19th – 21st in beautiful, sunny Orlando, FL. It's a must for food bloggers. Find out more here → Food & Wine Conference
If you liked this recipe, here are some similar dishes you may enjoy!