If you like this dish, sign up for our newsletter for tasty, cultural inspiration in your inbox!
Say hello to a new way to enjoy fajitas at a cookout! These Fajita Style Venison Kabobs mean no plates are required to enjoy your fajita flavors!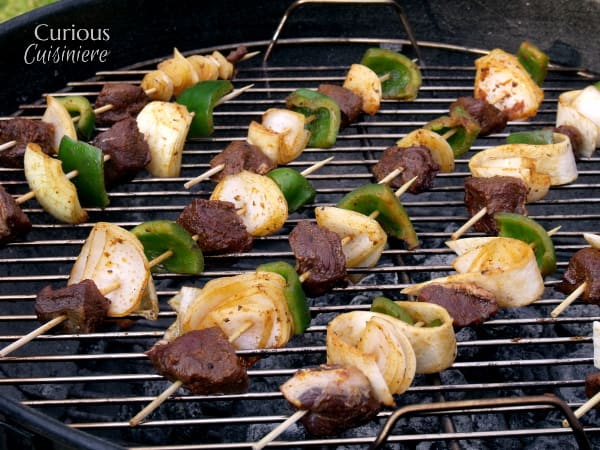 How do you do tailgate food?
One thing Wisconsinites know how to do is tailgate.
Baseball. Football. Heck, even college basketball games, will find people staked out in the nearest parking lot with, at a minimum, a grill and beer.
While brats and burgers are the classic tailgating food up here. Sometimes we do like to mix things up. With the food on a stick craze here in Wisconsin, kebabs are a natural choice.
Our Fajita Style Venison Kabobs
For these Fajita Kabobs (also spelled 'kebabs'), we marinated classic fajita ingredients (steak, onions, and green peppers) in oil, lime juice, and fajita seasonings. We did change thing up a bit with our steak though. Instead of grabbing a sirloin beef steak, we reached for one of the venison steaks that we have in the freezer. The flavors of venison go perfectly with the classic fajita seasonings here.
If you don't have a freezer full of venison, feel free to use a beef sirloin steak instead.
When grilling goes wrong…
Confession time: We had to make these kabobs twice. And, I really wish I could tell you that it was because they were so good that we ate them all without taking pictures, or something positive like that.
I think I've mentioned before how Tim does all of the grilling around here. I've been becoming quite an effective helper though, so I thought it was about time to try my hand at the coals.
We had it all planned out. We had somewhere to be later in the evening, so I'd get everything ready and have the kebabs grilling when he got home. Perfectly timed for a quick bite to eat before running out again.
Sadly to say, even with detailed instructions, I managed to kill the coals.
Five minutes after putting the meat on, I went to check on it and the grill was cold. (Don't look at me like that. The coals WERE ashy colored and quite hot before I put the meat on. Thanks.)
Tim looked at the situation and, knowing this was a recipe to share with you all, he immediately sprang into action to stoke up the coals and remedy the situation. But, the clock was ticking. In the end, we ate turkey sandwiches in the car.
So the first 'making' was really a more of a 'starting'.
The second time around, Tim took the tongs. And the venison kabobs turned out great!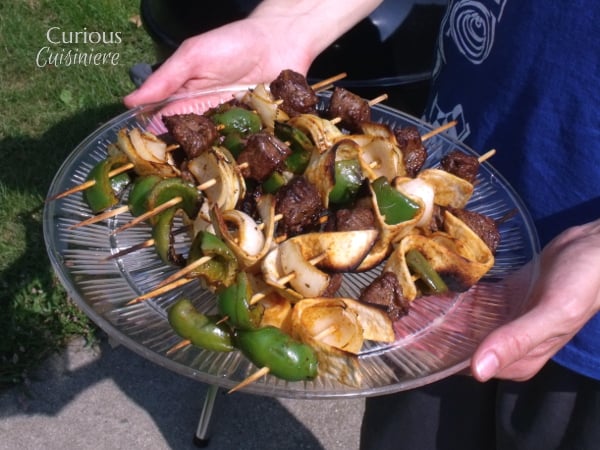 Grilled Fajita Style Venison Kabobs
These Fajita Style Venison Kabobs mean no plates are required to enjoy your fajita flavors!
Yield: 8 kabobs
Ingredients
¾

lb

venison steak

(or beef sirloin steak)

1

onion

1

green pepper

2

- 3

flour tortillas,

cut into 1" strips (optional)
For the Marinade
¼

c

oil

1

Tbsp

lime juice

¾

tsp

chili powder

¾

tsp

onion powder

¾

tsp

oregano

½

tsp

cumin

½

tsp

paprika

½

tsp

ground black pepper

¼

tsp

garlic powder

¼

tsp

salt

¼

tsp

cayenne powder

(optional)
Instructions
Cut steak, onion and green pepper into chunks, roughly 1". Place in a ziplock bag.

In a small bowl, whisk together marinade ingredients. Pour the marinade in the bag and let the ingredients marinate at least one hour. (Refrigerate if marinating longer than an hour.)

When you are ready to begin cooking, soak skewers in cool water for 5 min and get your grill going to a medium-high heat.

Spray tortilla strips with a light coating of cooking spray.

Skewer meat and veggies, snaking tortilla strips between the items if desired.

Grill skewers 10 min, flipping once.

Enjoy alone as easy eats. Dip in salsa, guacamole, or sour cream. Or, remove items from the skewer and fill up a tortilla to eat them the more traditional way.
Nutrition
Serving:
2
kabobs
|
Calories:
336
kcal
|
Carbohydrates:
12.4
g
|
Protein:
27.5
g
|
Fat:
19.6
g
|
Saturated Fat:
3.1
g
|
Trans Fat:
0.1
g
|
Cholesterol:
76
mg
|
Sodium:
216
mg
|
Fiber:
2.8
g
|
Sugar:
3
g
If you liked this recipe, here are some similar dishes you may enjoy!