Tender steak is slow simmered in a veggie mixture for perfectly combined flavors that create a perfectly comforting combo when this Swiss Steak is paired with mashed potatoes.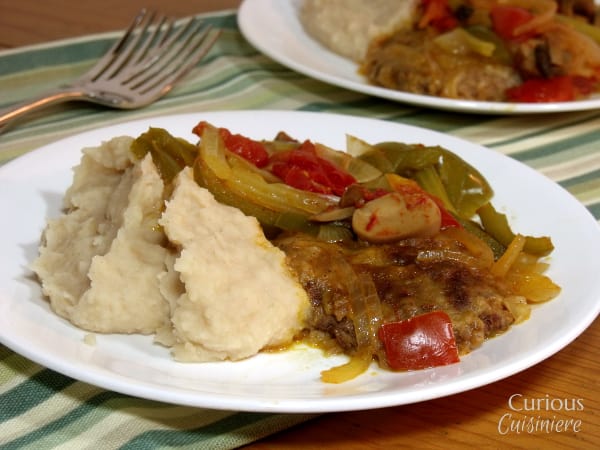 Memories from the kitchen
Some of my fondest memories of childhood are in the kitchen helping my mom.
My brother and I loved deciding what toppings would go on the pizza crust we had just (not so artfully) tossed into a round. We were always up for a batch of cookies, eager frosting helpers, and even willing to sit and stir the gravy so it didn't stick while mom tended to the rest of the meal.
The kitchen really was the center of our home, with our mom who held it together.
Meal prep is family time too
I'm pretty sure it's because of those great times in the kitchen that I am such a firm believer in making dinner a family affair that doesn't just start and end seated at the table.
Cooking is a perfect time for informal conversation. For me, it always seemed easier to talk about how things were going while we were doing something, like making dinner, rather than when I felt like I was in the spotlight at the dinner table.
It was also incredibly rewarding to be able to take ownership of parts of the meal. Whether my brother and I had pitched in to help prepare the side that went with the night's chicken or had learned about a new technique or ingredient, we felt proud of our accomplishments come dinner-time.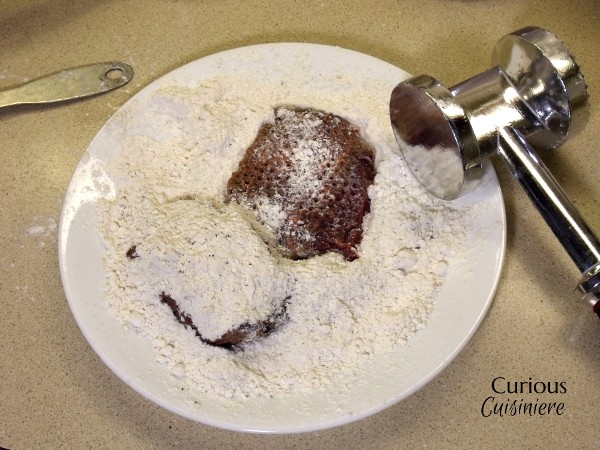 My mom's classic Swiss steak recipe
Today we're sharing one of my favorite childhood meals, which Tim has come to love as well: Swiss Steak.
Even when I wasn't as big on all the veggies (I'm sure my mom can still hear the whine of, "Mushrooms? Why!?"), I still loved the tender meat over steamy mashed potatoes.
But then again, you could put nearly anything over mashed potatoes, and I would have loved it.
What is Swiss steak?
The name Swiss Steak has been in use since the early 1900's, but it actually has no connection with Switzerland.
The term 'swissing' is an English term from the textile industry, that refers to the process of smoothing and softening cloth by hammering or rolling.
For Swiss Steak, a tougher cut of beef is rolled or pounded thin to make it tender. In Switzerland, steak prepared this way is referred to as 'roast mincemeat,' and in England, it is called 'smothered steak'.
How to make Swiss steak
To make Swiss steak, steak (typically round steak) is pounded thin with a seasoned flour mixture and then seared.
The seared meat is then placed in a baking dish with vegetables and braised in the oven. The low and slow cooking produces fall-apart tender steak in a flavorful vegetable sauce.
Perfect for serving over a mound of mashed potatoes.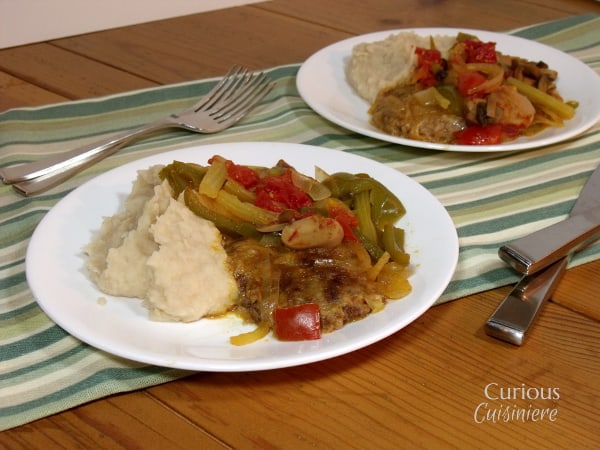 Don't have time for that low and slow cooking? Check our our quick and easy Swiss steak recipe. It cooks in a skillet for a perfect weeknight meal!
Swiss Steak
Tender steak is slow simmered in a veggie mixture for perfectly combined flavors that create a perfectly comforting combo when this Swiss Steak is paired with mashed potatoes.
Ingredients
For the Steak
1

Tbsp

seasoned salt

(such as Lawry's)

1

tsp

salt

1

tsp

ground black pepper

½

tsp

garlic powder

½

tsp

dry mustard powder

3

lbs

beef or venison steak,

cut into serving size pieces

3

- 4 Tbsp

salted butter
For the Veggies
2

green peppers,

sliced

1

onion,

sliced

4

stalks

celery,

sliced into 2" strips

2

(14 oz) cans diced

tomatoes,

un-drained

2

(4 oz) cans sliced

mushrooms,

drained

½

tsp

basil
Instructions
Preheat oven to 350F.

In a small bowl, mix flour, season salt, salt, pepper, garlic powder, and mustard powder.

Coat a large plate with some of the flour mixture. Lay one or two servings of steak over the flour and pour more flour over top. Using a meat mallet, pound the steak well to tenderize, flatten, and work the flour into the meat. Continue adding flour as needed. When the steaks are well coated in flour and an even thickness, set aside and continue with the remaining steak.

Heat butter in a large non-stick frying pan and brown each piece of meat on both sides over high heat.

Place browned meat in a greased, 9x13 baking dish and continue until all meat has been browned and is in the baking dish.

Place the sliced peppers, onions, and celery over the meat. Pour the tomatoes and mushrooms over the other veggies, and top with the basil.

Cover with aluminum foil and bake for 2 hours. Remove cover and continue baking for 15-30 minutes, until sauce has thickened slightly.

Serve over mashed potatoes.
Nutrition
Serving:
1
serving
|
Calories:
467
kcal
|
Carbohydrates:
19.3
g
|
Protein:
54.9
g
|
Fat:
16.5
g
|
Saturated Fat:
4.5
g
|
Cholesterol:
152
mg
|
Sodium:
1021
mg
|
Fiber:
2.8
g
|
Sugar:
149
g
If you liked this recipe, here are some similar dishes you may enjoy!