This Butternut Squash Lasagna gives noodleless lasagna a whole new fall twist! Try our tasty, vegetarian recipe today!
Noodleless lasagna!
This summer we created a noodleless lasagna using zucchini as the noodles in our Italian Sausage Zucchini Lasagna. The concept worked so well, we started wondering what other veggies we could use in place of lasagna noodles.
One of the things we look forward to come fall is cooking and eating squash. There's something so warm and comforting about the warm and smooth texture. We love stuffing squash, throwing it in pot pies, and experimenting with different types of squash.
So many reasons to love butternut squash
Butternut squash is always one of our fall favorites. What's not to love about the sweet, nutty flavor that goes so well in sweet and savory dishes? It's a flavor that makes us think of crunchy leaves and a crisp fall breeze.
As much as we love the flavor, I have to be honest about the biggest reason I love cooking with butternut squash.
It's all about the way it peels.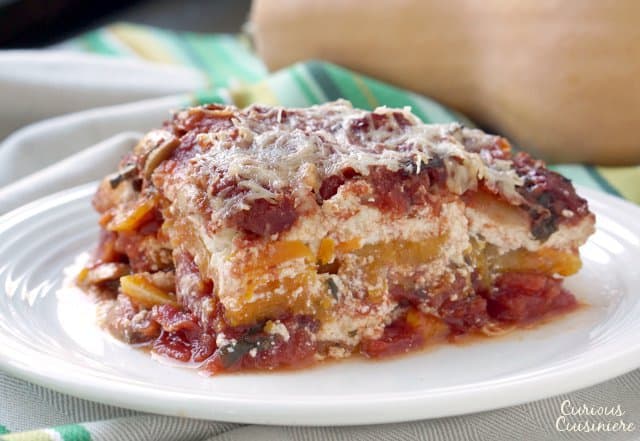 Peeling a nobbly squash like kabocha or a ridge-ed squash like acorn or buttercup can be a real pain. But, with its smooth skin and flat surfaces, butternut is a breeze to peel.
This easy peeling ability makes butternut squash perfect for this noodleless lasagna recipe.
The long neck is another element that makes butternut squash the natural choice for slicing lasagna 'noodles.' It's incredibly easy to get whole, relatively even slices, which are perfect for layering with the other elements of your lasagna.
Choosing the perfect butternut squash
When choosing a squash, keep in mind that smaller squash are often sweeter.
Like many vegetables, the bigger they get, the tougher the skin gets. As the vegetables grow larger, there is a chance they have taken on a slightly bitter flavor. If not bitter, they might just be a little less sweet and lacking in delicate flavor.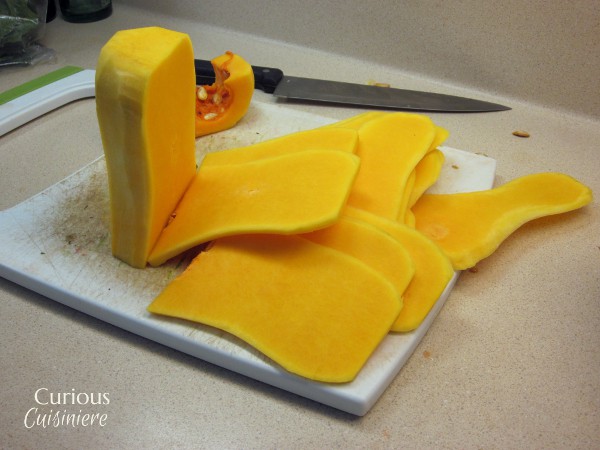 How to make butternut squash noodles
To make the noodles, chop off the two ends and peel your squash. Then chop off the bottom bulb with the seeds. (Seed and dice that part up and save it to throw in a stir fry or stew later!)
Once you have the peeled, solid neck of the squash, slice it into strips, carefully, using a mandolin or large knife. You're looking for strips that are roughly 1/4 of an inch thick.
Our butternut squash lasagna recipe
We kept with the veggie theme for this lasagna, layering the noodles with a fresh tomato sauce, sage-infused ricotta and sauteed mushrooms and spinach.
It is quite the fall treat!
Noodleless Butternut Squash Lasagna
This butternut squash lasagna gives noodleless lasagna a whole new fall meaning!
Yield: 1 (8x8) pan (Double the recipe to fill a 9x13 dish.)
Ingredients
For The Sauce
1

Tbsp

butter,

unsalted

1

onion,

diced

3

cloves

garlic,

minced

4

oz

mushrooms,

sliced

2

c fresh

spinach,

chopped

2

(14 oz) cans

diced tomatoes,

(or 4 large tomatoes, diced)

1

(6 oz) can

tomato paste

½

c

water

2

bay leaves

1

tsp

sage

1

tsp

rosemary

1

tsp

salt

½

tsp

cinnamon
For The Cheese
2

c

ricotta cheese

1

egg,

lightly beaten

½

tsp

salt

¼

tsp

nutmeg
Instructions
Preheat your oven to 375F.
For The Sauce
Heat the butter in a large skillet. Add the onions and garlic. Sauté over medium-high heat until soft, 3-5 min.

Add the mushrooms and cook until the mushrooms have darkened in color, 3-5 min.

Add the chopped, fresh spinach and sauté for an additional 1-2 minutes, until the spinach has wilted.

Add the tomatoes (with their juices), tomato paste, water, bay, sage, rosemary, salt, and cinnamon. Simmer for 5 minutes, then remove the sauce from the heat and set aside. Remove the bay leaves before you use the sauce in your lasagna.
For The Cheese
In a small bowl, mix together ricotta, egg, salt, and nutmeg. Set aside.
Putting It Together
Prep your butternut squash 'noodles'. Slice off the two ends of the squash and peel it with a sharp vegetable peeler. Once peeled, chop off the bottom bulb (containing the seeds). Place the neck of the squash upright on your cutting board and slice it into ¼ inch thick strips. (This can also be done using a mandolin slicer.) Set the strips aside.

Grease an 8x8 baking dish and spread 1/3 of the sauce mixture into the bottom of the dish. Top with ½ of the butternut squash, and ½ of the ricotta cheese mixture. Continue layering with 1/3 of the sauce, the remaining squash, and the remaining ricotta cheese mixture. Finish it off with the last 1/3 of the sauce.

Cover the dish with aluminum foil and bake for 30 minutes.

After 30 minutes, the outside should be bubbly and the squash should be starting to soften. (You can check for this by inserting a knife through the center of the dish.) Remove the aluminum foil and continue baking the dish for 20 minutes.

Remove the lasagna from the oven and top it with fresh grated Parmesan cheese. Return it to the oven (uncovered) for an additional 5 minutes, to melt the cheese.

Remove the lasagna from the oven and let it stand (uncovered) for 10-15 minutes before serving.
Notes
This recipe from 2014 was updated December 2017. We made the noodleless lasagna even better! Enjoy!
Nutrition
Calories:
293
kcal
|
Carbohydrates:
44.9
g
|
Protein:
15.5
g
|
Fat:
8.3
g
|
Saturated Fat:
4.9
g
|
Cholesterol:
27
mg
|
Sodium:
341
mg
|
Fiber:
9
g
|
Sugar:
13.2
g
---
This is one of the recipes from the early days of Curious Cuisiniere. We've updated our pictures since we first shared it, but we've left an original here, in case you've found us in the past and are looking for that old, familiar image.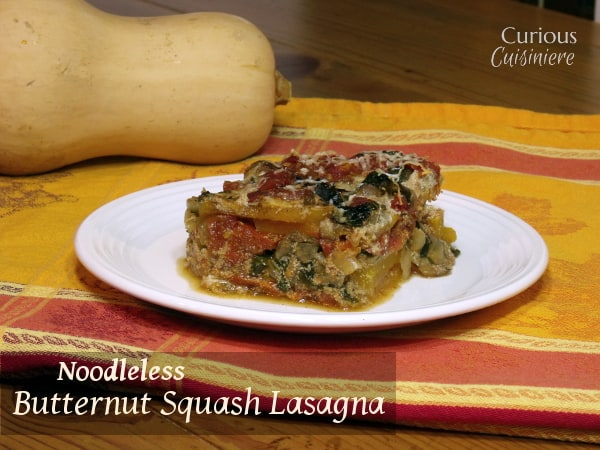 ---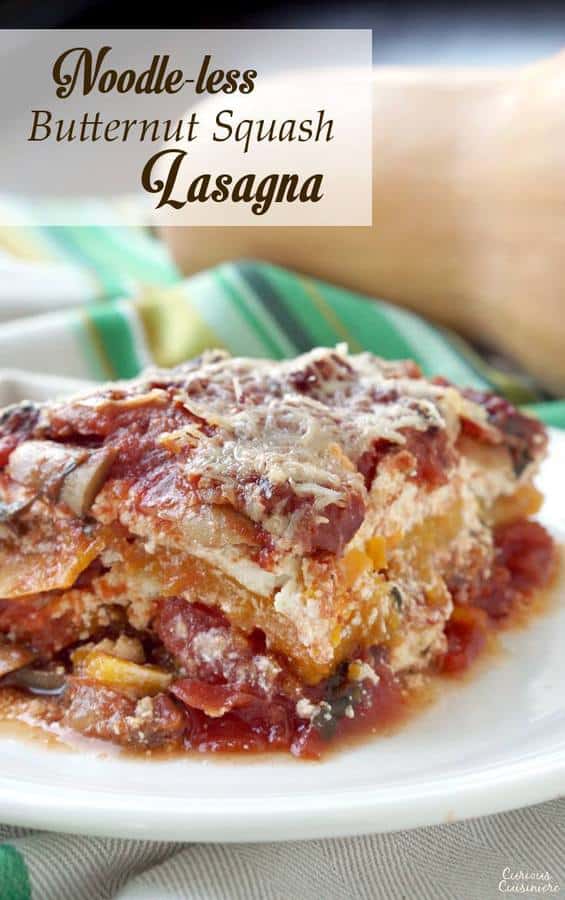 If you liked this recipe, here are some similar dishes you may enjoy!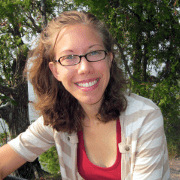 Sarah is one of Curious Cuisiniere's founding duo. Her love for cultural cuisines was instilled early by her French Canadian Grandmother. Her experience in the kitchen and in recipe development comes from years working in professional kitchens. She has traveled extensively and enjoys bringing the flavors of her travels back to create easy-to-make recipes.