Bring the flavors of fall into your bowl with this Indian spiced, Slow Cooker Butternut Squash and Lentil Soup. It's the perfect soup for a cool fall day!
The misunderstood lentil
How do you feel about lentils?
Up until about a year ago, I had a strong, unfounded aversion to them.
I didn't even really know what they were. But, in my mind, lentils were confined to lentil soup the way split peas are typically confined to pea soup. And, the one thing I did know was that I wasn't a fan.
Maybe it was a single bad experience with them as a child that sent me down the lentil hating path, or maybe it was simply a fear of the unknown.
However, one day, while standing in the bulk section at the grocery store, I was struck by the different varieties of lentils available, and I wondered if I had sold these little guys a bit short. With the option to purchase just get a few, I cautiously filled some bags. (Gotta love bulk bins for trying new things!)
I won't lie and tell you that the moment I tasted lentils anew the clouds parted and I had the biggest 'ah ha!' moment of my life so far.
Actually, I think I overcooked the first round into mush.
But, the results were definitely not as horrible as I had imagined.
In fact, their earthy and slightly meaty flavor was quite good. Who would have thought?
And that's a good thing, because these little beans are pretty cool. (They even have a festival dedicated to their honor each summer in Pullman, Washington!)
Lentils: A powerhouse food
Lentils were one of the first crops domesticated in the Near East, where they probably sustained the people with their nutritional content. These guys rank number three for highest protein content in a legume or nut. This, and their high iron content, makes them indispensable for vegetarians. They are also incredibly high in fiber, and their starches make them perfect for diabetics.
You will find them ranging in color from red/orange, to green, or even brown or black. It is the green, or French, lentils that you will typically find packaged on your grocery store shelves. If your grocery store has a bulk section, look there first for red lentils. They are also carried at many world food markets or health foods stores.
Our Slow Cooker Butternut Squash and Lentil Soup Recipe
This Butternut Squash and Lentil Soup is the perfect meal for a busy fall evening. All of the ingredients go into the crock pot, and 8 hours later, you have a thick and hearty soup/stew with a hint of warm and sweet Indian flavors from the garam masala and mint seasonings.
If your family isn't big on lentils, red lentils are the way to get them started. They cook much faster than green and black lentils, and once cooked, they break down quite quickly. Since this stew is cooked low and slow, by the time you sit down to eat it, there is a good chance you might not even know the lentils are there. The longer the soup cooks, the more the lentils they blend nicely into the broth, simply adding a wonderful thickness and heartiness to the soup's broth.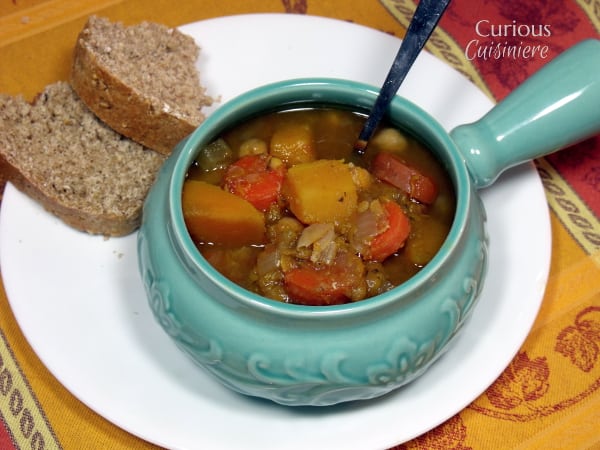 Slow Cooker Butternut Squash and Lentil Soup
Bring the flavors of fall into your bowl with this Indian spiced soup.
Yield 8 c
---
Ingredients
½

medium

butternut squash,

peeled and chopped (roughly 4 cups)

2

carrots,

chopped

1

onion,

chopped

1

celery stalk,

chopped

1

c

red lentils,

dry

1

c

chickpeas,

dry

1

(16 oz) can

diced tomatoes,

undrained

1

bay leaf

1

tsp

garam masala

½

tsp

salt

¼

tsp

mint leaves,

dry*

6

c

water
Instructions
Place all ingredients in a 4 qt slow cooker and cook on low for 8-10 hours (the longer you cook, the thicker the stew will get).

Serve warm with hearty, whole grain bread.
---
Recipe Notes
*Don't have mint? How about an un-used mint tea bag? Just break it open and use 1/4 tsp of the leaves. (Check to be sure it is 100% mint tea first!)
If you liked this recipe, here are some similar dishes you may enjoy!