Moussaka is a Greek eggplant casserole filled with layers of eggplant and a warmly spiced meat mixture, all covered in a rich béchamel sauce. This is a recipe for some serious Greek comfort food!
What Is Moussaka?
If you think of Greek comfort food, most likely moussaka comes to mind.
Moussaka is a baked casserole filled with layers of flavorful meat and vegetables, most notably, eggplant.
Everything is topped off with a creamy béchamel sauce, a French influence, but one that Greeks quickly took to and called their own for the purposes of this popular dish.
It is believed that Arabs brought eggplants to Greece, and it is likely that they introduced a version of moussaka as well. Over time it evolved into what it is today.
What Ingredients Are In Moussaka?
Moussaka reminds us of Italian lasagna, with the way a number of individually prepared ingredients are layered together and baked.
Inside of moussaka, you will find:
fried (or baked) eggplant
a thick ground meat and tomato mixture
creamy béchamel sauce
Traditionally, moussaka is made using ground lamb.
Lamb does have a pretty distinct flavor, and in other parts of the world it's not as readily available. So, nowadays, beef is considered an acceptable substitute.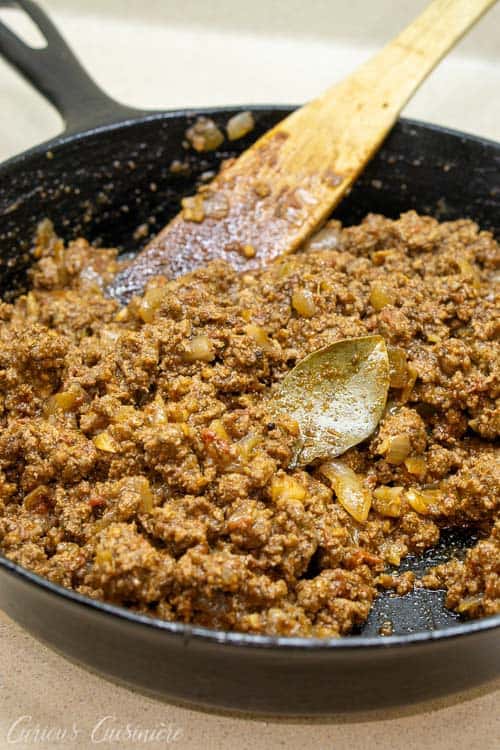 How To Make Moussaka
Making moussaka is a bit of a labor-intensive process. All of the ingredients for the final dish need to be prepared separately. So, get ready to get a few pans dirty.
Here are the basic steps to make moussaka:
Salt the eggplant
Prepare the meat sauce
Boil the potatoes (if using)
Cook the eggplant
Make the béchamel
Put it all together
Bake
What is Béchamel Sauce?
Béchamel sauce is a rich, creamy white sauce that is made from butter, flour, and milk.
Béchamel sauce is considered one of the 'mother sauces' of French cuisine. As such, it is a basic sauce from which many adaptations and other sauces can be made. (Like the cheese sauce you would use to make macaroni and cheese.)
How To Make Béchamel Sauce
The tricky part to preparing a béchamel sauce is geting a very creamy sauce, with no lumps.
If you've ever worked with a roux (a flour and butter mixture) to make a sauce or white gravy, you know that adding the milk to your roux can be a bit of an intimidating task.
Cold milk and hot roux don't like to mix well.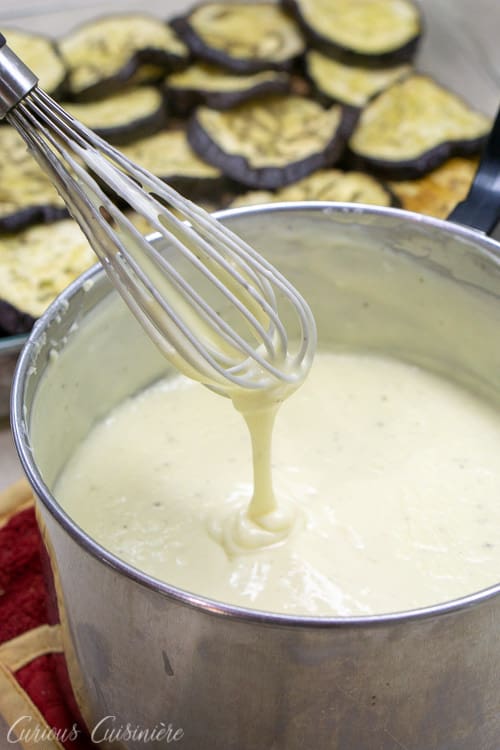 The trick is to start with lukewarm milk. And to add the milk to the roux a little at a time, mixing each addition in before adding more milk.
This process of slowly adding the milk slowly thins out the roux and evenly distributes it.
No clumps!
We recommend having all of your ingredients for the sauce ready and waiting when you start. That way you can focus on what is going on in your pot.
And don't be worried if you have a few lumps the first time you make béchamel sauce.
It's going in moussaka anyway. You'll never know the difference!
The Béchamel Sauce For Moussaka
Most moussaka recipes take the basic (butter, flour, and milk) béchamel sauce and kick it up a notch with a generous addition of Parmesan cheese, a few egg yolks for richness, and a pinch of nutmeg for depth.
Get ready, because this béchamel sauce is something extra special!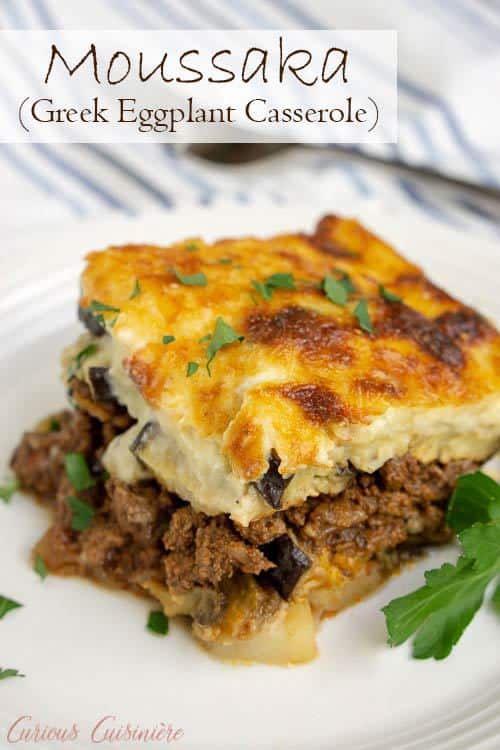 How To Prepare Eggplant For Moussaka
The eggplant definitely takes the most time to prepare of any of the ingredients for moussaka.
But, then again, it is the star of the show.
(Although some would argue that the rich and luxurious béchamel sauce steals the spotlight from the poor, simple eggplant. But, we'll let you decide.)
First, the eggplant slices need to be salted and left to sweat for around 1 hour. This removes some of the moisture from the eggplant and takes any bitterness that might be in the skins away as well.
After salting, the eggplant is rinsed of the excess salt and patted dry.
Then, it comes time to cook the eggplant!
Traditionally, the eggplant for moussaka is fried. But, honestly, pan frying many many slices of eggplant is a bit time consuming and tedious.
And, if we're going to bother frying eggplant, we'd much rather just eat those fried eggplant slices straight up, not bury them in a casserole.
The slices lose that fried crispness as they bake anyway.
We've made the process of making moussaka a bit more simple and less time consuming by brushing the eggplant slices with olive oil and popping them in the oven to bake.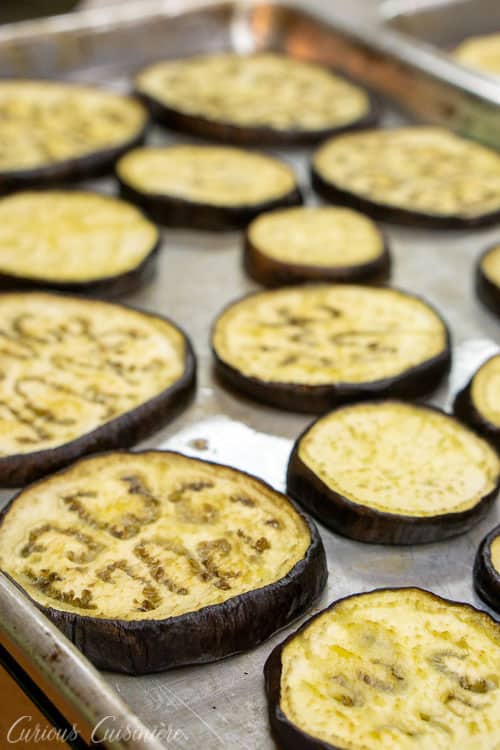 While the eggplant bakes, you can work on other ingredient prep.
And, baking the eggplant makes the whole dish a bit lighter on the calorie end.
Not that you're counting calories once you get to that béchamel sauce.
But, baking the eggplant does make us feel a bit better about diving unashamedly into the béchamel layer.
It's all about balance. Right?
If you are a frying fanatic or moussaka purist, you can definitely fry up your eggplant for this dish. We won't hold it against you in the slightest.
If frying your eggplant, we'd suggest using a technique similar to the way we make our Eggplant Parmesan.
How To Put Together Our Moussaka Recipe
Once you have all of your ingredients and sauces prepared, it's time to layer the moussaka!
We found that this moussaka recipe filled a 9×13 baking dish to the brim! (So if you have an extra deep 9×13, now's the time to break it out!)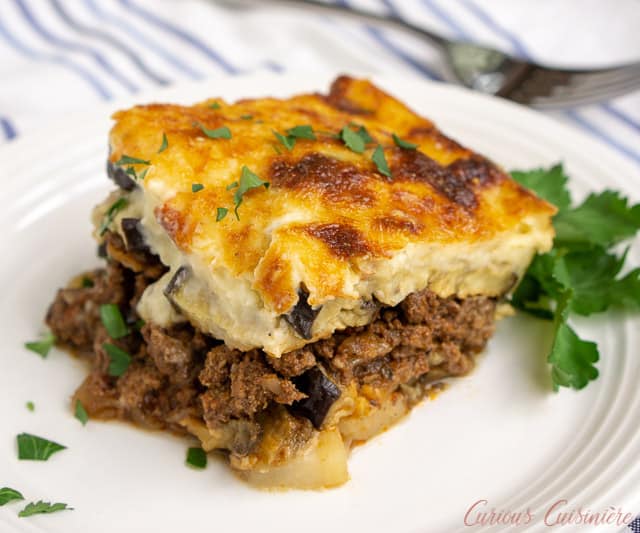 We started with a layer of boiled potatoes to give the moussaka a more sturdy base. (While potatoes aren't strictly traditional, they are a very common addition.)
Then, we added a layer of the baked eggplant. Followed by the meat sauce mixture.
Next, we arranged another layer of eggplant.
And, we finished everything off with the béchamel sauce. (As a side note, it might look like you have too much béchamel sauce, but trust us, it's just the right amount!)
Just when you think you're done, the béchamel sauce gets a nice topping of Parmesan cheese.
And then, you bake this beast until the top turns a beautiful golden color.
Greek Wine Pairing For Moussaka
A Greek dish that is this much of a labor of love, needs a fantastic Greek wine to pair with it!
We needed a red that was bold enough to pair with the robust flavors of the meat sauce, but not so bold that it overwhelmed the eggplant. It also needed to have a bit of acidity and tannin to be able to cut through the richness of the béchamel sauce and act as a palate cleanser.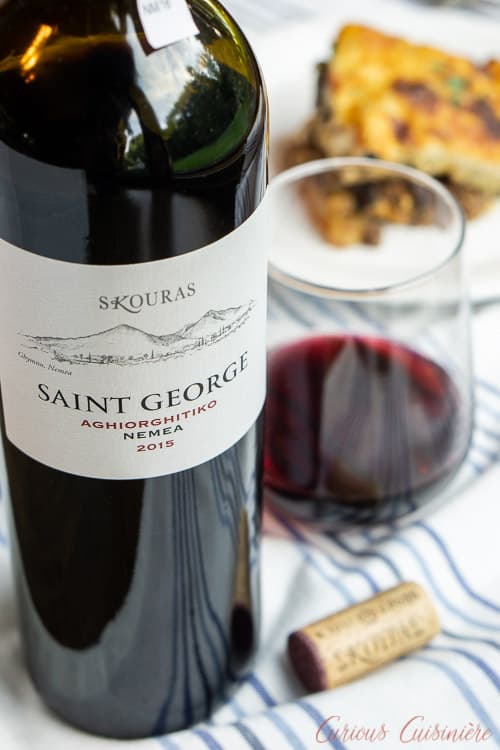 We settled on Aghiorghitiko (or Agiorgitiko), a varietal that is native to Greece, and one that was new to us.
This varietal is one of the most widely planted red grape varietals in Greece. It is traditionally grown in the Nemea region, in the northeastern part of the Peloponnese of Greece (the peninsula in southern Greece).
We chose the Aghiorghitiko from Domaine Skouras and found the wine to be jammy and earthy on the nose, with notes of red raspberry and warm spices.
On the palate we found an abundance of dry tannins, a rich body, and a balanced acidity with notes of tart cherry.
This is a wine that definitely needs some time in the glass to open up, but once it did, we found it to be a wonderful complement to the richness of the moussaka.
A sip of wine after a bite of eggplant, meat, and creamy béchamel cleansed the palate and readied us for another bite.
The wine definitely provided a wonderful pairing and a fun way to dive into native Greek wine with this classic Greek dish!
Greek Moussaka (Eggplant Casserole)
Moussaka is a Greek eggplant casserole filled with layers of eggplant and a warmly spiced meat sauce, all covered in a rich béchamel sauce.
Yield: 1 (9x13) baking dish
Ingredients
For The Eggplant
2

large

eggplant,

sliced ½ inch thick

2

tsp

salt

olive oil
For The Meat Mixture
1

Tbsp

olive oil

1

onion,

diced

2

cloves

garlic,

minced

1

Tbsp

oregano

1

tsp

sugar

1 ½

lbs

ground meat

(beef or lamb)

4

oz

red wine

2

Tbsp

tomato paste

1

(14 oz) can

diced tomatoes,

un-drained

1

tsp

cinnamon

1

bay leaf

1

tsp

salt

½

tsp

pepper
For The Potatoes
1

lb (3 medium)

potatoes

, peeled and sliced ½ inch thick
For The Béchamel Sauce
¼

lb

butter

4

c

milk,

lukewarm

3

egg yolks

¾

tsp

salt

½

tsp

pepper

Pinch

nutmeg

6

oz (3 c) fresh grated

Parmesan cheese,

divided
Instructions
Preheat your oven to 400F.

Season the eggplant slices on both sides with salt. Place in colander to sweat for 1 hour.
Prepare The Meat Mixture
While the eggplant are sweating, make your meat mixture.

In a Dutch oven or large skillet, heat the olive oil over medium high heat. Add the onion and sauté for 1-2 minutes, until softened.

Add the garlic, oregano, and sugar. Sauté for 2-3 minutes, until the onions are lightly caramelized.

Add the ground meat to the pan and cook, stirring, until it has browned, 4-5 minutes.

Add the wine and scrape up any bits that are stuck to the bottom of the pan.

Add the tomato paste, diced tomatoes, cinnamon, and bay leaf.

Reduce the heat to medium low and simmer the mixture, uncovered, for 30 minutes, or until the sauce has thickened.

Once all of the moisture has been absorbed from the meat mixture, remove it from the heat. Add the salt and pepper. Taste, and adjust the salt and pepper as necessary. Remove the bay leaf and set the meat mixture aside.
Boil The Potatoes
While your sauce is simmering, fill a medium saucepan with lightly salted water. Add your potato slices and bring it to a boil. Boil the potato slices for 5 minutes.

Drain and rinse the potatoes with cool water to stop their cooking. Cover with cool water and set aside.
Bake The Eggplant
Rinse the salt off of the eggplant slices and pat them dry with a clean dish towel.

Place them on a greased baking sheet and brush with olive oil.

Bake for 30 minutes.
Prepare The Béchamel Sauce
While the eggplant is baking, make the béchamel sauce. First, measure out all of your ingredients and warm your milk. This will be key to a successful sauce.

In a large saucepan, melt your butter over medium heat.

Once melted, add the flour and whisk until moistened.

Add the warm milk, roughly 1 cup at a time, whisking after each addition until a smooth sauce is reached before adding more milk.

Continue to heat the béchamel sauce over medium heat, stirring often, until it thickens, 15-20 minutes. Once thickened, remove the sauce form the heat.

Place your egg yolks in a small bowl. Add a couple of ladle-fulls of the hot béchamel sauce, whisking constantly to warm the egg yolks. Then, pour the egg mixture into the milk mixture slowly, whisking constantly.

Stir the salt, pepper, nutmeg, and 2 cups (4 oz) of grated Parmesan cheese into the sauce. Mixing until it is smooth and the cheese has melted.
Assemble And Bake The Moussaka
After you remove your eggplant form the oven, reduce your oven's heat to 350F.

Butter a 9x13 inch baking dish. (Use one with extra deep sides, if you have it, but a normal one will work just fine.)

Spread a layer of potatoes over the bottom of the dish.

Cover the potatoes with a layer of eggplant.

Spread the meat over the eggplant.

Add a second layer of eggplant over the meat.

Pour the béchamel sauce over the final layer of eggplant. Use a spatula to gently spread the sauce evenly.

Sprinkle the top with 1 c (2 oz) grated Parmesan cheese.

Bake the moussaka for 50-55 minutes, until the top is golden brown and the edges are bubbly.

Remove the moussaka from the oven and let it cool for 15-30 minutes before serving.
Notes
NOTE: Moussaka can be made ahead of time and refrigerated before baking. Let it come to room temperature for an hour before baking as directed.
It can also be frozen after baking. Thaw on the counter for 8-10 hours and reheating at 250F until warmed through, roughly 1 hour.
If you're looking for more fun Greek wine pairings, look no further than this collection from the talented Wine Pairing Weekend crew! Thanks to to Cindy from Grape Experiences for encouraging us all to find some new Greek wines to taste!
If you liked this recipe, here are some similar dishes you may enjoy!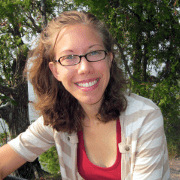 Sarah is one of Curious Cuisiniere's founding duo. Her love for cultural cuisines was instilled early by her French Canadian Grandmother. Her experience in the kitchen and in recipe development comes from years working in professional kitchens. She has traveled extensively and enjoys bringing the flavors of her travels back to create easy-to-make recipes.