Our American classic Stovetop Mac and Cheese recipe is just as quick as the box mix, but made with real cheese!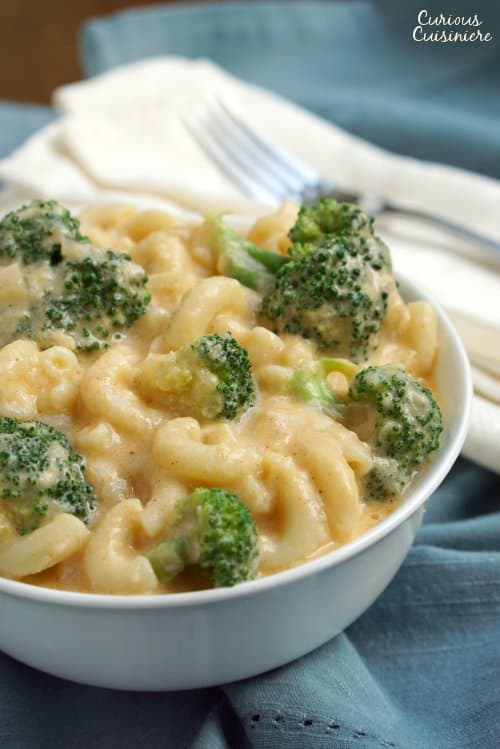 Was it the box of Velveeta Shells and Cheese or the Kraft Blue Box that defined your childhood?
Either way, I don't think I've met a kid (or adult) who doesn't love this dish that has become an American staple.
It's comfort food.
It reminds us of childhood.
And it's oh-so-good!
The History and Mac and Cheese
We tend to think of Mac and Cheese as a classically American dish, but the truth is, is didn't originate on American soil.
We see dishes made with just pasta and Parmesan cheese as far back as the 1300s in Italy. (Of course, it would have come from Italy!)
From Italy, the pasta and cheese combo spread across Europe. (Even that early people couldn't resist cheese!)
It was probably the English settlers who brought the dish over to the New World, but it wasn't an everyday comfort food.
Far from it!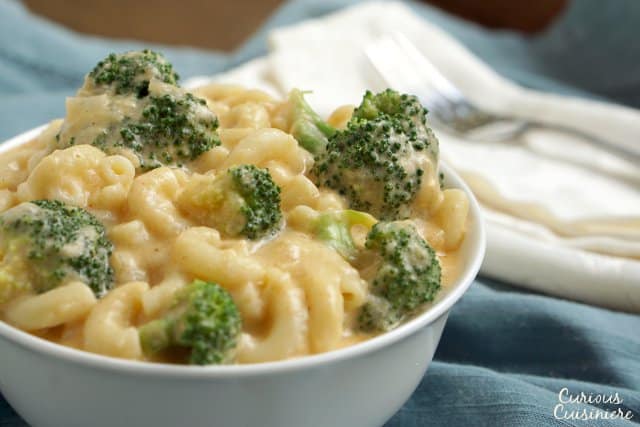 Mac and cheese was actually a dish of the upper class, because in America, pasta and cheese were hard to come by, since they were imported goods.
But still, it wasn't until the industrial revolution that these items became more accessible for the everyday Joe. Cheddar became the common cheese used used, because it was more cost effective than imported Parmesan.
It is said the Thomas Jefferson helped popularize macaroni and cheese after he tasted it on a trip to Europe. He loved it so much he served it as a White House dinner in 1802.
The dish's popularity grew, and then in 1937, Kraft put mac and cheese into the blue box that so many of us know so well.
Eight million of those blue boxes sold that first year they were on the shelves. At that point you could serve 4 for only 19 cents, so they were the perfect way to feed a family in the midst of The Great Depression.
Our Stovetop Mac and Cheese With Broccoli Recipe
There are a lot of recipes out there for mac and cheese where it is cooked on the stove-top and then baked. And while that does intensify the flavor a bit (and lets you add some breadcrumbs that become super toasty crisp), today's recipe is a completely stove top version, making it a quick way to have your mac and cheese craving on the table in about a half hour.
(That's just as long as the box mix would take!)
We've added broccoli to our mac and cheese, because, really, who can resist broccoli and cheese?
I know we can't.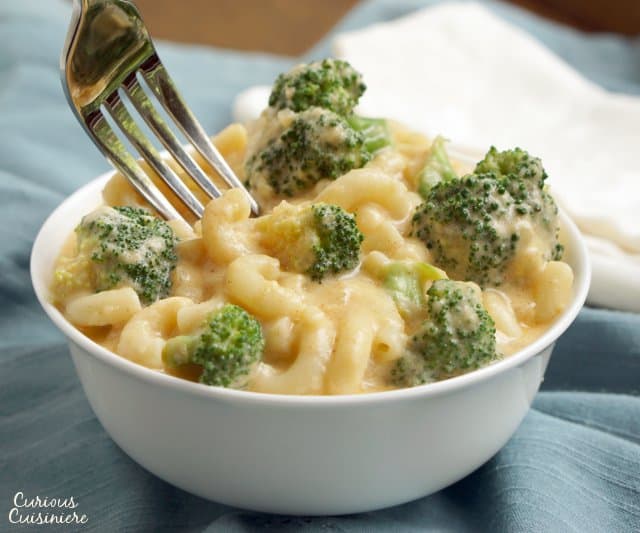 Mac and Cheese With Real Cheese
Instead of creamy Velveeta cheese, we're using a combination shredded cheddar and mozzarella cheeses for our stovetop mac and cheese.
The cheddar cheese gives a wonderful flavor, but it's not the best melting cheese, so it's important to add it a little at a time, making sure to melt each addition as it gets added.
The mozzarella helps with the gooey, melty texture of the mac and cheese. Because, you've gotta have that gooey cheese texture!
And, as a tribute to the history of mac and cheese, before it became an American staple, we've added a bit of Parmesan cheese to the mix. You'd be surprised the great flavor POP Parmesan adds!
Grab a fork! Your bowl's waiting!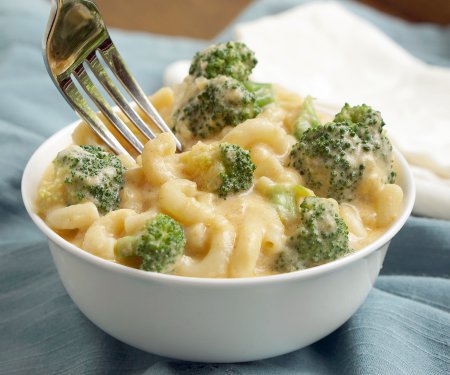 Stove Top Mac and Cheese with Broccoli
Stove top Broccoli Mac and Cheese, just like the Velveeta box, but made completely from scratch with real cheese!
Yield: 8 cups
---
Ingredients
8

oz

pasta,

dry

2

Tbsp

unsalted butter

½

small

onion,

finely minced

2

c

milk

2

tsp

Worcestershire sauce

1

tsp

paprika

1

tsp

mustard powder

1

tsp

salt

¼

tsp

ground black pepper

1/8

tsp

nutmeg

3

c

sharp cheddar cheese,

shredded

1/4

c

Parmesan cheese,

fresh grated

3

- 4 c

broccoli,

chopped into ½"-1" pieces (thawed if using frozen)
Instructions
In 3 quart saucepan, cook pasta according to package directions for 7-10 minutes, until al dente. Drain pasta when cooked and set aside, covered, in the pot.

Place the broccoli in a medium saucepan with 1/4 cup of water. Cover and steam the broccoli for 3-4 minutes. Until brightly colored and tender. Remove from the heat.

While the pasta and broccoli are cooking, melt the butter in a 2 quart saucepan. Add the onions and sauté over medium-high heat until soft (5 min).

Add the flour and stir until moistened.

Slowly add the milk to the flour and onion mixture, stirring until the mixture is even. Cook, stirring often until the mixture has thickened slightly (10 min). (Reduce the heat as needed to keep the sauce just below a simmer.)

Reduce heat to medium low. Add the Worcestershire sauce, paprika, mustard powder, salt, pepper, and nutmeg. Stir to incorporate.

Add the cheese, 1 c at a time, stirring until each addition has melted.

Add the cook broccoli to the cooked and drained pasta. Pour the hot cheese sauce over the pasta and mix until well coated.
---
Recipe Notes
We updated this recipe from 2013 in August 2017 to make it even better. Enjoy! 
---
This is one of the recipes from the early days of Curious Cuisiniere. We've updated our pictures since we first made it, but we've left the original images here as a fun throwback and shout out to how far we've come. Enjoy!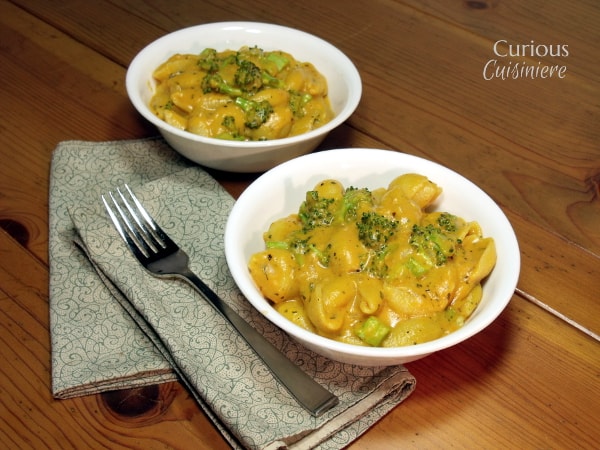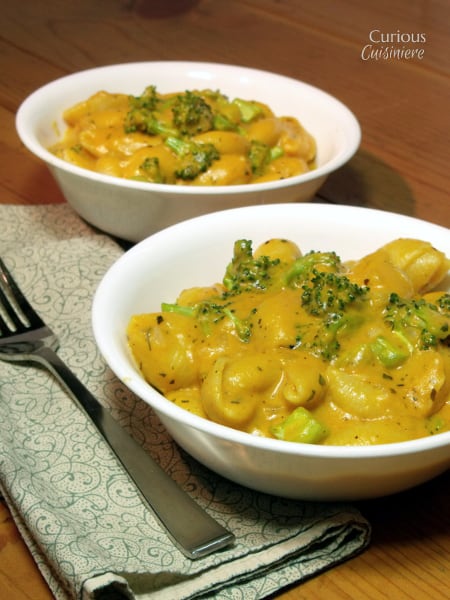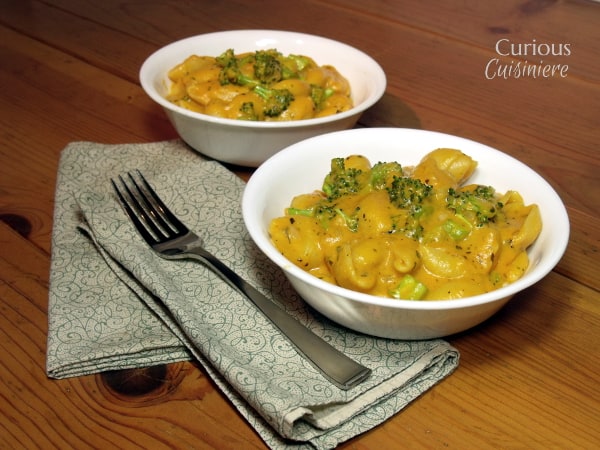 ---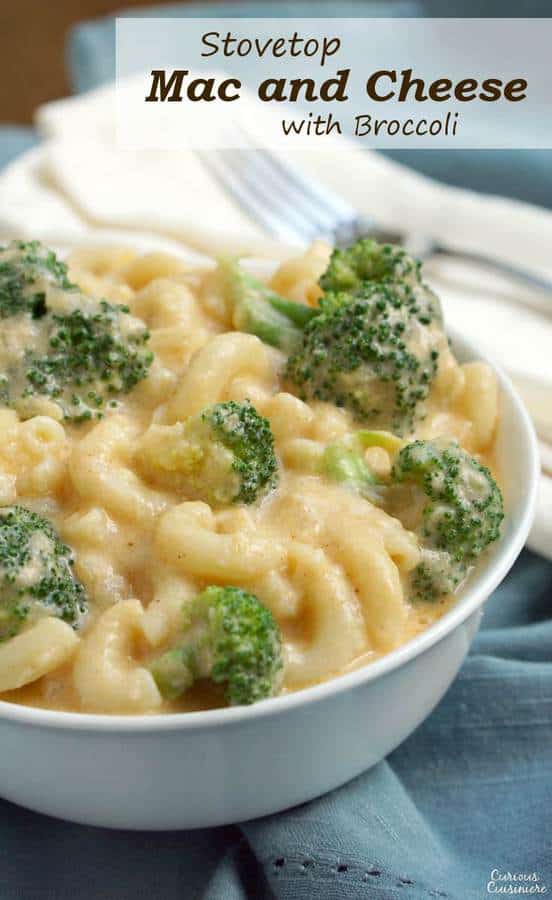 If you liked this recipe, here are some similar dishes you may enjoy!