Croatian Štrukli are soft and pillow-y dumplings that can be baked or (as we present them here) served in a cheese dumpling soup.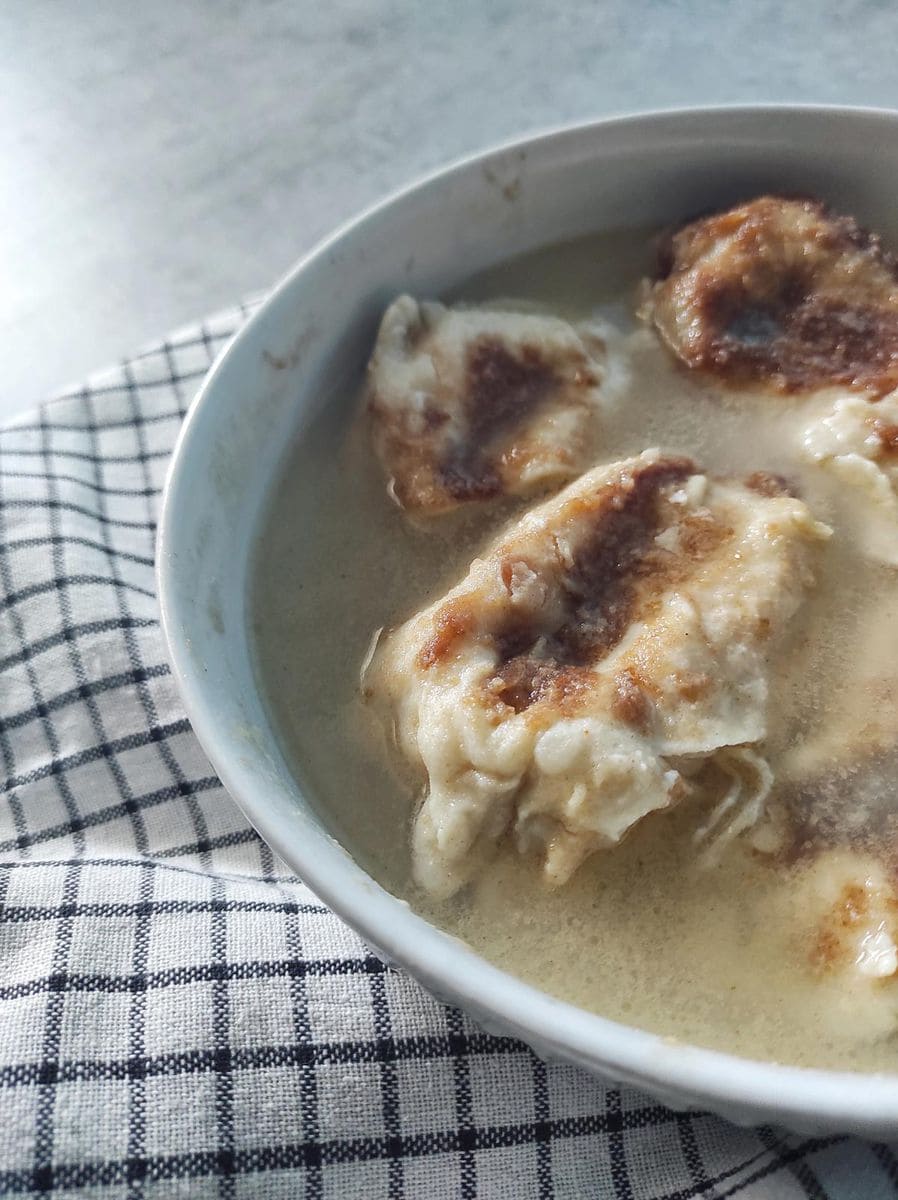 Zagorje in Croatia
In the north of Croatia lies the region of Zagorje, known for its beautiful nature intertwined with green forests, vineyards, and fields; numerous old and small towns; as well as a lot of historical castles, museums, and churches.
It presents a great weekend (or longer) getaway. You can get lost in all the greenery and historical sites.
Zagorje's gastronomic scene is equally interesting as its natural beauties!
The region of Zagorje hides many small, old-fashioned, and traditional restaurants (some of them are placed in old wooden houses which certainly gives authenticity), as well as many wineries, wine cellars, and kleti (Zagorje's word for small houses ideal for wine tasting and enjoying yourself).
This Croatian region has outstanding and rich-in-flavors cuisine. And one of its trademark dishes is certainly štrukli.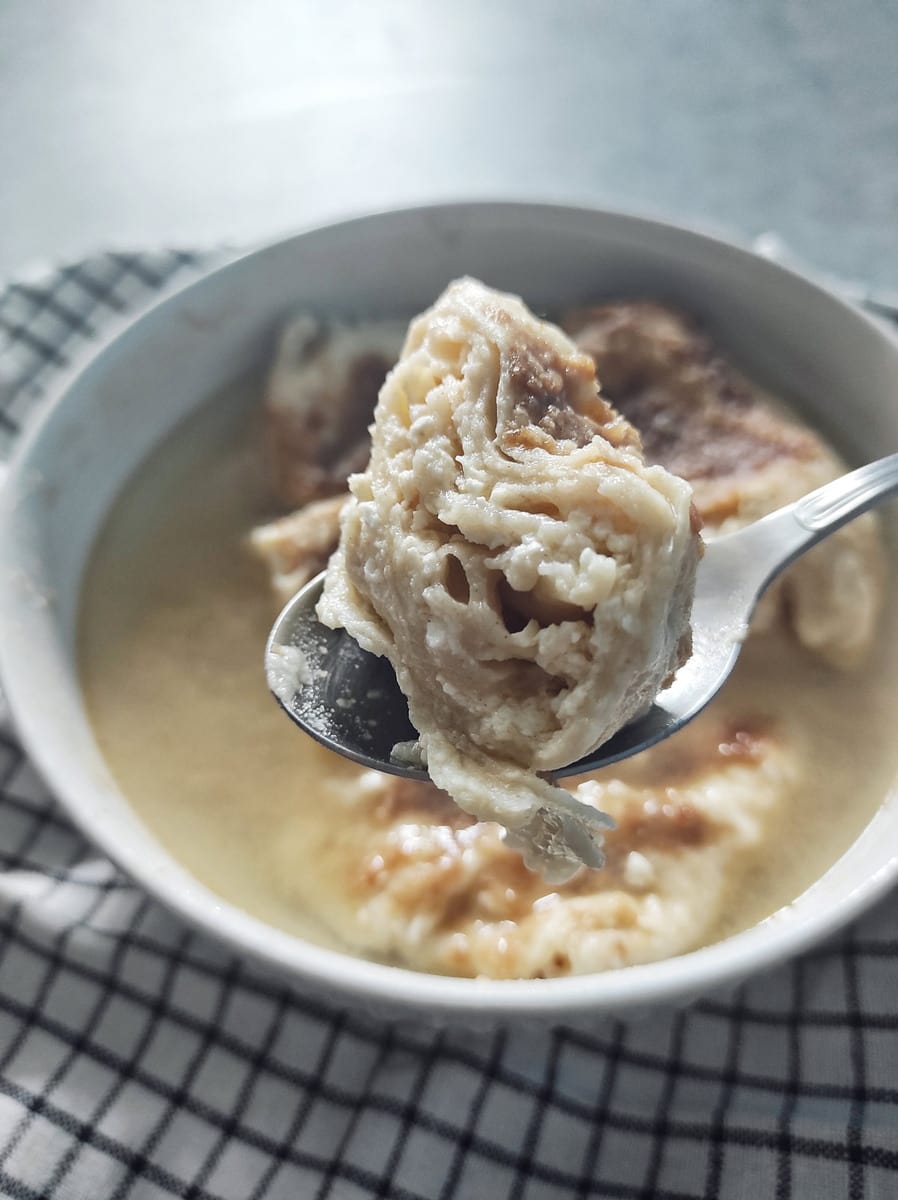 Traditional cuisine of Zagorje
Zagorje is situated in the north-central part of Croatia, between the mountains and the rivers.
It is also a meeting point of many different cultures and civilizations such as Germans, Hungarians, and Turks living there. And all of them influenced Zagorje's traditions and cuisine.
Zagorje is characterized by its strong connection with nature, and on the basis of that connection, it developed its unique cuisine.
Like other regions, as well as many other European cuisines, Zagorje's cuisine is based on seasonal ingredients and simple methods of preparation. The food has always been based on simple, healthy, and homemade ingredients and people prepared them with minimal heat treatment in order for the food to retain its nutritional properties and flavors.
This was very important in the past since the workers in the field needed rich food so they could easier overcome their daily work. The vegetables were prepared for winter stores. And pork meat and fat had one of the biggest roles in the diet of the people. The pork was prepared with beans, cabbage, or turnips.
Today, Zagorje's cuisine is a mix of food from peasants' kitchen and the dishes which were prepared for the noble families in their castles.
Due to that, we can see two sides of this region's gastronomy scene – the dishes of the housewives who created feasts for their families made of potatoes, cheese, eggs, cream, and dough, and the splendor of veal, game, fish, mushrooms, and sauces served to the nobles.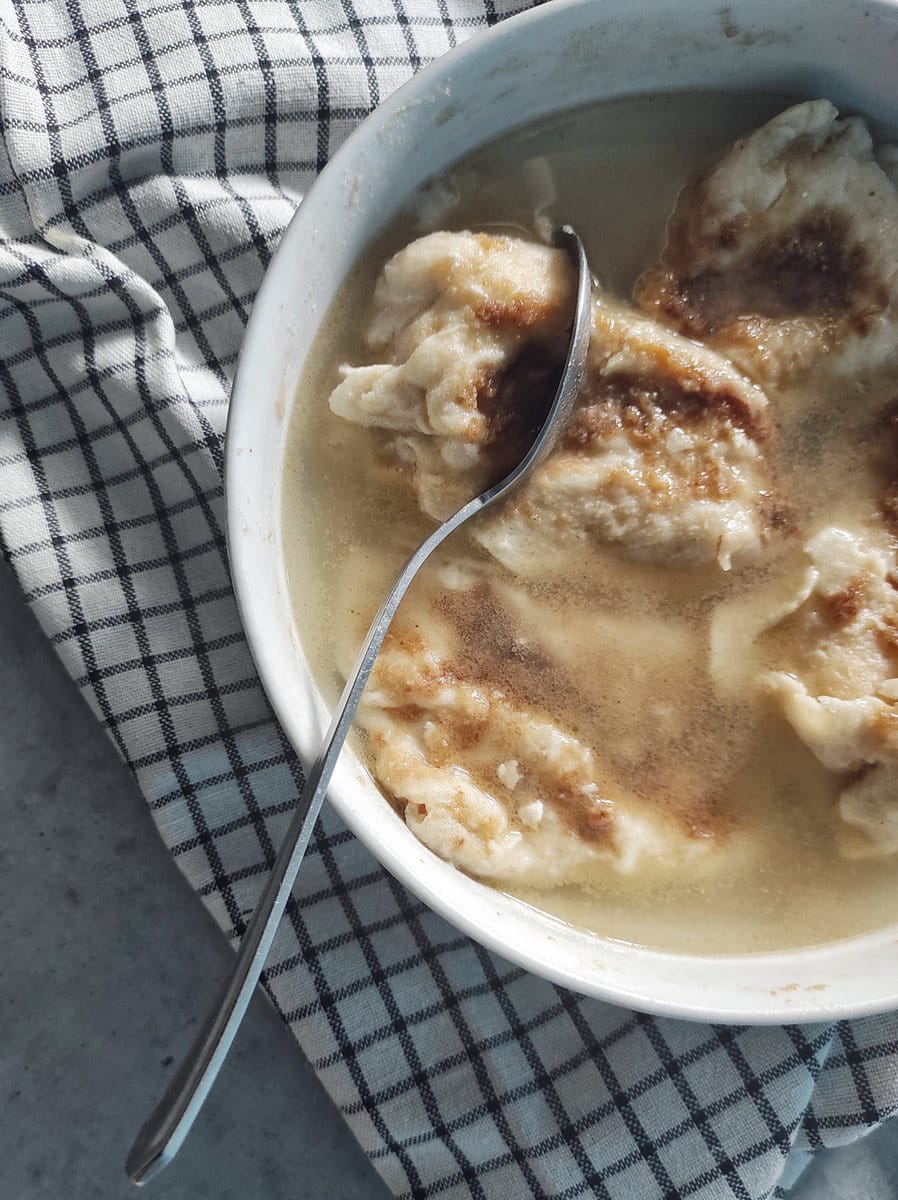 What are Zagorski Štrukli?
Zagorski štrukli is the most famous dish in this region. This traditional and authentic dish has been protected by The Ministry of Culture of the Republic of Croatia as an intangible asset.
It is a simple, yet nutritious dish made of pulled dough that can be filled in hundreds of different combinations.
Štrukli can be baked or cooked in a soup. They can also be savory or sweet. They can be served as appetizer, the main course (in the soup), or as a dessert.
The most famous ones are filled with cheese and cream. Besides cheese, štrukli can be filled with cabbage, turnips, pumpkin, poppy seeds, buckwheat, apples, cherries, and more.
Štrukli are quite a big deal in Croatia, and on special occasions such as weddings, štrukli are served after cooked beef and before the main course. (And they are a must!)
The preparation varies from one household to the other, and štrukli require quite a lot of skills for kneading, making, and preparing. Since there are a couple of versions of this dish in the world, we're going to prepare it in a quite unique way – in the soup!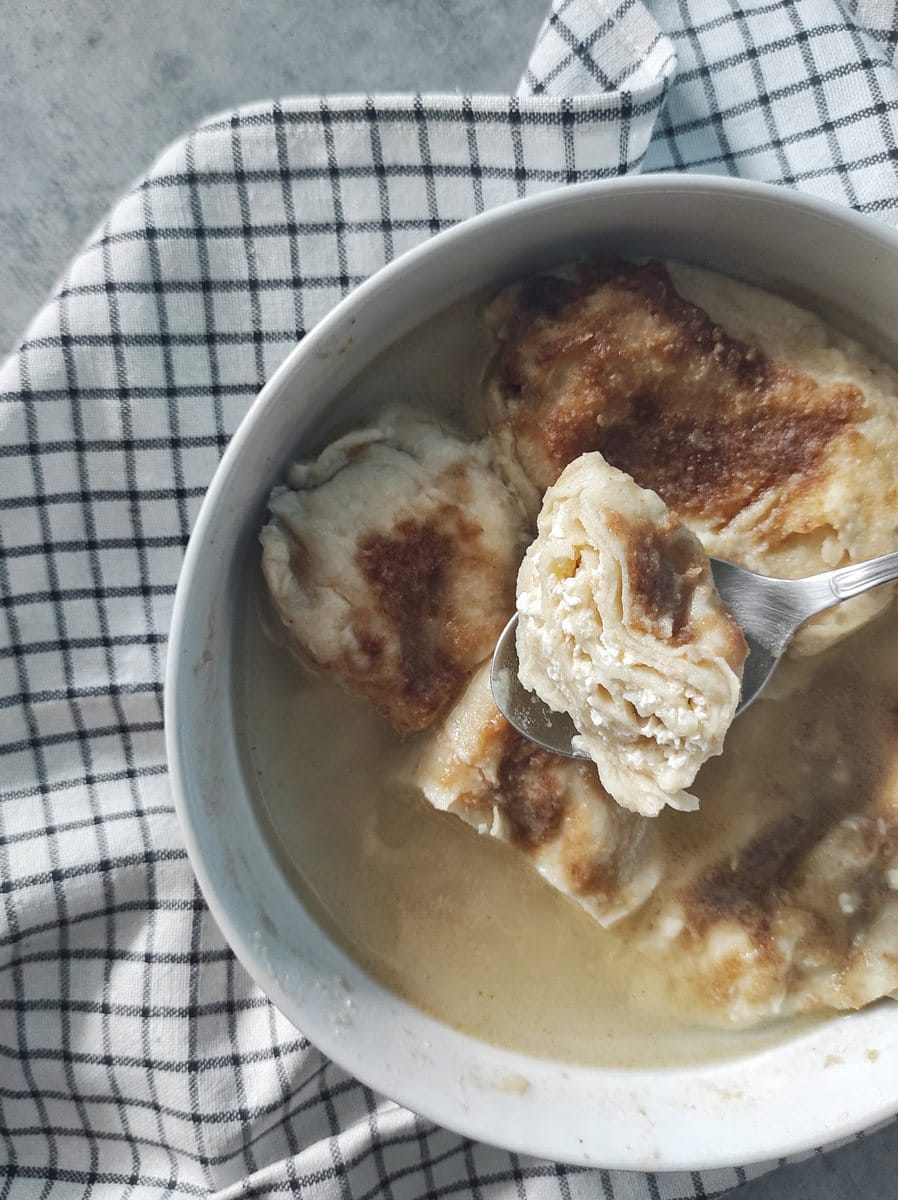 How to make pulled dough dumplings for dumpling soup
This authentic and traditional recipe is a true specialty. And, even though štrukli are the trademark of the region Zagorje, you rarely find this particular recipe in restaurants. (That's why I decided to prepare it!)
The first steps to make cooked štrukli are the same steps as for any type of štrukli – pulled dough.
Once you make this dough, it needs to be kneaded and pulled thinly (but not too thinly or they will overcook). This is the hardest part, and you need a bit of skill to do that. But once you get the hang of it, you'll do it quite easily!
Everything is in your hands – put them beneath the dough and start to nicely and gently pull it.
Once you have a thin dough, put the filling made of cheese, eggs, sour cream, and a bit of salt all over the dough.
After that, fold/roll the dough from the long edge to create a roll for each štrukl (piece). The thickness of the roll depends on your preferences. (I like them a bit bigger but you can always make them smaller too.)
Then you press the side of your hand into the roll to separate little pillows of your desired size. Then, you cut them! To cut each štrukl, use a round plate and just roll it over the long piece to cut it into sections.
And that's it!
After that, you're preparing a classic broth soup with a bit of oil, salt, and broth powder. (Traditionally we use universal food addition – Vegita.)
In case you feel like there is too much soup, you can add a bit of pastry flour to make it denser.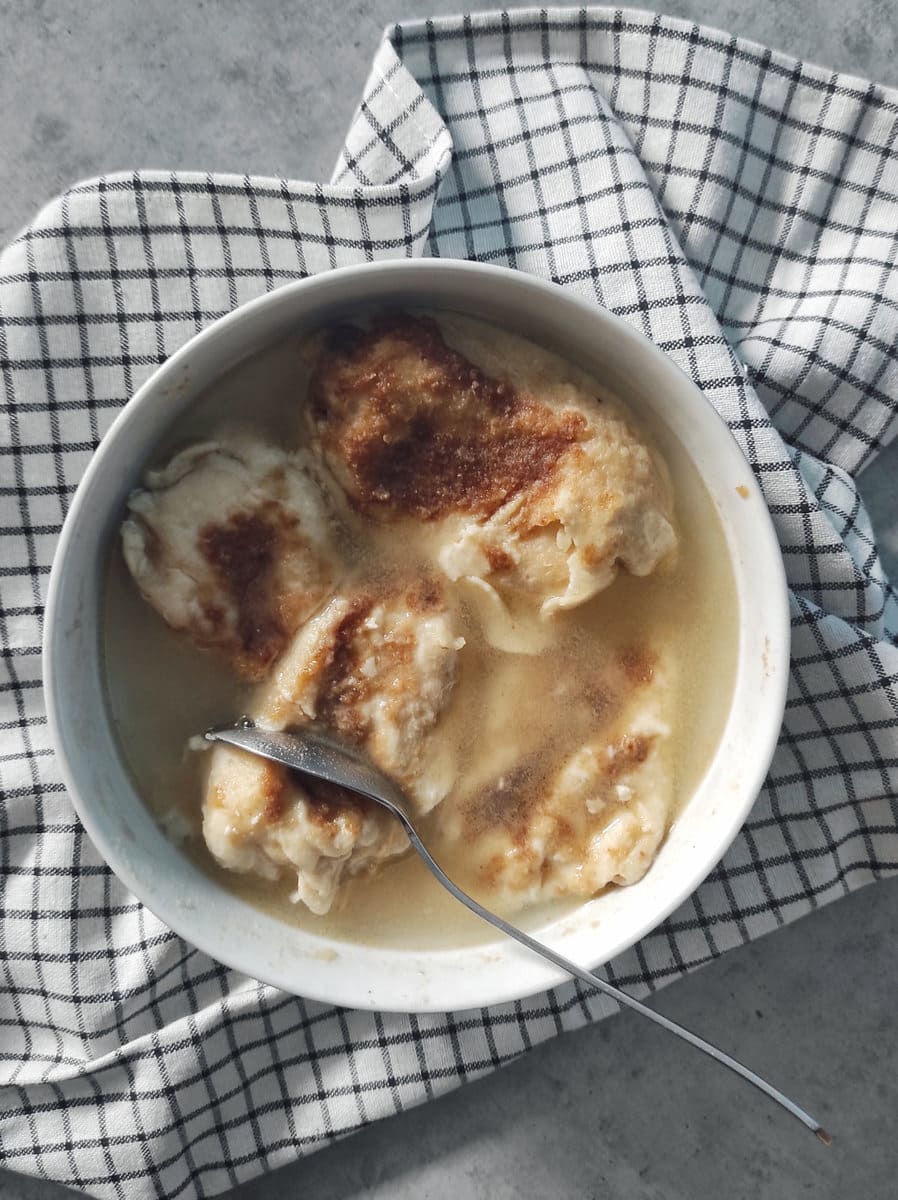 So, are you ready to pull some dough, fill it with cheese, and cook? Let's begin!
Yield: 4-6 servings
Štrukli in Soup (Croatian Cheese Dumpling Soup)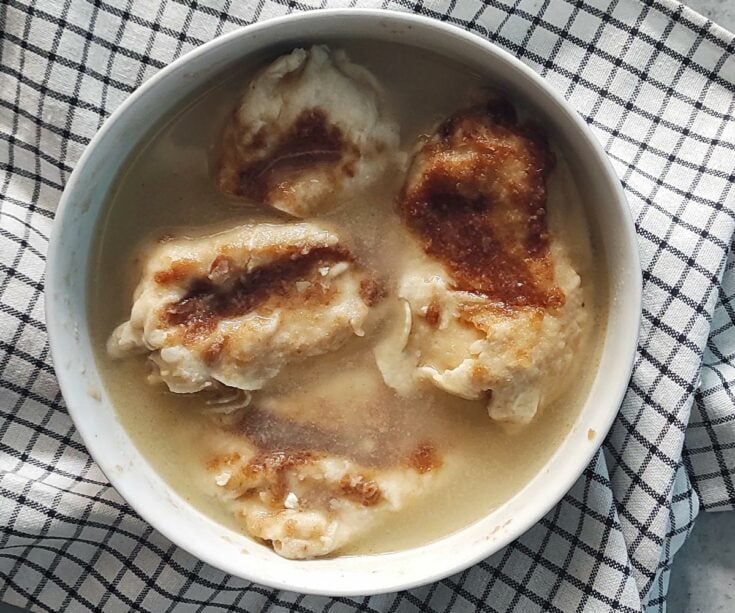 Croatian Štrukli are soft and pillow-y dumplings that can be baked or (as we present them here) served in a cheese dumpling soup.
Total Time
1 hour
25 minutes
Ingredients
For the dough
50 dkg (4 cups) pastry flour
Pinch of salt
3 dcl (1 ½ cups) warm milk
0.5 dcl (1/2 cup) oil
1 egg
1 Tablespoon white vinegar
For the filling
50 dkg (1 lb) fresh cheese (ricotta or goat cheese are good options)
1 (180 g / 6 oz) container sour cream
2 eggs
Pinch of salt
For the soup
1 L (4 ¼ cups) water
1 Tablespoon oil
Pinch of salt
Pinch of Vegeta (or bouillon powder)
Toasted breadcrumbs (optional)
Instructions
In a large bowl, mix together the flour, salt, milk, oil, egg, and vinegar until the dough comes together. Turn the dough out onto a lightly floured counter and knead until you get a nice and soft dough.
Cover the dough with a damp tea towel and let it rest for around 30 minutes.
While the dough is resting, make the filling. Mix the cheese, sour cream, eggs, and salt. Set aside.
Once the dough has had a chance to relax, roll out the dough with a rolling pin and pull the dough using the backs of your hands until it is thin (but not too thin). A couple of millimeters (1/16 inch) is perfect!
Spread the filling evenly all over the dough. Carefully roll the dough up, jelly roll style.
Once you have a long roll of dough and filling, press down on the roll with the side of your hand at regular intervals to separate it into little pillows of your desired size. Then, cut on the indents you have made, separating it into individual pieces. (Traditionally the cutting is done using a round plate.)
To make the soup
In a medium soup pot, heat up the water, and then add the oil, salt, and Vegeta (or vegetable bouillon powder). (Alternately, you can use pre-made vegetable stock as your soup base.)
Once the soup is boiling, add the cut štrukli and cook them for around 10 minutes.
Sprinkle the soup with toasted breadcrumbs if you like, they add a nice touch to the dish. And you're done! Serve štrukli warm!
Recommended Products
As an Amazon Associate and member of other affiliate programs, We earn from qualifying purchases.
Nutrition Information:
Yield:
6
Serving Size:
1/6 of recipe
Amount Per Serving:
Calories:

702
If you liked this recipe, here are some similar dishes you may enjoy!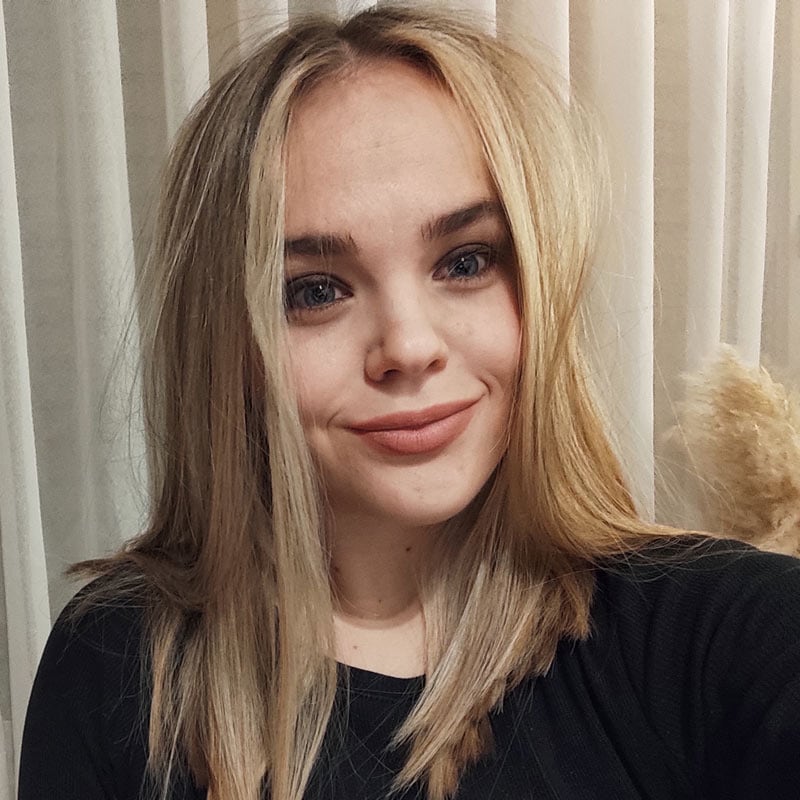 Ana has a bachelor's degree in journalism, and she has received a Rector's award for achievements during her studies. She is an experienced writer for restaurants and wineries, and she loves to cook, research, and experiment with different cuisines and ingredients. Besides writing, Ana loves to photograph and travel, especially to Korčula, Croatia which is her second home and the best inspiration for new recipes and flavors.