The classic flavors of an Italian Antipasto plate are tossed together to make this fun and flavorful pasta salad with summer sausage dish.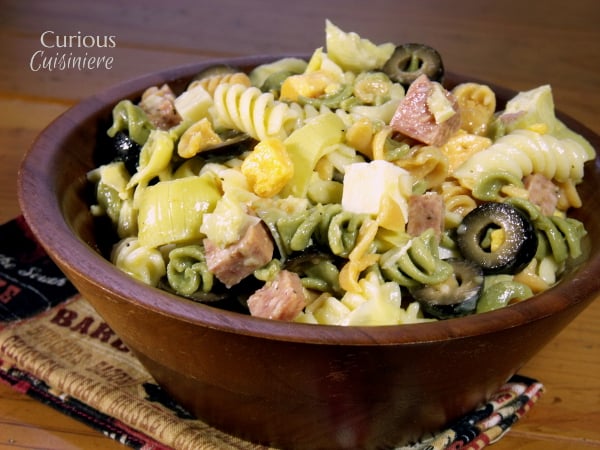 In Italian, 'Antipasto' translates to 'before the meal'. Antipasto is traditionally a platter of small bites, served with wine (of course), that is eaten as an appetizer.
Antipasto plates are colorful blends of marinated veggies, meats, and cheeses. The flavors are kept simple, this isn't the meal after all. But, each bite is meant to be enjoyed for the flavors it brings.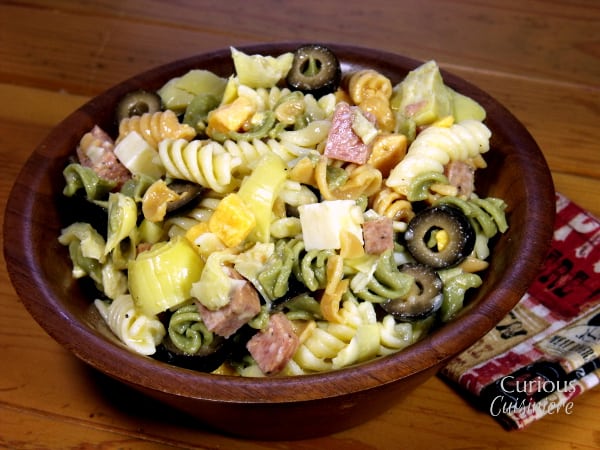 This salad brings together the flavors of that classic antipasto platter: smoked meat, two kinds of cheese, marinated artichokes and black olives.
Adding pasta and a simple oil and vinegar dressing takes the dish from appetizer to welcome cookout side dish or even a light summer meal.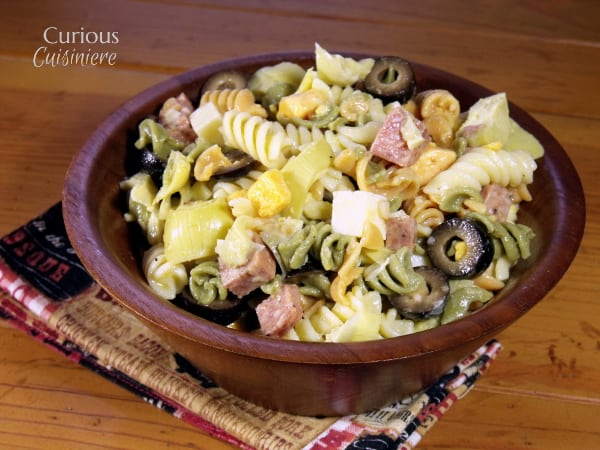 Antipasto Pasta Salad
Author:
Sarah | Curious Cuisiniere
Ingredients
1 lb rotini pasta, dry
¼ c Extra Virgin Olive Oil
¼ c red wine vinegar
1 garlic clove, minced
½ tsp salt
½ tsp pepper
1 c summer sausage, peeled and cut into ½" chunks
1 c sharp cheddar cheese, diced into ½" chunks
½ c Swiss cheese, diced into ½" chunks
1 c black olives, sliced (about 24 olives)
1 c marinated artichoke hearts, quartered (about 12 hearts)
Instructions
In a large pot, boil pasta until al dente. When pasta is cooked, drain immediate and toss with cool water to cool pasta down and stop it from cooking further.
While pasta is boiling mix together olive oil, vinegar, garlic, salt, and pepper, in a small bowl.
Place cooked pasta in a large bowl. Add sausage, cheeses, olives, and artichoke hearts. Toss to evenly distribute ingredients.
Pour oil mixture over pasta and gently toss until everything is well coated.
Chill at least 30 min before serving.
If you liked this recipe, here are some similar dishes you may enjoy!