Jicama salsa is the perfect topping for this bright taco salad topped with lime infused fish and shrimp.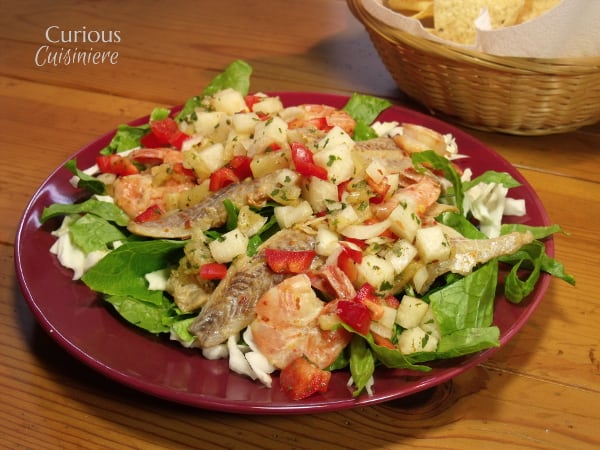 If your grocery store has ethnic produce, you may have seen Jicama before, but, if you're anything like us, your eyes probably just went straight from the ginger root to the turnips on the produce shelves, and never gave these poor little tubers a second thought.
What is Jicama?
Jicama is a Mexican vine with an edible tuberous root. The root is also known as Mexican Yam or Mexican Turnip.
But, even though it looks like a turnip, it is actually a member of the bean family.
Similar to rhubarb, where all parts of the plant are poisonous except for the edible stalk, all other parts of the Jicama plant, beside the root, are poisonous.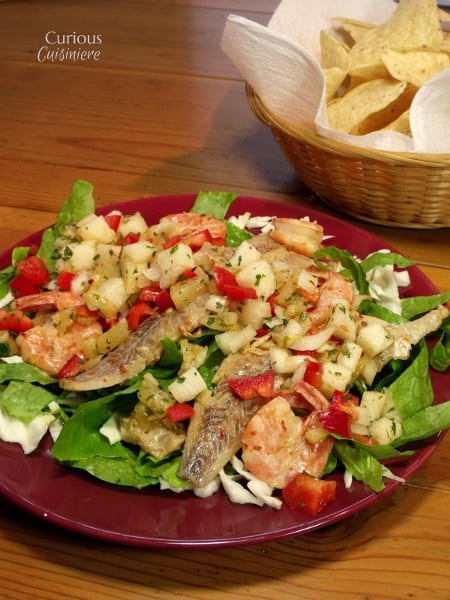 Cooking With Jicama
Once you get past the papery, tan exterior to the white jicama meat, you'll find it to be quite crisp.
The root is mostly water (nearly 90%), so it is a good source of dietary fiber. It is also high in Vitamins C and A as well as calcium.
The flavor of jicama is sweet like a pear and starchy like a raw potato. In Mexico, is usually eaten raw or cooked in soups or stir fries.
Our Jicama Salsa Recipe
We really liked the Jicama flavor straight up, so we decided to use it fresh in a jicama salsa. By adding pineapple and lime juices, along with some spices, we were able to really bring out the sweetness in this unique veggie.
It was the perfect, tropical salsa to go with some fish. So, we served it with a seafood take on a classic taco salad.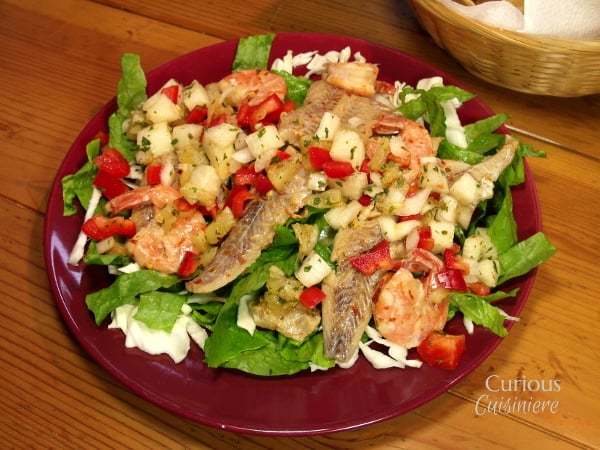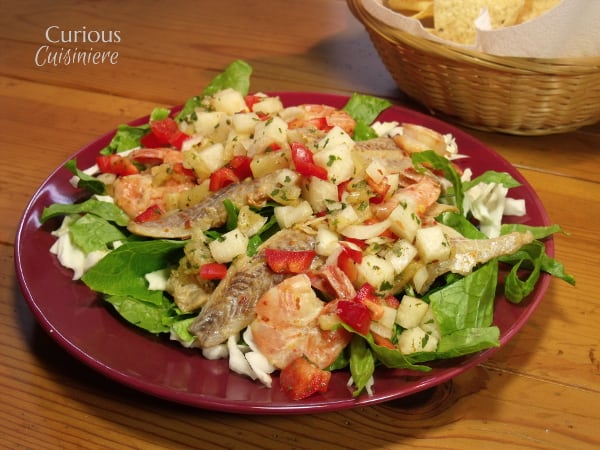 Jicama Salsa over a Seafood Taco Salad
Jicama salsa is the perfect topping for this bright taco salad topped with lime infused fish and shrimp.
Yield: A nice dinner salad for two people.
---
Ingredients
For the Salsa
2

c

Jicama root

(about 1 lb)

1

c

pineapple chunks,

quartered (almost a whole 20 oz can of pineapples in juice)

½

c

Vidalia onion,

diced (1/2 large onion)

1

red bell pepper,

diced

1

Tbsp

lime juice

1

Tbsp

pineapple juice

(reserved from pineapple can)

1

Tbsp

parsley

¼

tsp

chili powder

¼

tsp

salt

¼

tsp

red pepper flakes

(optional, if you want the heat)
For the Fish
½

lb

white fish

(depending on your fillet sizes, this would be 2-4 fillets)

¼

lb

shrimp

(6-8 pieces)

2

Tbsp

lime juice

½

tsp

salt

½

tsp

red pepper flakes

(optional)
For the Salad
4

large

romaine leaves,

chopped

2

c

shredded cabbage

(about ¼ of a medium head)

Tortilla chips

(for serving)
Instructions
For the Salsa
With a sharp knife, slice the papery skin off of the Jicama to reveal the white inside. Continue dicing Jicama into ¼ - ½ inch chunks.

In a large bowl, place diced Jicama and remaining salsa ingredients. Mix well.

Refrigerate until ready to use.

This can be done up to 24 hours in advance to let the flavors of the salsa meld.
For the Fish
Place fish and shrimp in a medium, non-stick frying pan.

Add lime juice, salt, and red pepper flakes.

Simmer over medium high until shrimp is no longer opaque and fish is firm and flaky. (Our fish was thawed from being frozen, so it had a lot of moisture in it. If you are using fish that is dryer you may need to add water by the Tbsp as needed to keep liquid in the pan while the fish cooks. )
For the Salad
Place 2 c of Jicama salsa in a bowl and set aside. Add romaine and cabbage to the remaining salsa and toss well to coat.

Place cabbage mixture on a plate. Top with warm fish and shrimp.

Add additional salsa to the top as desired, or use it with tortilla chips.
---
If you liked this recipe, here are some similar dishes you may enjoy!