Anticuchos have been around in Peru longer than Europeans, and are still enjoyed as a popular street food. The spice and vinegar marinade gives these meat skewers delicious flavor!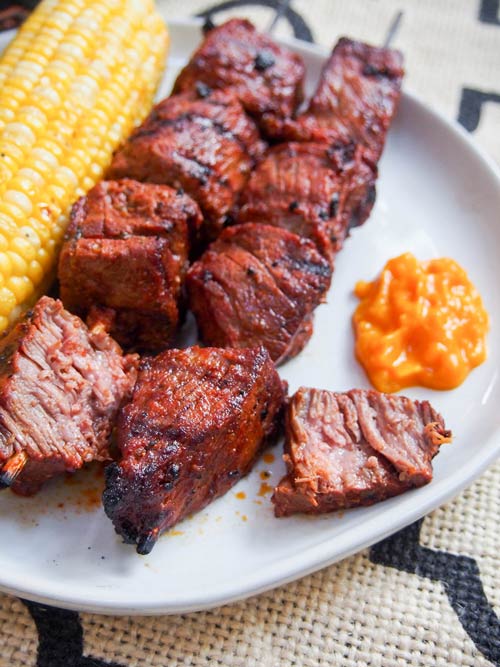 Many places around the world have some form of "meat on a stick" as a part of their culture. But, Peru might be able to claim theirs as one of the oldest.
Anticuchos have been around since the pre-Columbian era, originating in the Andes mountains.
Where does the name anticuchos come from?
Anticuchos comes from "anti" meaning 'East', as they originate in the Eastern part of the Andes, and "cuchu" meaning 'cut' in Quechua, the local language in that part of Peru. These "Eastern-style cuts (of meat)" are now popular across Peru.
While they have pre-Columbian origins, the ingredients evolved slightly once the Spanish came to the area. For example, they added garlic, an ingredient not previously available in the region.
The original Incan version tended to use llama, while later, other meats were used.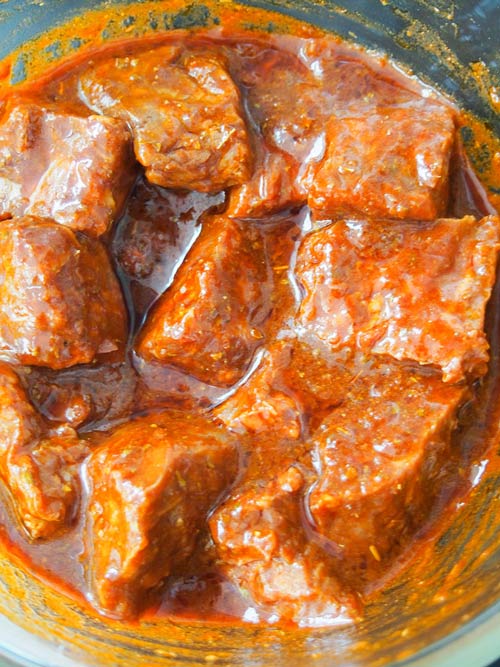 What kind of meat is used for anticuchos?
The most common meat for anticuchos is beef heart – 'anticuchos de corazon'.
You can find other meats used, and since beef heart is less readily available in the US, I have opted to make 'anticuchos de carne', using beef, but you can also use chicken.
Less favorable cuts tend to be used for these skewers, as the marinade helps break the meat down and make it tender. Using less expensive meat is also why these are considered a cheap snack.
The marinade can vary, but typically includes at least vinegar, chili, garlic, oil and cumin. The chili is usually aji panca, a local Peruvian pepper that's a medium heat with a slight smokiness, though not as much as chipotle. While it's not available everywhere, you can probably find it in Latin markets, or if not, it is available online.
When would you eat anticuchos?
These meat skewers are a favorite food all over Peru at pretty much any time of day.
They are often enjoyed as a street food and are particularly popular during festivals such as Fiestas Patrias, Peruvian Independence Day, at the end of July and in the Andes, at Inti Raymi, the Incan celebration of the God Inti, in June.
How can kids get involved in making these?
Marinated meats are great for getting kids involved in cooking as there are a few things they can do to help:
Even young kids can help mix together the marinade.
Most kids can measure ingredients. (If you have older kids, and you need to increase the recipe, get them to multiply-up the quantities!)
Once kids have basic knife skills, they can cut the beef into cubes. I used sirloin tips which are easy to cut in chunks.
Most kids can help thread the meat onto the skewers.
And, while the actual cooking is best left to adults, it's always fun to watch!
One other great thing about making something like these is that they're a great way to start a conversation about another culture and same-but-different celebrations.
As an example, as mentioned above these are common during Inti Raymi, the Incan celebration of Inti, the God of the Sun. After years of Incan culture being repressed, it has more recently come to be appreciated. The traditional celebration is now recreated in Cuzco and at the nearby Incan temple ruins each year.
Inti raymi coincides with the summer solstice, which is also celebrated in other countries and Pagan cultures. Midsummer is a big celebration in Scandinavia, where you'll find foods like pickled herring, langoustines with herbed cream and gravlax.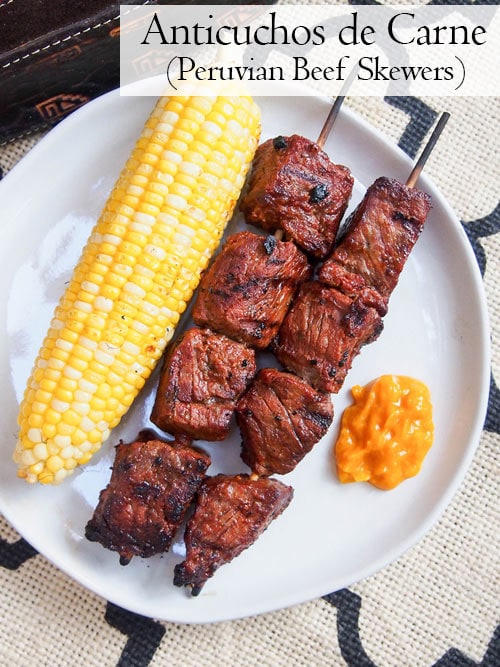 Meat skewers in different cultures
Another angle to explore is different meat skewers in different cultures, such as these:
There are so many more, too, and it would be a delicious idea to explore different types of skewers over the summer months.
Anticuchos are a delicious meat skewer that are easy to prepare, with a tasty flavor and perfect for old and young. Enjoy them alone, or with corn and potatoes as you might in Peru, or whatever sides you choose.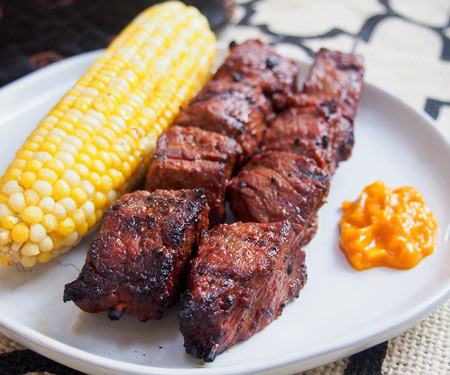 Anticuchos
Anticuchos are an easy chili-marinated skewer from Peru that are a delicious addition to your BBQ.
---
Ingredients
1

lb

beef sirloin tips

(or other cut good for grilling)

3

tbsp

aji panca

(or other medium-heat chili paste)

3

tbsp

vegetable oil

2

tbsp

white wine vinegar

1

tsp minced

garlic

1/2

tsp

cumin

1

tsp

oregano

1

pinch

salt
Instructions
Cut the beef into roughly 1 1/2 in cubes.

Mix together the remaining ingredients in a non-reactive bowl and add the beef chunks. Cover and refrigerate overnight, or at least a few hours.

When ready to grill, thread the beef cubes onto skewers. Preheat your grill to medium-high heat (you should be able to hold you hand a few inches from the grates for 4-6 seconds). Cook the kebabs until the beef is cooked through (slightly pink is fine), turning as needed to cook evenly.
---
Recipe Notes
These would typically be served with boiled potatoes and/or corn (ideally large Peruvian corn if you can get it) and aji amarillo mixed with a little chopped scallion/onion and a pinch of salt to dip the meat in.
If you liked this recipe, here are some similar dishes you may enjoy!