Madeira, Marsala, Sherry, Port, and Vermouth. What is fortified wine? How do you use it? When do you drink it? We tackle all the big questions!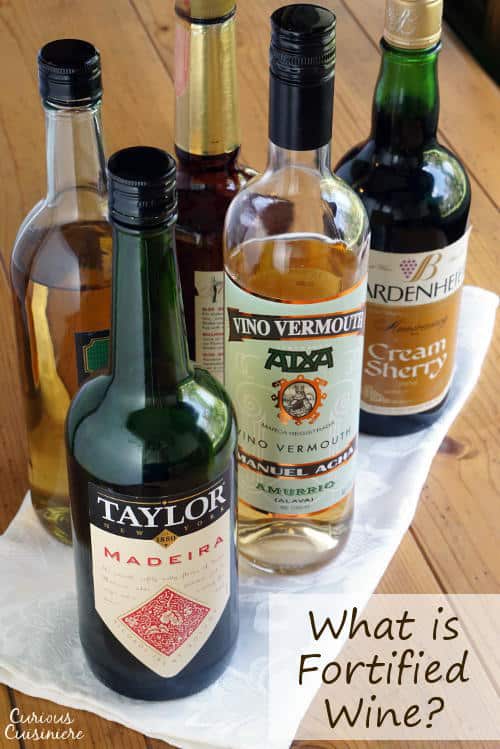 What is fortified wine?
Fortified wines are wines that have been strengthened with brandy or another pure alcohol. (They typically have a 17-21% alcohol content, to a classic wine's 8-15%.)
Fortified wines can be a great accompaniment for pairing with meat, game, poultry and shellfish. They also work wonderfully as a marinade. You can even use sweeter fortified wines with desserts.
How to choose fortified wine
When choosing fortified wine, look for the country of origin on the label. That's the best way to know that you're getting the real deal. (Even as we say this, most of the bottles on our shelf are US made, and we find the flavors to be quite good. In the States, these US made versions will be more economical to buy. So, if cost is a hindrance to getting an imported bottle, look for a higher-end US version, and you'll most likely be fine.)
A decent bottle of fortified wine should cost $15-$30. And, while that may seem like a lot, particularly if you are primarily using it as a cooking wine, just remember that you'll likely only be using a few tablespoons at a time. A little really does go a long way.
A bottle of fortified wine will be good on your pantry shelf for a year or two. And, having the open bottle might get you thinking about how to use it in new and creative ways!
Types of fortified wine
Madeira
Madeira (pronounced mah-DEER-uh) comes from the Portuguese island, Madeira. It is used in cooking and as a pre- or after dinner drink. Madeira can be sweet or dry depending on the variety. (Sercial Maderia is dry, while Boal and Malmsey Madeira will be sweeter.)
In cooking, Madeira is wonderful with beef (like these Grilled Portuguese Beef Skewers) or chicken dishes and adds nice flavor to caramelized onions.
Cooking substitutions: Marsala, sherry, or chicken/beef stock.
Marsala
Marsala is an Italian fortified wine from Sicily that is most commonly used in cooking or as a dessert wine. Marsala can be sweet or dry depending on the variety. (Secco Marsala is dry, while dolce Marsala is sweet.)
In cooking, Marsala is wonderful with chicken, game, and even in desserts. (We use Marsala in our our hunter's take on the Italian classic: Venison Marsala.)
Cooking substitutions: Madeira or sherry.
Sherry
Sherry is a Spanish fortified wine that is often served as a pre-dinner drink and is commonly used in cooking. Sherry can be dry or sweet depending on the variety. (Fino sherry is dry, while cream and Amorso sherry are sweeter.)
In cooking, sherry goes well with creamy sauces, soups, poultry, fish, and desserts. (We use sherry in the sauce for our Teriyaki Salmon recipe and in our Homemade Teriyaki Sauce.)
Cooking substitutions: Madeira, Marsala, or white wine.
Port
Port is a Portuguese fortified red wine. Its sweetness makes it a popular choice for an after dinner drink, but can also be used in cooking.
In cooking, port goes well with desserts and deeper meats like beef and lamb. (We are huge fans of pairing port with chocolate.)
Cooking substitutions: Madeira or sweet sherry.
Vermouth
Vermouth is a bit of a different animal from the others listed here because it is a fortified wine that has been flavored with herbs and spices. It can be served as a pre-dinner drink, but is more commonly used in cocktails and in cooking.
There are two main types of vermouth: dry and sweet. Dry vermouth (also known as French Vermouth) is not sweet and is popular for making cocktails like the martini. Sweet vermouth (also known as Italian vermouth) can be red or white and is used in cocktails like the Manhattan.
Cooking substitutions: Try dry sherry, dry white wine, or white grape juice. (Dry and sweet vermouth can be substituted for each other in a pinch.)
How do you use fortified wine? Do you have a favorite?
If you liked this recipe, here are some similar dishes you may enjoy!