Bright lime and cilantro give these marinated mushrooms a Mexican flair and lots of flavor.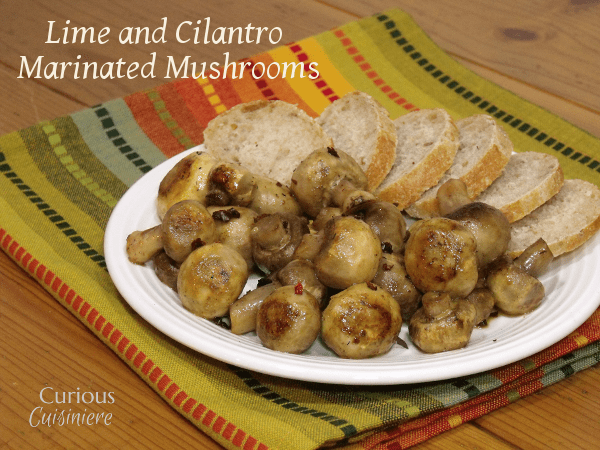 Lime and cilantro might be an unexpected flavor pairing for mushrooms, but one bite is all it takes to be convinced that bright and earthy can be a wonderful match.
Lime and Cilantro Mushrooms
Lime and cilantro are flavors classic to Mexican cuisine. Their bright qualities make them a natural pairing for colorful salsas made with fresh summer produce. However, it's not too often that you find these flavors called upon with mushrooms.
Mushrooms have an earthiness that tends to call for deeper, darker flavors. But, that's not to say thinking outside of the box can't lead to unexpectedly delicious pairings.
Making Marinated Mushrooms With Infused Oil
To marinade these mushrooms we used Acala Farms Fresh Cilantro Infused Cottonseed Oil and their Chili Cumin Infused Cottonseed Oil. Adding a splash of cumin flavor to the cilantro and lime created just enough depth to bring the earthy mushrooms into perfect harmony with the fresher flavors of cilantro and lime.
Acala Farms's Cilantro Infused Oil is everything you would expect from a bright bunch of cilantro leaves: bright, fresh, and full of the classic cilantro flavor. The Chili Cumin Infused Oil marries the deep cumin flavor with just enough chili heat to warm your mouth.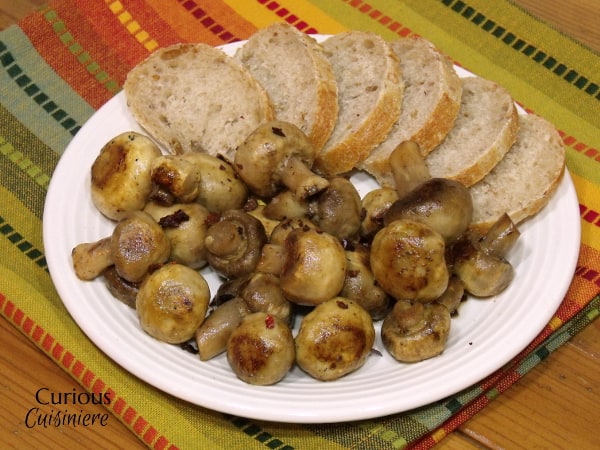 Flavorful Sauteed Mushrooms
Since there is oil in the marinade, there is no need to grease your pan before sautéing these mushrooms. Just throw them, marinade and all, into the pan. The oil in the marinade will keep the mushrooms from sticking. And, as the marinade cooks, it will reduce to a nice sauce that coats the finished mushrooms.
We didn't stir these mushrooms much as we cooked them, really only once. So, it's not like your typical sautéing. Instead, we left them to get nice and brown and toasty on one side, then we stirred them to give another side the chance to toast up as well.
These mushrooms are perfect snacked on alone, with only a toothpick as your tools of choice. But, they also are very nice eaten atop a slice of baguette. They would also make a wonderful side dish along side potatoes and a tender steak or roast.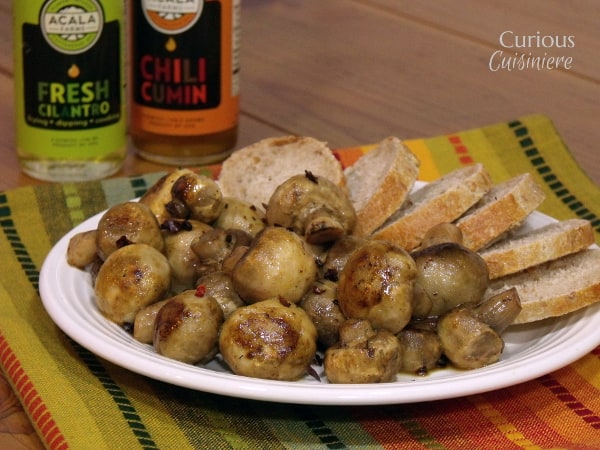 Thanks to Acala Farms for sponsoring this week's #TripleSBites. Follow Acala Farms on Facebook and Twitter for more recipes using their infused cottonseed oils.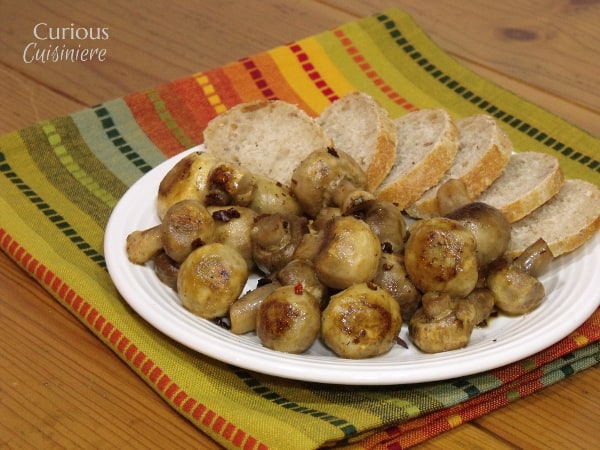 Lime and Cilantro Marinated Mushrooms
Bright lime and cilantro give these marinated mushrooms a Mexican flair and lots of flavor.
---
Ingredients
2

Tbsp

Acala Farms Fresh Cilantro Infused Cottonseed Oil

1 ½

Tbsp

lime juice

½

tsp

salt

8

oz

button mushrooms
Instructions
In a small bowl, whisk together oils, lime juice, and salt.

Place mushrooms in a zip-lock bag and pour the marinade over the mushrooms, stirring to coat. Let stand on the counter for 20-30 minutes to marinate.

When ready to cook the mushrooms, heat a large skillet over medium-high heat. Add mushrooms and marinade and cook, uncovered, 3-5 minutes, stirring only once to allow the mushrooms to develop a slight crispness.

Serve warm or room temperature with slices of baguette, if desired.
---
DISCLOSURE: We received samples of Acala Infused Cottonseed Oils that we used in this recipe. We were not compensated for our time. As always, all opinions are our own.
If you liked this recipe, here are some similar dishes you may enjoy!