Lagana is a simple Greek flatbread that is traditionally eaten only once a year, on Clean Monday, the first day of Lent in the Greek Orthodox tradition. 
Once A Year Bread: Greek Clean Monday
Lagana is a traditional Greek bread that is only baked once a year for Kathari Deftera, or Clean Monday.
Clean Monday is the first day of Lent in the Eastern Orthodox tradition. Also known as the Great Lent or the Great Fast, this is a period of 40 days dedicated to fasting and "cleaning the spiritual house" in order to prepare for Easter.
During this time of fasting, it is common for Orthodox Christians to refrain from eating meat, fish, eggs, and dairy products. Some also abstain from wine and oil.
Rather than being met with somber faces, the fast of Great Lent is met with joy and anticipation. In fact, Clean Monday is a national holiday in Greece, where many families picnic outdoors and fly kites.
They really understand the meaning and spirit of fasting!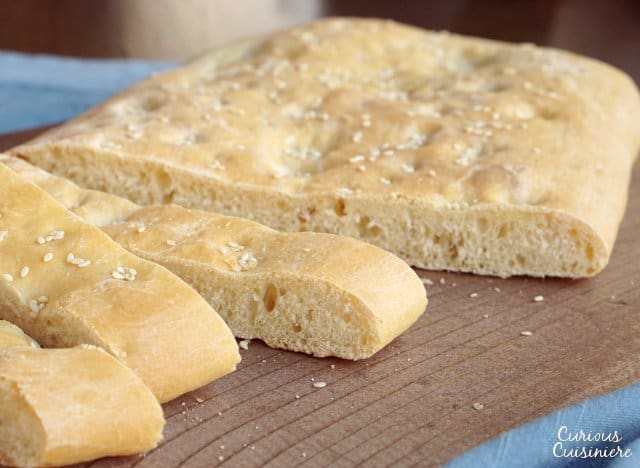 Greek Clean Monday Bread
Since lagana is used to start this cleansing season, it makes sense that it is a very simple bread.
You will find different versions of lagana, based on how strict of a fast the family is observing.  If observing a strict fast, a family will omit the oil from their lagana. If observing a less strict fast, olive oil can be used.
The bread is shaped into a large oval or rectangle and pressed with your finger tips, much like you would if you were making focaccia.
In fact, the bread itself is very similar to Italian focaccia bread, with one major difference. While focaccia can be topped with any number of different toppings, lagana is traditionally only topped with sesame seeds.
Our Greek Lagana Bread Recipe
If you're new to making yeast breads, this is a great bread to start with. It is a soft and workable dough that comes together easily and has a great texture from just the little bit of olive oil.
There's something so fun about pressing your fingers into the risen dough before it heads into the oven, to create all those little pockets that give the bread such a great, textured look.
And, don't forget the sesame seeds!
While they're a simple addition, the toasted sesame seeds on top really do give a nice, slightly nutty flavor to the bread.
Serve your lagana plain or with your favorite dipping oil!
Greek Lagana Bread
Lagana is a simple Greek flatbread that is traditionally eaten only once a year, on Clean Monday, the first day of Lent in the Greek Orthodox tradition.
Yield: 1 (roughly 12x8 inch) lagana
Instructions
In a medium bowl, mix the water with the sugar. Sprinkle the yeast over top of the water, and let it rest for 5 minutes, to hydrate.

Stir the yeast mixture. Then, add the oil, 2 cups of flour, and salt. Mix well.

Turn the dough out onto a lightly floured surface and knead for 5-7 minutes, until soft and smooth, adding the last ½ cup of flour as needed.

Place the dough in a clean, greased bowl and cover it with a damp tea towel or plastic wrap. Let the dough rise in a warm, draft-free place until doubled, 1-2 hours.

Once the dough has risen, punch it down and stretch it into an oval, roughly 12 x 8 inches.

Place the shaped dough onto a greased or parchment-lined baking sheet. Cover the dough again and let rise for 30 minutes.

Near the end of the rising time, preheat your oven to 375F.

Uncover the dough and gently press your fingers all over the top, creating small indents. Brush the dough with a little water and sprinkle it generously with the sesame seeds.

Bake the lagana for 20-30 min, until golden brown.

Allow the bread to cool on a wire rack for at least 5 minutes before serving.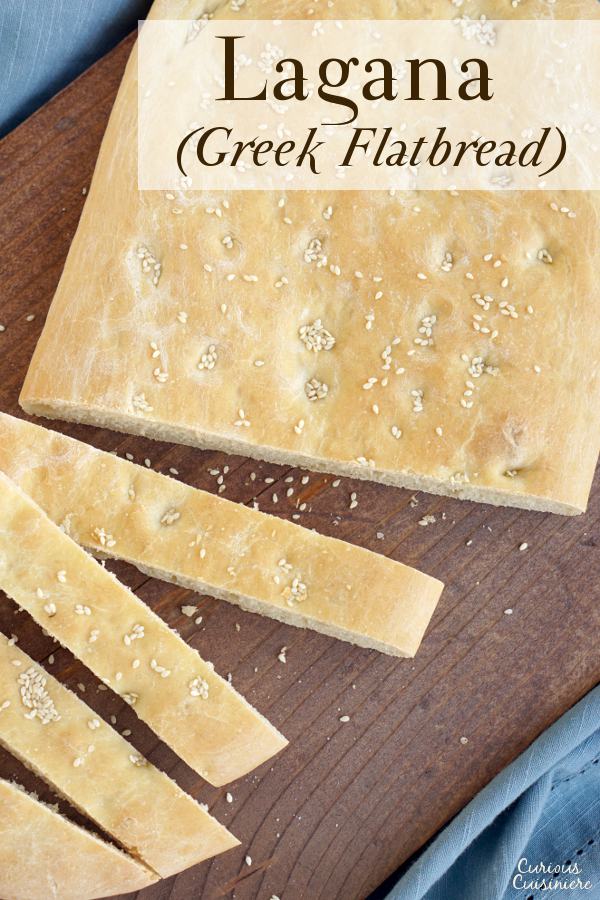 If you liked this recipe, here are some similar dishes you may enjoy!