Not like the enchiladas you may first think of, Honduran enchiladas are made in the style of a tostada. Crispy corn tortillas, piled with meat, veggies, cheese, and eggs create this delicious street food.
Honduran Cuisine
Honduran cuisine has a lot of variety because of the influences from pre-Colombian, Spanish, Creole and, to some extent, African flavors. (These are influences you will find throughout Central America.)
Corn is a staple ingredient in typical Honduran dishes, followed by other important ingredients such as rice and beans.
Dairy products, sausages, flour, eggs, vegetables, fruits, meats, fish and shellfish are also used.
However, a large part of Honduran homes do not use these last products, because of very low economic resources. In these homes, their diet mainly consists of rice, beans, and corn.
Not Just Rice and Beans
In the northern part of Honduras, cooked banana, green plantain or cassava are common accompaniments to meals.
The Garifunas, descendants of an Afro-indigenous population of the Island of St. Vincent who were exiled to Honduras in the 18th century, often serve Machuca (a soup made with mashed plantains, coconut, milk, and fish) and the Casabe (crispy bread made with cassava) as an accompaniment to their meals.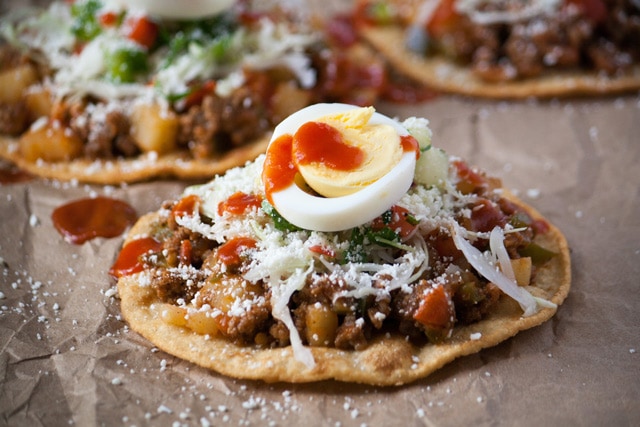 Honduran Enchiladas
Enchiladas are found all over Honduras, typically sold and consumed at noon and in some places at night.
But, Honduran enchiladas are different from the popular Mexican enchiladas. They have layers of different flavors and textures, making them a delicious snack or main meal.
The base, what holds all the delicious meat and veggies, is a fried corn tortilla.
After the fried corn tortilla, come more layers of flavor and texture:
meat
cabbage or lettuce
chimol (tomato and onion relish)
shredded cheese
hard boiled eggs
tomato sauce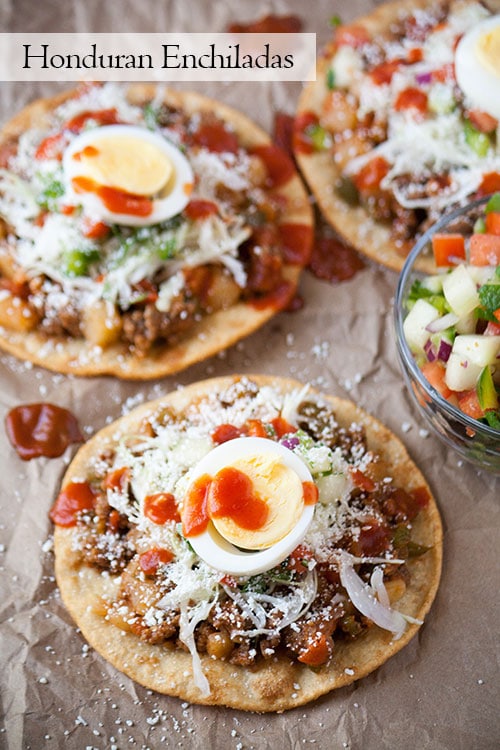 Honduran Tortillas
To make Honduran tortillas you use nixtamalized corn. Nixtamalization is the process of cooking corn with water and quicklime, to obtain the nixtamal that, after grinding, forms the nixtamalized dough that then is used to make tortillas, tamales, etc.
That dough can be dried into an instant dough you may know better as masa harina.
The supermarkets in the US offer a few brands of masa harina or masa instantanea (instant dough), and if you are feeling adventures, go ahead and make your corn tortillas from scratch for your enchiladas. (All you need is this easy corn tortilla recipe and a tortilla press!)
To make the tortillas for Honduran enchilada, instead of cooking the tortillas on a dry pan, fry them in oil until crisp.
If you're not up for making your own tortillas from scratch, you can always buy pre-made corn tortillas and fry them in oil until golden and crispy.
Or, some stores will also sell ready-made crispy tostadas.
However, I do think frying the corn tortillas right before serving the enchiladas is the way to go.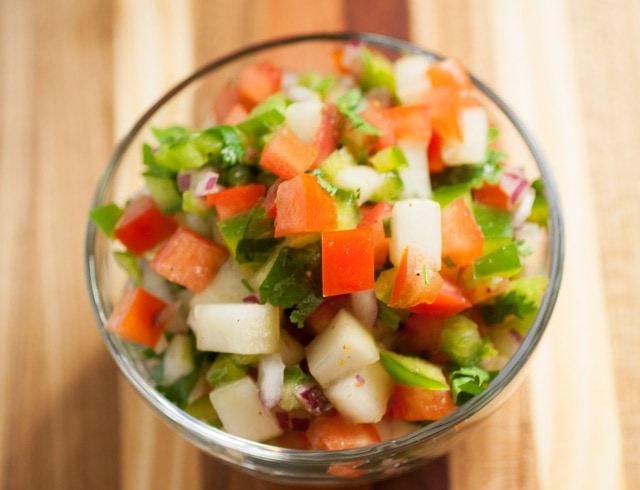 What is Chimol?
Chimol is a Central American condiment, similar to pico de gallo. It often accompanies fish, chicken or grilled meat and is found throughout Central America in different versions.
In the Yucatan Peninsula of Mexico they often use habanero peppers and diced sour oranges in their chimol.
In the Uruapan region of Mexico west of Mexico City, you will find chimol made with watermelon, orange, papaya and cucumber.
The basic recipe for Honduran chimol has finely diced tomatoes, onions, green peppers, and cilantro.

The Layers of a Honduran Enchilada
After the crispy tortilla, the next layer is the meat.
The meat for Honduran enchiladas is made very simply, with ingredients that you can find in your pantry. Ground beef, potatoes, and some veggies. You can even make this step a day or two before, and reheat it right before assembling your enchiladas.
Next, comes shredded cabbage mixed with a little bit of salt and vinegar. If you are not using chimol (a tomato and onion relish), some tomato and onion are added to the cabbage. If not using shredded cabbage, the enchiladas are often served with lettuce.
Atop the cabbage you find the chimol relish, if used, follwed by shredded cheese. A Honduran friend recommended that I use Cotija, a Mexican, aged crumbling cheese. You will also often find a hard boiled egg finishing off the toppings.
To finish up these Honduran enchiladas, a tomato sauce is poured on top. This tomato sauce is made with tomato paste and water. Some people add sugar, others add chicken or beef bouillon. You can experiment with whatever you have on hand.
The wonderful thing about these enchiladas is that many of the preparation steps can be done ahead of time, making it easier to serve the enchiladas for big groups. Imagine, a Honduran enchilada party where everyone gets to top their own crispy tortilla!
More Honduran Food
If you're interested in exploring more Honduran food, you'll want to check out Honduran Baleadas, which are slightly closer to the enchiladas that you might have thought of when you started reading about these! Pupusas de queso are also a great, cheesy treat that is popular in Honduras and El Salvador.
Yield: 9 enchiladas (Serving: 2-3 per person for dinner)
Honduran Enchiladas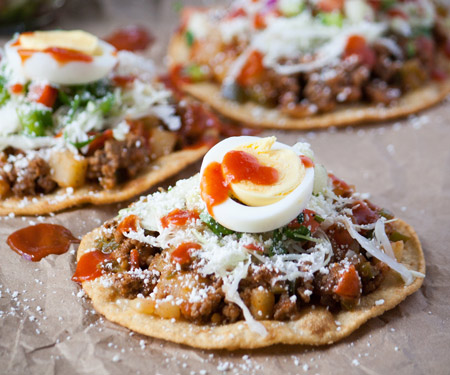 Not like the enchiladas you may first think of, Honduran enchiladas are made in the style of a tostada. Crispy corn tortillas, piled with meat, veggies, cheese, and eggs create this delicious street food.
Ingredients
For The Meat
1 waxy potato (like Yukon gold), cubed ¼ inch
1 pound ground beef, 85-90% lean
1 medium onion, diced
2 garlic cloves, minced
1/2 green pepper, diced
2 tomatoes, diced
3 Tbsp tomato paste
1 c beef stock
1 tsp salt
1/2 tsp black pepper
1/2 tsp ground cumin
For The Chimol
1 small red onion, diced
1/2 green pepper, diced
1 medium tomato, diced (seeds removed)
1/2 c cucumber, diced (seeds removed)
1/2 c fresh cilantro, chopped
1 Tbsp olive oil
1 Tbsp vinegar
1/2 tsp salt
1/4 tsp black pepper
1/4 tsp cumin
For The Cabbage Salad
1 c shredded cabbage
1 Tbsp vinegar
1/4 tsp salt
For The Tomato Sauce
3 tablespoons tomato paste
1/2 c water or beef stock
Other Toppings
3 hard-boiled eggs sliced
1 c Cotija cheese
For The Fried Tortillas
1/2 c vegetable oil, for frying
Instructions
For The Meat
In a small saucepan, add potatoes and enough water to cover it. Cook until tender, drain and set aside.
In a big skillet, sauté the beef with the onions over medium high heat, until the meat is browned. Add garlic, green peppers and tomatoes. Cook for 3 more minutes.
Add tomato paste, beef stock, salt, pepper and cumin. Cook for another 5 minutes. Add the cooked and drained potatoes. Mix well and set aside.*
For The Chimol
In a medium bowl add all the ingredients and mix well.*
For The Cabbage Salad
Mix all ingredients in a small bowl and set aside.*
For The Tomato Sauce
Mix water or beef stock with tomato paste in a small saucepan and cook over medium heat until dissolved, stirring constantly. Cook for 3 more minutes. Set aside.*
For The Fried Tortillas
Heat oil in a medium frying pan, over high heat. Once the oil is very hot, fry one tortilla at a time. About 15-20 seconds for each side, until golden and crispy. Drain on paper towels.
Putting It All Together
Place a fried tortilla on a plate. Add a layer of the beef and potato mixture, a layer of shredded cabbage, some chimol, a tablespoon of cheese, some egg slices and finish up with a teaspoon of tomato sauce.
Notes
*Meat, chimol, and tomato sauce can be made a day or two in advance. To keep cabbage crispy, it is best to make the cabbage salad within a few hours of serving. For the best tortillas, fry before serving.
If you liked this recipe, here are some similar dishes you may enjoy!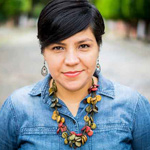 Lizet is Bolivian and lives in Paraguay. Through friends and travel she has developed her love of food. From Africa to Asia, Europe to the Americas, there is always something new to try when you come to dinner. You can find more of Lizet's tasty creations on her website ChipaByTheDozen.com. You can also find her on Instagram and Facebook.