Baleadas are a Honduran street food made up of a thick, homemade flour tortilla filled with re-fried beans and cheese. These soft tacos are super comforting, it's easy to understand why the're so popular!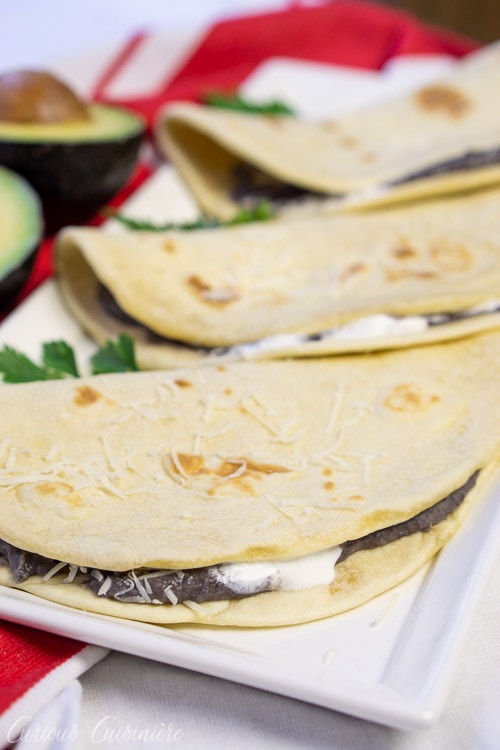 DISCLOSURE: As an Amazon affiliate we earn from qualifying purchases. See our privacy policy for more information.
What are baleadas?
Baleadas are a simple, yet delicious, street food that come from the north coast of Honduras.
They consist of a thick flour tortilla that is filled with re-fried red beans, a sprinkle of grated cheese and cream.
What are re-fried red beans?
Red beans are a very popular side dish in Honduras. Whether re-fried or served in a red beans and rice side dish, you will find them served with nearly any meal.
Honduran red beans are a particular type of bean that are often hard to find in the States. They are the color of a kidney bean, yet smaller in size. (Closer in size to a black bean.)
If you live near a Hispanic market, you may be able to find these red beans labled "Frijol de Seda", "silk beans", "Central American red beans", or "Salvadorean beans".
Pinto beans, have a much different flavor. So, if you want to use re-fried pinto beans in your baleadas, go ahead, but the flavor will be different than the Honduran classic.
According to one of our Honduran readers, black beans give you the closest flavor to Honduran red beans. So, we have used our recipe for homemade re-fried beans to make the re-fried black beans that we are using in our baleadas.
Yes, it's an extra step to make your own re-fried beans. But, the unexpected extra flavor dimension that the black beans give makes it so worth it!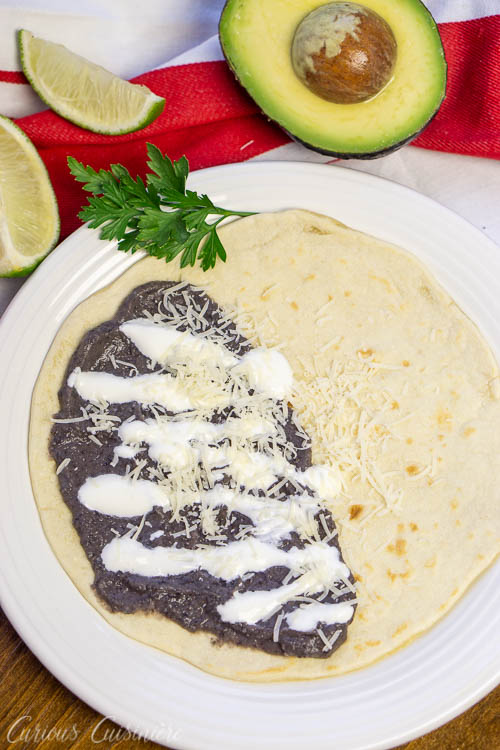 What cheese is used in baleadas?
A hard white cheese known as "queso duro" is the traditional cheese used in baleadas.
This cheese has a salty and robust flavor and is traditional to Honduras and El Salvador. It is often used as a garnish for re-fried beans, soup and salads.
If you live near a Hispanic market and can find "gueso duro" to make your baleadas, then go for it! If not, don't worry. According to one of our Honduran readers, a hard, grate-able cheese like Parmesan is a good substitute, so that's what we have used in our recipe today.
What is Honduran sour cream?
A Honduran white cream called "mantequilla blanco" is a must for drizzling over baleadas.
This is a Honduran style sour-cream that is a bit more runny than sour cream in the States.
An acceptable substitute for this mantequilla blanco is sour cream that has been watered down with some milk.
How to make homemade flour tortillas
A key component to a baleada is the thick flour tortilla.
If you've never made our own tortillas, then this is the best tortilla recipe for you to start with. It is super easy to work with. And, the fact that these tortillas are rolled thick means that you don't have to worry about rolling them to a perfect thin-ness.
To make these flour tortillas, you mix a simple dough together and knead it until smooth and soft. Then it rests to relax the gluten and make rolling it out easier.
After resting, you simply divide it and roll it out into circles.
The tortillas are cooked on a dry skillet, roughly 1 minute on each side, until just lightly golden.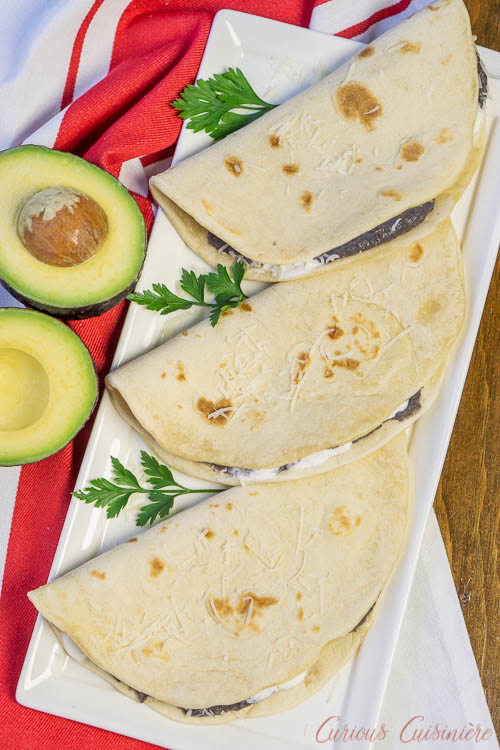 Don't skip making your own tortilla for this recipe.
Once you taste homemade flour tortillas, you won't want to go back to store-bought.
And, we're not sorry!
Variations on our baleadas recipe
The recipe for baleadas we are sharing with you today is the dish in its most simple form.
Beans, cheese, and cream in a homemade flour tortilla.
But it doesn't have to stop there!
Other common fillings for baleadas include scrambled eggs and/or avocado slices.
With scrambled eggs or not, we'd take one of these tasty treats for any meal of the day!
More Honduran Food
If you're interested in exploring more Honduran food, you'll want to check out Honduran Enchiladas, which are unlike any enchiladas you've ever seen! Pupusas de queso are also a great, cheesy treat that is popular in Honduras and El Salvador.
Yield: 8 baleadas
Honduran Baleadas with Homemade Flour Tortillas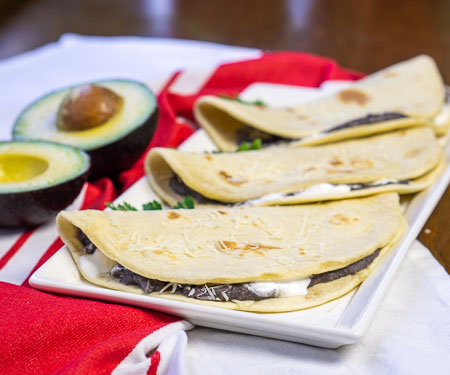 Baleadas are a Honduran street food made up of a thick, homemade flour tortilla filled with re-fried beans and cheese.
Prep Time (Including Resting)
40 minutes
Cook Time (Including Tortillas)
45 minutes
Total Time
1 hour
25 minutes
Ingredients
For the Flour Tortillas
4 c flour
1 tsp baking powder
1 tsp salt
1 - 1 ¼ c milk or water, divided
¼ c butter, lard or oil, softened
For the Baleadas
¼ c sour cream
¼ c + 2 Tbsp milk
½ c fresh grated Parmesan cheese
Instructions
For the Flour Tortillas
In a large bowl, mix the flour, baking powder and salt.
Mix in ½ cup of milk or water.
Work in the liquid fat with your fingers until the dough comes together. Add more milk or water, a little at a time, as needed.
Turn the dough out onto your counter and knead for 5-10 minutes, until you have a soft and smooth, but not sticky dough.
Cover the dough with a dish towel and let rest for at least 30 minutes.
When you are ready to cook your tortillas, heat an ungreased griddle or skillet over medium heat.
Cut the dough into 8 equal portions and roll each into a ball. Roll each ball into an 8 ½ inch round, roughly ¼ inch thick. If your dough springs back on you, let it rest a little longer before continuing rolling.
Place rolled dough onto the preheated, dry skillet and cook for 1 minute on each side, until lightly golden in spots and slightly puffy.
Once cooked, you can jump straight to making your baleada (filling and folding), or you can finish making all your tortillas before filling them.)
Continue with remaining dough, reducing the heat of your skillet as necessary. Keep the finished tortillas warm and soft by wrapping in a clean tea towel.
Once all your tortillas are finished, make your baleadas!
For the Baleadas
Mix the milk with the sour cream, adding a little at a time, until the cream is pour-able. Set aside.
Heat a dry skillet over medium heat.
Place tortilla in the skillet and heat both sides to soften.
Transfer the tortilla to a plate and spread the beans on one half (roughly ¼ c). Sprinkle with your grated Parmesan cheese (about 1 Tb) and drizzle with cream (roughly 1-2 tsp).
Fold the baleada in half.
Continue with remaining ingredients and serve warm!
Recommended Products
As an Amazon Associate and member of other affiliate programs, We earn from qualifying purchases.
Nutrition Information:
Yield:
8
Serving Size:
1 baleada
Amount Per Serving:
Calories:

395
If you liked this recipe, here are some similar dishes you may enjoy!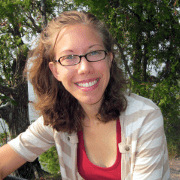 Sarah is one of Curious Cuisiniere's founding duo. Her love for cultural cuisines was instilled early by her French Canadian Grandmother. Her experience in the kitchen and in recipe development comes from years working in professional kitchens. She has traveled extensively and enjoys bringing the flavors of her travels back to create easy-to-make recipes.