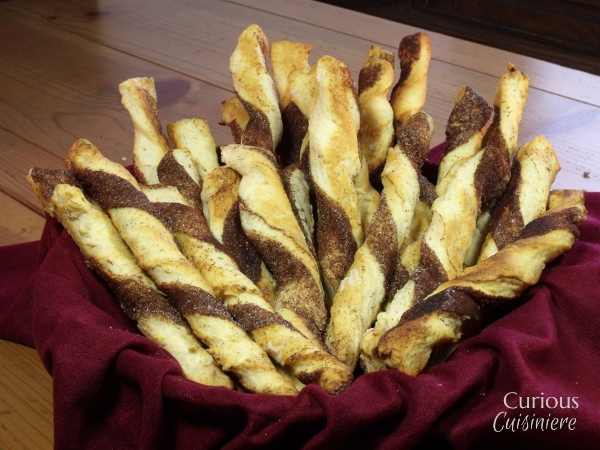 Out of no-where, I had a big craving for cinnamon twists.  I really have no idea where it came from.  But, I wanted crispy, almost biscuit-like twists that were slightly sweet and bursting with cinnamon flavor.
A quick search turned up many soft cinnamon bread sticks and some greasy or fried twists, but nothing of the baked and crispy kind that I was craving.
So, we took matters into our own hands.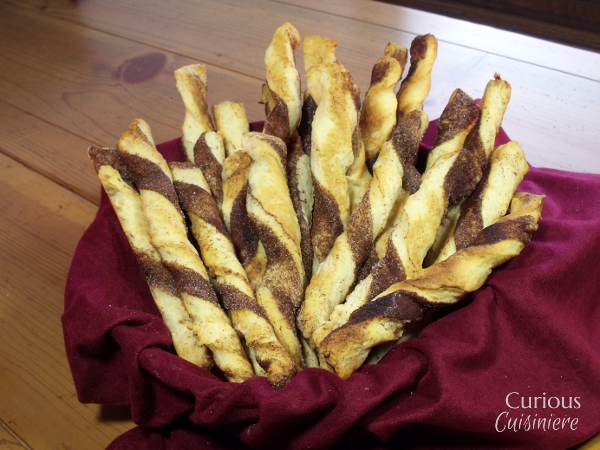 These baked twists have a satisfying crunch and just enough sweetness to complement the cinnamon.  They remind me a bit of the crispy exterior of a well-done biscuit.
Being only slightly sweet and without loads of butter or oil, these make a pretty healthy snack and guilt-free dessert.
They would also be great dipped in a sweet cream cheese dip or even melted chocolate.
Ok… now i'm hungry.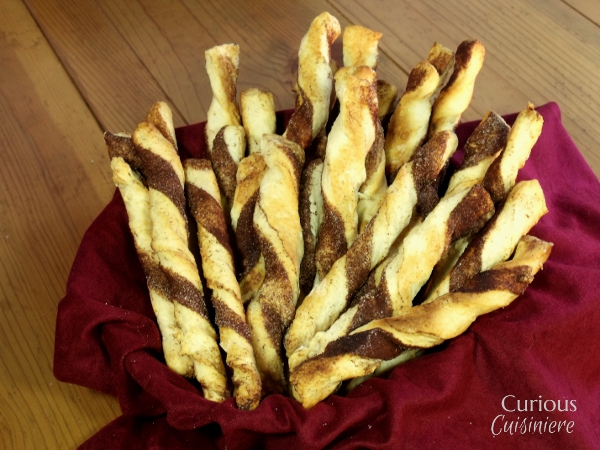 Crispy Cinnamon Twists
Author:
Sarah | Curious Cuisiniere
Ingredients
3 c flour
4 tsp baking powder
1 Tbsp sugar
½ tsp salt
½ tsp cream of tartar
¼ c oil
½ c milk
½ c water
2 Tbsp cinnamon
1 Tbsp sugar
1 Tbsp melted butter
Instructions
Preheat oven to 425F.
In a medium bowl, mix together flour, baking powder, sugar, salt, and cream of tartar. Mix in oil, milk, and water to form a soft dough.
Turn dough onto a lightly floured surface. Knead until smooth.
Roll dough into a 16" x 8" rectangle.
Mix together cinnamon and 1 Tbsp sugar.
Brush dough with melted butter and sprinkle with cinnamon sugar mixture.
Cut dough into ½" wide strips.
Twist each strip and place twists 1" apart on an un-greased baking sheet.
Bake 8-10 minutes, until golden brown and crisp.
If you liked this recipe, here are some similar dishes you may enjoy!