Slightly sweet and brightly colored, our beet ravioli is filled with an herbed mushroom filling and topped with a sauteed mushroom sauce.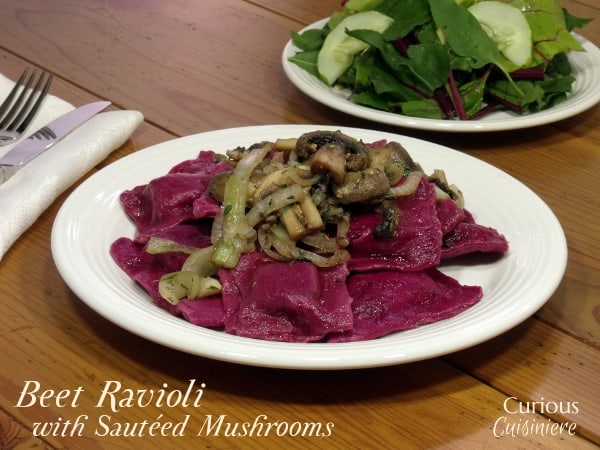 Making Pasta From Scratch
Someone used to make pasta from scratch. In fact, many someones still do.
Doesn't that thought blow your mind a little?
We're so used to heading to the store and stocking up on boxes of dried pasta in fun shapes. But, someone used to make that from scratch.
I always thought pasta making involved some laborious and complicated processes. And, even though I wanted to try my hand at it, I was waiting for the perfect day, when I had all the time in the world.
Like that would ever happen.
Making Homemade Ravioli
If you can make your own pie crust, you can make homemade ravioli.
We're not joking here.
The dough is a simple flour and egg combo.
Mix it together. Let it chill for 30 minutes to relax the gluten. Roll it out. Fill and cook!
That's it!
If you feel like taking a little extra time, you can make a big batch and freeze them for later.
Our Beet Ravioli Recipe
While beet ravioli might not seem particularly traditional, using veggies to dye the color of pasta is often seen among Italian chefs.
We've done it before in our pumpkin ravioli.
But, the color given wen you add beets to the ravioli dough is much more impressive.
The beets add a light sweetness and earthiness to the pasta, giving them a flavor that is just a bit more interesting than plain pasta.
Today, we've filled our beet ravioli with a cheese and mushroom filling, and topped them off with some sauteed mushrooms and onions. Together the combination makes for one perfect, earthy fall dish.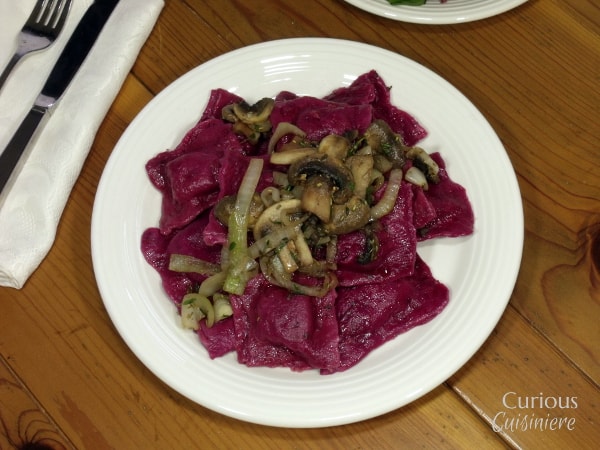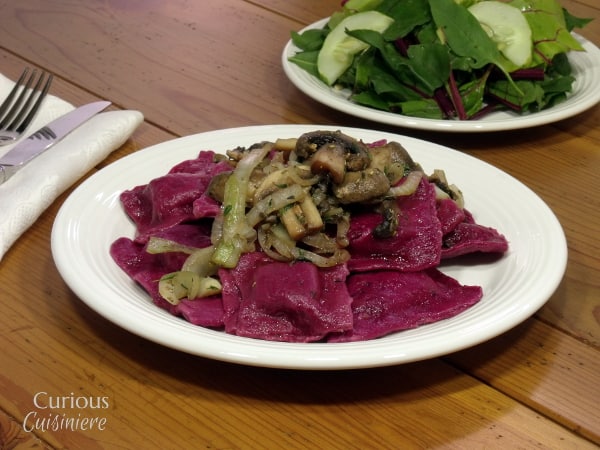 Beet Ravioli with Sauteed Mushrooms
Slightly sweet and brightly colored, our beet ravioli is filled with an herbed mushroom filling and topped with a sauteed mushroom sauce.
Yield: 24 (2 inch) ravioli
---
Ingredients
The Ravioli
1/3

lb (5-6 oz)

fresh beets

1

egg

Pinch

salt
The Filling
½

tsp

olive oil

1

small

white onion,

minced

2

oz

mushrooms

(about 4 small white mushrooms), minced

4

garlic cloves,

crushed, or 1 tsp garlic powder

1

Tbsp

fresh parsley,

chopped, or 1 tsp dry

1

Tbsp

fresh thyme,

chopped, or 1 tsp dry

1/8

tsp

salt

1/8

tsp

ground white pepper

2

oz

ricotta cheese

¼

oz (1 Tbsp)

Parmesan cheese,

grated

1

tsp

salt
Finishing Touches
1

tsp

olive oil

1

onion,

quartered and sliced

5

oz

baby mushrooms,

sliced

1

Tbsp

fresh rosemary,

chopped, or 1 tsp dry

1

Tbsp

fresh thyme,

chopped, or 1 tsp dry

¼

tsp

salt

1/8

tsp

ground black pepper
Instructions
Prepping the Beets
Wash and trim the beets so that only about an inch of the stems remain. Place in a large pot of water and bring to a boil. Boil beets until tender, 20-35 minutes, depending on how big your beets are.

When the beets can be easily punctured with a fork, remove them from the water to cool slightly. When they are cool enough to touch, remove the skins by rubbing with your fingers or with a paring knife.

Cut the beets into chunks and place in the bowl of your food processor. Process until the beets are finely pureed.

Place the beet puree in the refrigerator to cool slightly. (The beets can be prepared up to 2 days in advance.)
Making The Ravioli Dough
Place the flour in a large bowl. Make a well in the middle and add the egg and beet puree. Mix well with your hands until the dough comes together. (It will seem very dry at this point. Just keep working it.) Turn the dough out onto the counter and knead for 3-5 minutes until brightly colored and smooth.

Wrap the dough in plastic wrap and place it in the refrigerator for at least 30 minutes.
Making The Filling
While the dough is chilling, make your filling.

Heat oil in a small frying pan. Add onions and sauté over medium heat until light brown, 5 min. (If using fresh garlic, sauté it with the onions here.)

Add minced mushrooms and sauté for 1-2 minutes, until soft. Remove from the heat and mix in seasonings.

Set the mixture aside to cool slightly before mixing in the ricotta and parmesan. (This filling can also be made ahead of time and refrigerated for up to 24 hours.)
Making the Ravioli
When you are ready to make your ravioli, remove the dough from the refrigerator and roll out into a 16"x12" rectangle on a lightly floured surface. (We found that occasionally flipping the dough and adding a bit more flour to the surface kept it from sticking to the counter and made rolling easier.)

Once the dough has been rolled out, cut the bottom half into 2" squares. Place a ½ tsp of filling in each square.

Moisten the dough between the filling with a bit of water. (This will help the pasta to stick together better.) Place the un-cut half of the dough over the filling.

Cut the top dough to match the bottom squares and press the edges firmly together.
Cooking The Ravioli
Bring a large pot of water to a boil and add 1 tsp of salt. Add the pasta, a few at a time so the pot is not too crowded. Keep the water at a gently simmer and cook the pasta for 1-2 minutes, until it is tender.

Remove cooked ravioli from the boiling water and place into a bowl. Drizzle with a little olive oil to keep them from sticking to each other.

Repeat as needed until all the ravioli have been cooked.
Finishing It Off Touches
Heat oil in a large frying pan. Add onions and sauté over medium-high heat until golden, 3-5 minutes. Add mushrooms and seasonings. Sauté 2-3 minutes.

Serve the ravioli topped with sautéed onions and mushrooms.

This meal goes quite nicely with a side salad.
---
Recipe Notes
To Freeze Ravioli For Later: Arrange the un-cooked ravioli in one layer on a cookie sheet and place in the freezer. (If necessary you can do two layers separated by parchment paper.) Once frozen (usually 30 min or so) you can put them in an airtight container or bag. To cook, simply toss frozen ravioli into a pot of boiling salt water and cook for 2-3 minutes, until tender.
If you liked this recipe, here are some similar dishes you may enjoy!