Warm spices and winter fruit make this Spiced Winter Sangria recipe a fun twist on your classic Spanish red sangria.
A Winter Sangria
Many cultures serve warm, spiced wine drinks during the winter months, like the Glogg in Sweden and Gluhwhein in Germany.
And, while we typically think of Spanish Red Sangria as a chilled and (possibly) bubbly summer drink, there's no law saying you can't serve this wine cocktail in the winter too.
In fact, nowadays sangria is the general term for a wine-based cocktail. So it almost invites a little creativity.
How To Choose Wine For Sangria
When it comes to choosing wine for sangria, you can really start with any red wine you like. Don't make it too expensive of a bottle, you're going to be doctoring it up anyway!
But, don't make it a cheap, unpalatable bottle either.
You still have to drink it, after all.
We tend to prefer a lightly fruity wine as the base of our sangria.
Typically for sangria we would look for a young, un-aged wine.
Spanish wines like Tempranillo and Grenache are very good choices. Red Zinfandel and Shiraz are also good options. Or, look for a red blend that is on the medium sweet end with lots of fruit flavor.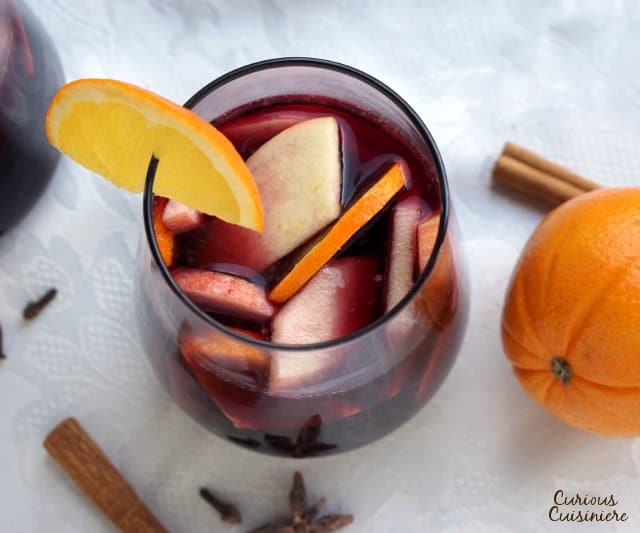 Our Spiced Sangria Recipe
For our Spiced Winter Sangria recipe, we first create a simple syrup that is infused with warm winter spices, like cinnamon, cloves, and anise. This syrup gives a nice warm, spiced undertone to the cocktail.
To the wine, we add some fresh orange juice to brighten up the flavors and a bit of brandy to kick things up a notch.
For fruit, we like to make use of fall and winter fruits by using a mixture of oranges, pears, and apples.
How To Serve Sangria
Traditional sangria is served chilled, sometimes topped up with a bit of club soda to give it a bubbly freshness.
In the winter, we don't find ourselves wanting chilled, bubbly beverages as much, so we like to serve this winter sangria at room temperature.
Grab a glass and don't be afraid to enjoy sangria year-round!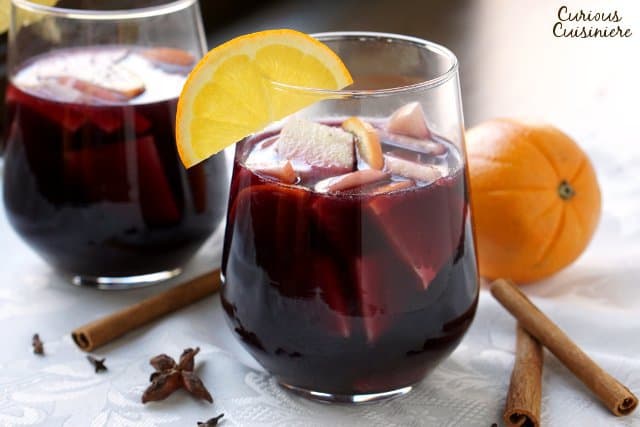 Other winter wine beverages
This sangria is a wonderful way to bring the often summer drink into your winter festivities.
If you're a fan of warmer wine drinks in the winter, you will want to take a look at our Swedish Glogg recipe for a spiked red wine punch.
Our German mulled wine is also a wonderful and warming winter beverage with lots of warm spices and citrus flavors.
Enjoy the flavors of the winter months!
Spiced Winter Sangria
This festive deep-red winter sangria has a fruity and sweet flavor with rich cinnamon and clove undertones. Warm spices and winter fruit make this Spiced Winter Sangria recipe a fun twist on your classic Spanish red sangria.
Ingredients
For The Spiced Syrup
1/3

c

water

1/3

c

sugar

1

cinnamon sticks

4

whole black peppercorns

2

whole cloves

1

whole star anise

(optional)
Putting It Together
1

(750mL) bottle

light bodied red wine

(Shiraz, Red Zinfandel, Temperanillo, or Grenache are all nice!)

3

small

oranges

1/4

c

brandy

1

sweet

apple,

quartered, cored and sliced

1

ripe bosc

pear,

quartered, cored, and sliced
Instructions
For The Spiced Syrup
In a small saucepan, mix the sugar, water, and whole spices.Bring the mixture to a simmer over medium heat. Reduce the heat to low and simmer for 3 min.

Let the syrup steep and cool to room temperature, 10 min.

Strain the syrup into a small bowl, reserving the cinnamon stick (the other spices can be discarded).
Putting It All Together
Pour the wine into a large pitcher.

Juice two oranges (you should have about ½ c of orange juice). Add the juice to the wine along with the brandy and the spiced syrup.

Halve and slice the other orange and add it to the pitcher along with the other fruit slices. Add the cinnamon stick that you reserved from making the syrup.

Cover the pitcher and refrigerate the sangria for 2 hours or overnight.

Remove the pitcher from the refrigerator 1-2 hours before serving, to let the sangria come to room temperature.

Served garnished with additional fruit slices, if desired.
Notes
This recipe from 2012 was updated in November 2017. We made the spiced sangria even tastier!
---
This is one of the recipes from the early days of Curious Cuisiniere. We've updated our pictures since we first made it, but we've left some originals here, in case you've found us in the past and are looking for that old, familiar image.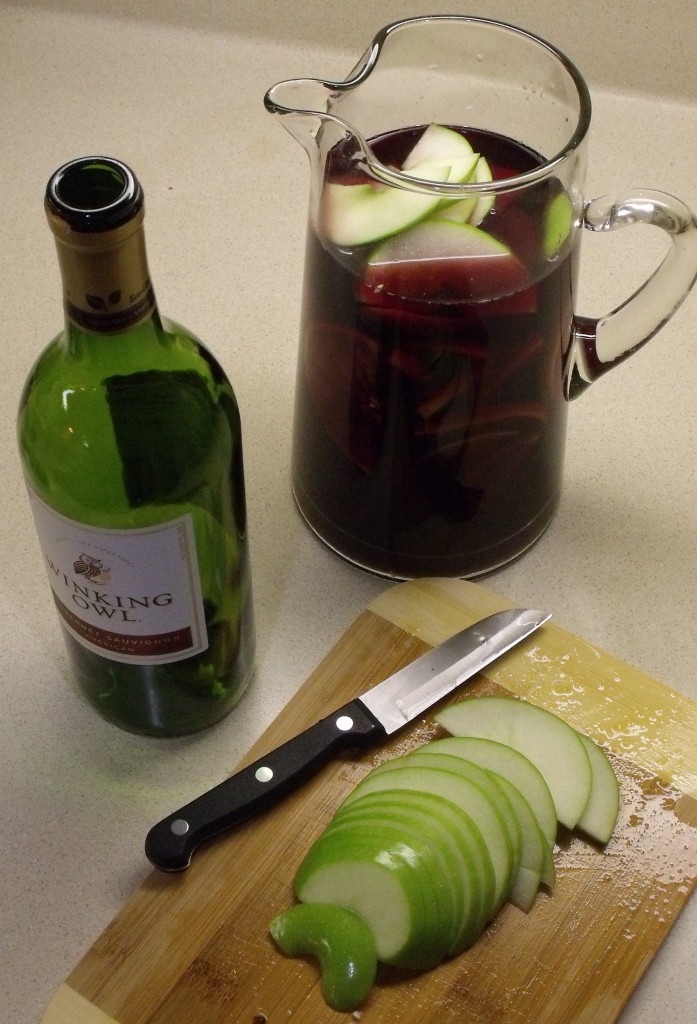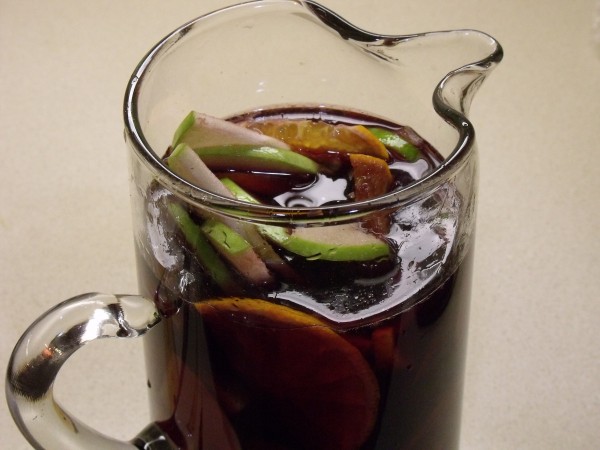 If you liked this recipe, here are some similar dishes you may enjoy!