A hearty and flavorful take on an Irish classic, this Vegetarian Shepherd's Pie is filled with lentils and other vegetables rather than beef or lamb.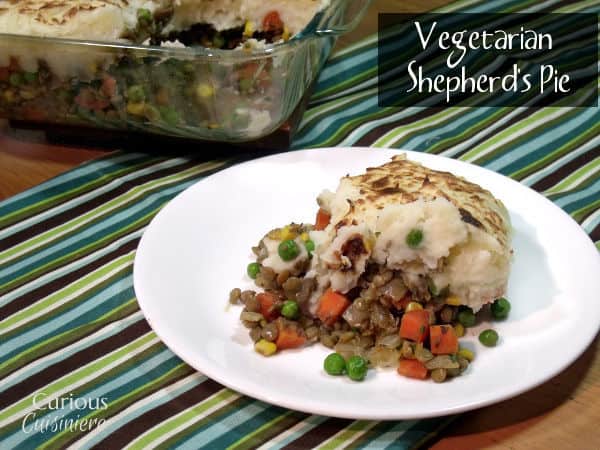 While there isn't anything particularly Irish about Corned Beef and Cabbage, Shepherd's pie is a staple of traditional Irish cooking.
Shepherd's Pie was originally known as Cottage Pie, with cottage referring to the modest dwelling of poor, rural workers during the late 1700's in Ireland and England, when the potato was a common, affordable crop for poor families.
The term Shepherd's Pie didn't appear until the late 1800's. But, it has become the commonly accepted name for the dish, even though the traditional idea was that  a shepherd's version used mutton (lamb), while a cottage version used beef.
We have seen vegetarian versions named Shepherd-less Pie or Farmer's Pie, but we're just going to stick with the traditional name for this vegetarian spin on the classic.
Shepherd's Pie is quite a hearty and sustaining dish, and this vegetarian twist is no exception. Lentils give the base of this pie a consistency and texture that is surprisingly similar to ground meat, while at the same time boosting the iron and protein content in this all-veggie pie.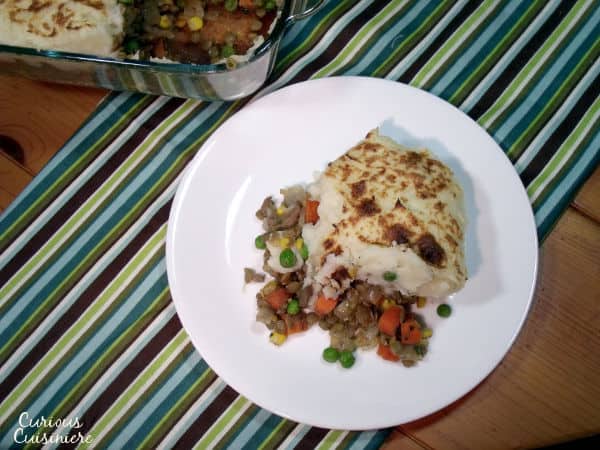 Vegetarian Shepherd's Pie
Author:
Sarah | Curious Cuisiniere
Ingredients
For the Lentils
1 c dry lentils
2 c water
2 bay leaves
For the Potatoes
2 lb potatoes (about 4 -5 medium/small potatoes)
½ c milk
½ tsp lemon juice
¼ c sour cream
½ tsp salt
½ tsp minced garlic
⅛ tsp nutmeg
Putting It All Together
1 tsp oil
1 onion, diced (1c)
2 medium carrots, diced (roughly 1 c)
1 c frozen corn
1 c frozen peas
1 (4oz) can sliced mushrooms, drained
2 tsp Worcestershire sauce
1 Tbsp parsley
1 tsp thyme
1 tsp oregano
½ tsp salt
½ tsp pepper
Instructions
In a small saucepan, mix lentils with 2 c water and bay leaves. Cover and bring to a boil. Simmer, covered over low heat until lentils are tender and most of the water has been absorbed, 15-20 min.
Peel potatoes and cut into ½ - 1 inch cubes. Place potatoes in a medium saucepan and cover with water. Cover and bring to a boil. Simmer over medium heat 10-15 minutes, until tender when pricked with a fork.
When the potatoes are done, drain the liquid, reserving about one cup.
Add milk, lemon juice, sour cream, garlic, salt, and nutmeg to the drained potatoes. Whip potatoes with an electric hand mixer until smooth, adding reserved liquid if necessary.
In a large, non-stick skillet with high sides heat oil. Add onions and sauté until soft. Add carrots and sauté an additional 5 minutes, until carrots begin to soften. Add corn, peas, mushrooms, Worcestershire sauce, and seasonings. Mix and heat through.
When mixture is heated and carrots are soft, add cooked lentils and mix well.
Grease an 8x8 oven-safe baking dish. Spread lentil mixture into the baking dish. Top with mashed potatoes.
Place dish into the oven and broil 5-10 minutes, until the top is golden.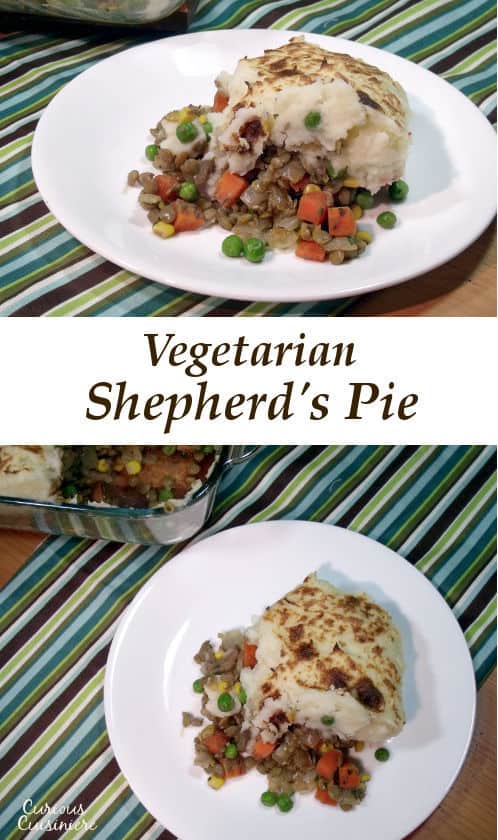 If you liked this recipe, here are some similar dishes you may enjoy!