We're making our own homemade szechuan sauce and using it to flavor the meat in an Asian Fusion Burrito today  for a fun and easy fusion of Mexican and Asian cuisines.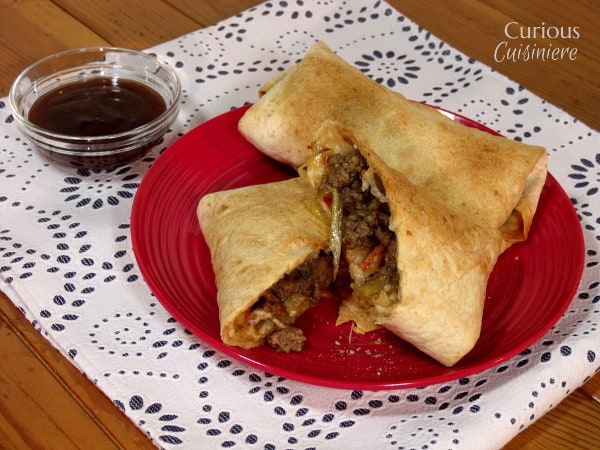 Hopefully you saw yesterday's #SundaySupper post with one of my favorite family meals, Swiss Steak. And, if you did, you know that #SundaySupper has partnered with American Family Insurance for their Back To Table Campaign.
Taking time for family dinners, even a short amount of time on busy nights, helps create the good habit of having a family mealtime. And, isn't it true that it is those busy days when we really need those few moments to stop, regroup, and relax?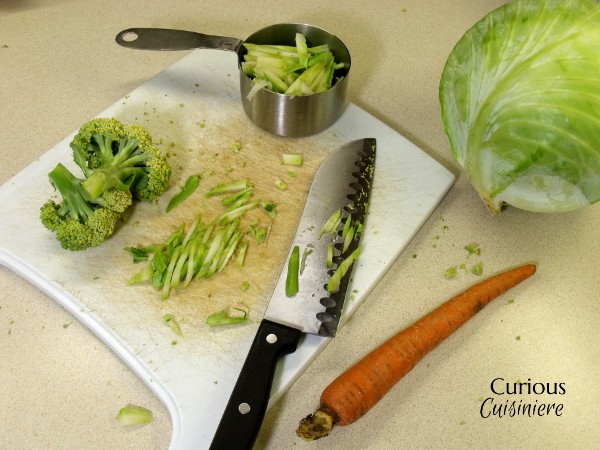 During busy weeks, we find two types of dishes incredibly helpful: crock pot meals and stir fries.
There are so many fantastic crock pot recipes, and they are perfect when you're not going to be around for most of the day. Nothing beats walking into a house that smells like dinner. Well, nothing besides knowing that you can relax for a minute too since dinner practically made itself.
Stir fries are our go-to meal when we don't even have the time to think ahead to prep a crock pot. Any meats or veggies (fresh or frozen) are fair game when we stir fry. And, you don't need a wok either. A frying pan works just as nicely.
So, do I have a crock pot meal or stir fry for you today? I'm afraid not.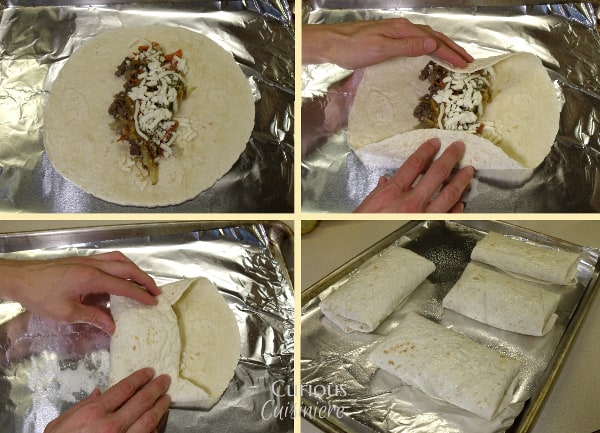 But, I have something much more fun, and just as fitting for a busy night.
American Family has shared some of the "Share Your Recipe" sweepstakes recipes with us, and this week the #WeekddaySupper crew will be sharing some of these stellar recipes with you.
The recipe I chose for today was "Oriental Burritos", submitted by Shelley Thomas. Shelley says, "I don't even remember now where the recipe came from, but this has become a go-to dish when we have company, because it is so unusual. I've never had anybody not love them!"
We were so intrigued by the title that we knew immediately we had to try them. Mexican with an Oriental swing? All in a baked chimichanga?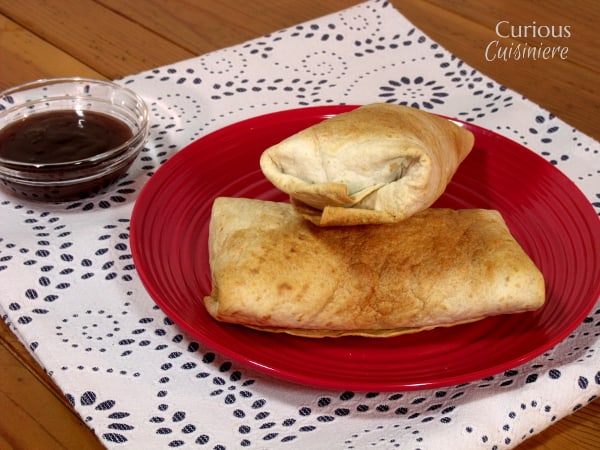 Let me tell you, we are hooked!
Shelley, these might have just become a go-to dish when we have company too!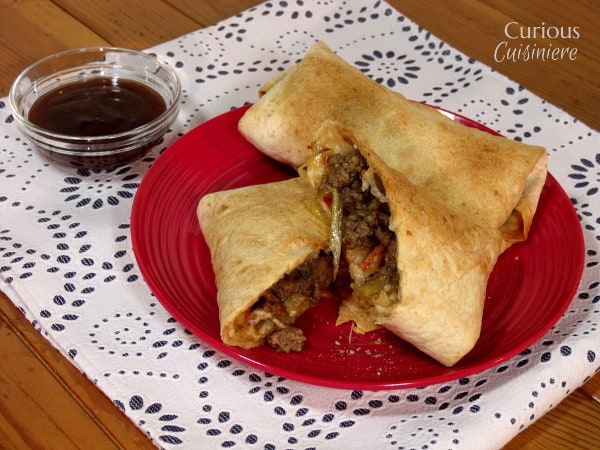 Szechuan Sauce
Hailing from the Sichuan province in southwest China, Szechuan sauce is a bold and spice sauce that is heavy on the garlic and chili peppers.
Yield: 1 c of sauce
Servings
:
16
(1 Tbsp) servings
---
Ingredients
½

c

chicken broth

(we prefer low sodium)

1 ½

Tbsp

soy sauce

1

tsp

lemon juice

2

garlic cloves,

minced

1 ½

Tbsp

brown sugar

2

tsp

chili paste

1

tsp

ginger

½

tsp

black pepper

½

tsp

red pepper flakes

(optional)

¼

tsp

cayenne pepper

1

Tbsp

corn starch

2

Tbsp

rice vinegar
Instructions
In a small saucepan, mix together chicken broth, soy sauce, and lemon juice.

Add garlic, brown sugar, chili paste, ginger, and peppers. Bring to a simmer.

In a small bowl, add vinegar to corn starch and mix until the cornstarch is dissolved.

Pour cornstarch mixture into the saucepan. Stir frequently and simmer until the sauce has thickened.

Remove from heat. Refrigerate for up to a week.
---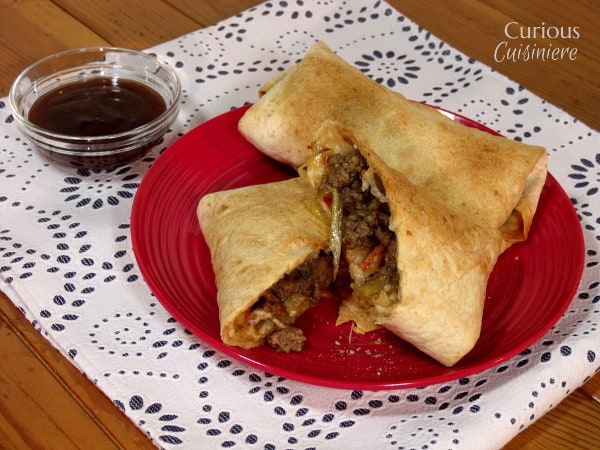 Asian Fusion Burritos
Spicy Szechuan flavors come together in this Chinese and Mexican fusion dish of Asian-filled, baked chimichangas.
Yield: 6-8 burritos
---
Ingredients
1

lb

ground beef

(90% lean)

½

tsp

Chinese Five Spice

4

garlic cloves,

minced

½

tsp

ground black pepper

Pinch

celery salt

4

c

shredded cabbage

2

c

broccoli,

julienned

2

carrots,

julienned

1

onion,

diced

¼

c

Szechuan Sauce

(see recipe above)

2

c

Mozzarella or Monteray Jack cheese,

shredded

6-8

large tortillas

(or more if using small size tortillas)
Instructions
Pre-heat oven to 400F.

In a large, non-stick frying pan, brown meat over medium-high heat (5-7 min). Add Five Spice Powder, garlic, pepper, and celery salt, and mix well. Remove from frying pan to a bowl when cooked.

Return the frying pan to the heat and add cabbage, broccoli, carrots, and onion. Sauté over medium-high heat until tender (5-7 min). Add Szechuan Sauce and mix until well coated. Remove from heat.

Wrap tortillas in a damp paper towel, and microwave for 10 seconds to soften.

Prepare a baking sheet by lining it with aluminum foil and greasing the foil with cooking spray.

Place roughly 1/4-1/3 cup of both meat and cabbage in a line down the center of each tortilla. Top with ¼ c of cheese.

Roll the tortillas by folding the top and bottom ends in first, then wrapping the sides around.

Place burritos, seam side down on the prepared baking sheet. Spritz gently with baking spray.

Bake burritos for 15-20 min, until crisp and golden.
---
Recipe Notes
Shelley used a bag of broccoli slaw in place of the cabbage, broccoli, and carrots, which would cut the prep time down a bit. Or, you could prep your veggies, and even brown your meat before hand, so only the last bit of cooking would need to be done come dinner time.
Disclosure: This post is sponsored by American Family Insurance. However, as with all sponsored posts, all opinions are our own.
If you liked this recipe, here are some similar dishes you may enjoy!