This Mexican Vegetable Soup uses healthy avocados for added nutrition and a creamy texture. We're calling it Mexican Minestrone for a fun fusion!
Mexican Minestrone?
Well, we're not really sure that name is legal.
But Italian minestrone soup is often defined as vegetable soup with beans and tomatoes, sometimes including rice or pasta. We left the rice or pasta out of this one, but it is a hearty vegetable soup with a Mexican twist.
And we thought the name sounded fun.
Avocado Soup
Why add avocados to a vegetable soup? Doesn't it mess with the expected texture of the veggies?
Well, no.
Have you ever put a dollop of sour cream on tortilla soup, or any soup for that matter? It's quite similar.
The avocados add a pleasantly bright creaminess to this zesty Mexican vegetable soup.
The Healthy Fat of Avocado
One element of the avocados that we haven't addressed yet is their fat content. While it is true that roughly 2/3 the calories in avocados come from fat, the fats found in avocados have been found to be those fats that the body needs.
Wait. We need fat?
Oh yes.
The fats in avocados contain anti-inflammatory benefits which are particularly helpful for those suffering with arthritis.
Avocados contain very little saturated fat (the bad kind). The fats in avocados are predominantly monounsaturated fat, which help our hearts regulate cholesterol.
You'll find omega-3 fatty acids in these gems too. Omega-3s are a polyunsaturated fats that help stabilize blood pressure, and are good in small quantities.
And finally, many nutrients are fat soluble, so pairing them with healthy fats increases their effectiveness and absorption in your body.
What it all comes down to is moderation. We need healthy fats. And, as long as you stay within your daily recommended amount of fat and make wise decisions about the types of fat you fill your diet with, that fat can go to work for you in a good way.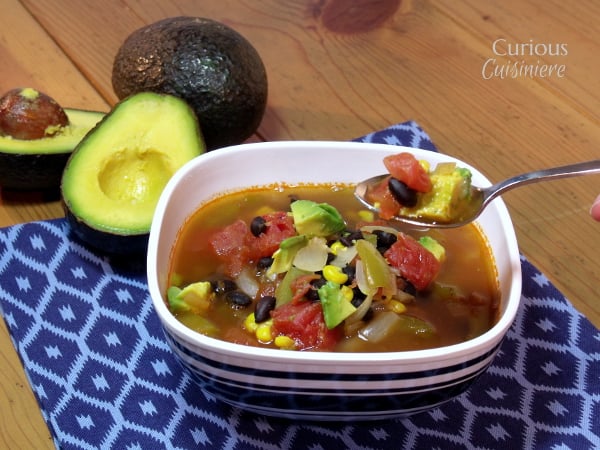 Mexican Minestrone Soup with Avocados
This Mexican Vegetable Soup uses healthy avocados for added nutrition and a creamy texture. We're calling it Mexican Minestrone for a fun fusion!
Ingredients
1

tsp

oil

½

onion,

diced

½

green pepper,

diced

2

c

black beans,

cooked (drained, if canned)

1

(14 oz) can

diced tomatoes,

undrained

1

c

corn

(thawed if frozen)

4

c

stock

(chicken or vegetable)

1

tsp

paprika

½

tsp

cayenne pepper

½

tsp

salt

½

tsp

ground black pepper

1

avocado,

diced and tossed with a splash of lemon juice to prevent browning
Instructions
In a medium soup pot, heat oil. Add onions and peppers and sauté over medium high heat until translucent (3-5 min).

Add beans, tomatoes with juice, and corn. Mix well.

Add stock and bring to a simmer. Simmer, covered, for 10 min.

Add paprika, cayenne pepper, salt, and pepper to taste. Cover and simmer an additional 5 min.

Remove soup from heat and stir in avocado.

Serve immediately.
Notes
To peel and pit the avocado, we normally take a small knife and cut a slit all the way around the circumference of the fruit, cutting down to the pit. Once the cut is made, you can twist the halves in opposite directions and the pit should release from one of the sides. To remove the pit from the other side, give it a good whack with a large knife. When the knife is embedded in the pit, twist to pop it out. You can then use a spoon to scoop the flesh out of the skin.
Nutrition
Calories:
493
kcal
|
Carbohydrates:
79.7
g
|
Protein:
25
g
|
Fat:
11
g
|
Saturated Fat:
1.8
g
|
Sodium:
1069
mg
|
Fiber:
21.2
g
|
Sugar:
8
g
DISCLOSURE: We received samples of California Avocado that were used in this recipe. We were not compensated for our time. As always, all opinions are our own.
If you liked this recipe, here are some similar dishes you may enjoy!