Masoor dal is a popular lentil curry recipe from the Indian sub-continent made with red lentils (also known as masoor dal) and a tempering of sliced onion and garlic. This dal recipe is super easy to make, and can be ready in less than 30 minutes.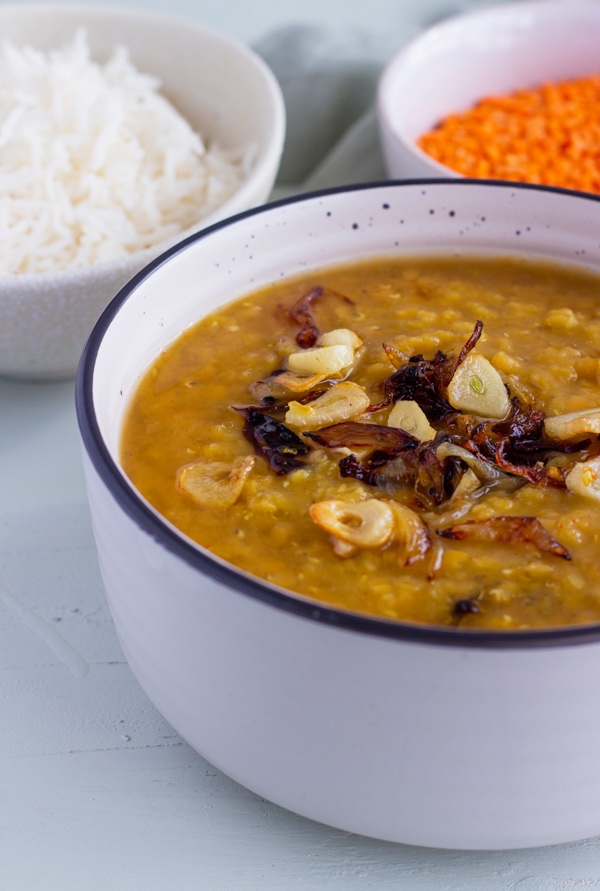 What is dal?
Dal (also spelled dhal or daal) is a staple food across the Indian sub-continent, in both India and Pakistan.
The word dal translates to lentils, and it can mean the raw product as well as the cooked lentil preparation.
The term is generally used for the entire category of lentils, with specific names being assigned to every lentil curry depending on the type of lentil used, as well as the way it is prepared.
For instance, here are some common lentil dishes:
The rich and creamy dal makhani is made from black lentils / black gram (urad daal) and red kidney beans (rajma / laal lobia)
Chana dal is a dry style lentil preparation made with split gram lentils (chana dal)
Moong masoor dal is made from a combination of red lentils (masoor dal) and yellow lentils (moong dal)
Broccoli dal is a dal preparation made with red lentils (masoor dal) and vegetables, broccoli in this instance
The recipe that I am sharing today for you is for masoor dal (red lentil curry).
It is super simple to make and tastes delicious with both rice as well as roti or naan.
What is a red lentil?
The red lentil is the seed of the plant Lens culinaris.
The whole lentils are dark brown to greenish-black in color, and when hulled results in a reddish-orange centre.
Though the lentils are reddish pink in raw form, they turn a pale yellow when cooked.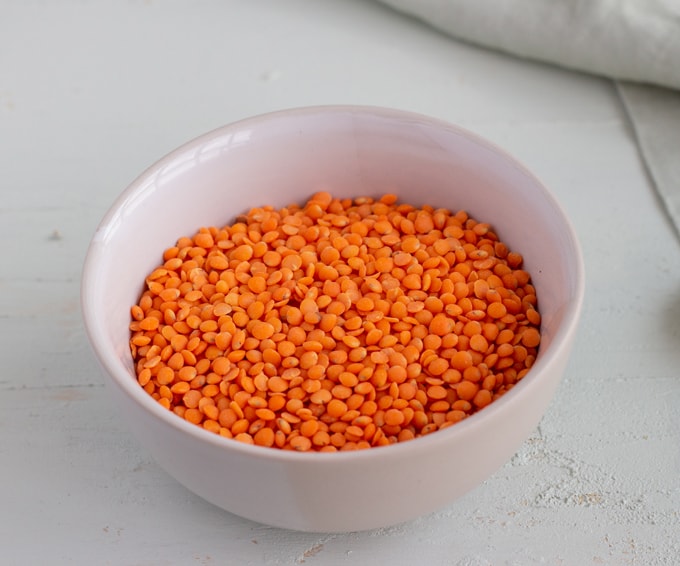 What is a substitute for red lentils in masoor dal?
Red lentils are similar to yellow lentils (moong dal) and can be used interchangeably in most recipes.
It is also possible to use ½ red lentils (masoor dal) and ½ yellow lentils (moong dal) in recipes to add variety and a different flavor to everyday meals.
The difference is that dal made from red lentils is lighter and thinner, versus dal made from yellow lentils is a little thicker and creamier.
Red lentils (masoor dal) also take less time to cook – about 15 minutes on the stovetop versus yellow lentils (moong dal) that will take about 30 minutes.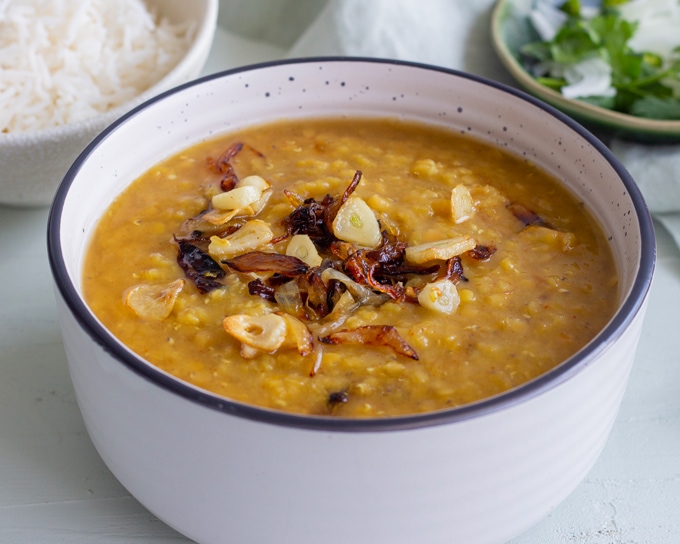 How to make masoor dal?
The recipe that I am sharing today is for masoor dal which is made with red lentils. These red lentils are easily available at regular grocery stores or speciality Indian and Pakistani grocery stores.
Before you start making the masoor dal, check the lentils for any debris or stones. These days lentil bags are quite clean, but it's been a childhood habit of mine to always check. Pour the lentils in a big shallow dish or plate, and quicky inspect for any debris. Once this is done, wash the lentils thoroughly.
Masoor dal (red lentils) are super quick to make, so they do not require soaking. Place them in a small pot or saucepan and add fresh water. Bring the water to a boil, and skim off any fresh foam that rises to the top. Add spices, and let the lentils cook for about 15 – 20 minutes till they are soft and tender.
Whisk the lentils at this stage with a whisk or use a wooden spoon to mash them up. This will break up some of the lentils resulting in a creamier texture, and then turn heat to low.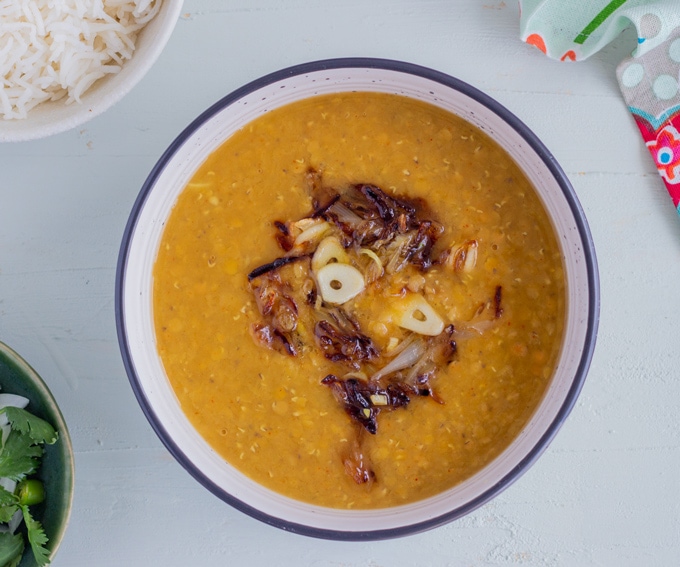 How to prepare tarka
In the meanwhile, prepare the tarka, also known as baghar or tempering.
Tarka is a cooking method to add flavor and aroma to dishes, mostly dal preparations.
It is done by heating oil, ghee, or butter in a small frying pan or mini wok (also known as a mini karahi and kept for tarka purpose only) and then frying spices, herbs or other aromatics in that hot oil till their flavor and aroma is released.
The hot oil along with the fried ingredients is then poured over the dal.
Tarka (or tempering) is an essential step in making not just masoor dal (red lentils) but most dal recipes.
There are specific tarka (tempering) ingredients that are suited to certain lentil types, and by varying the tarka ingredients it's possible to change the flavor of the dal.
In this particular masoor dal recipe, I have used a simple tarka (or tempering) of onions and sliced garlic, but it is possible to switch things up by adding other ingredients such as cumin seeds or whole red chilies, even curry leaves (karri patta).
However, take care to add tarka ingredients in the right order. Sliced onion is added first since it takes the longest to cook, garlic is added next, and whole spices that can burn quickly are added at the end.
How to serve masoor dal with tarka
About a minute before the tarka (tempering) is complete, dish out the masoor dal in a bowl.
Pour the tarka (tempering) along with the oil over the dal and serve hot. The tarka (tempering) acts as a flavor enhancer as well as garnish for the masoor dal.
Stir the garnish when taking it out in your plate or bowl.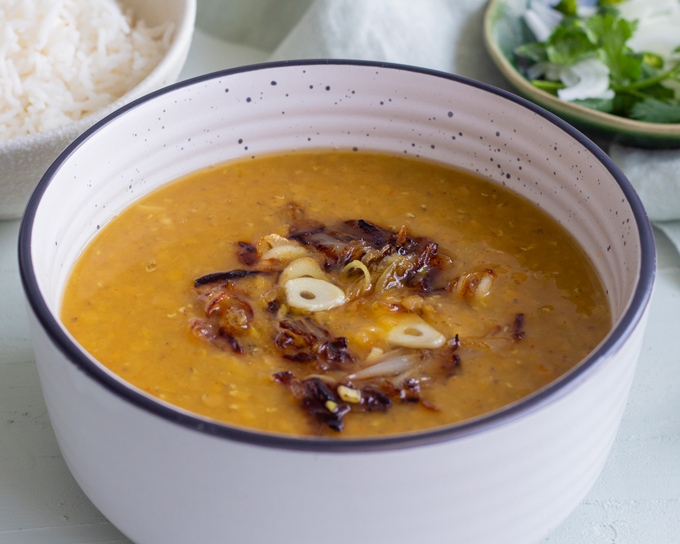 What to serve with masoor dal?
Masoor dal is usually served with either rice or an Indian flatbread such as roti or naan.
The consistency of the dal can be varied depending on what it is served with – if it is served with naan, it is kept more thick, whereas if it is served with rice it is kept thinner.
As dal is such a simple meal, it is usually served with condiments on the side such as pickles (achaar), kachumer salad (a chopped salad of tomatoes, onions and green chilies), or raita (Indian spiced yoghurt).
To make it a more substantial meal, it can also be served with kebabs.
In Pakistan, one of the most popular accompaniments is shami kebab, which is a minced beef and lentil kebab shaped like a patty.
Now it's your turn!
Have you made masoor dal? Do you have a favorite dal or lentil dish? Let us know in the comments below!
Yield: 3 servings
Masoor Dal (Red Lentil Curry)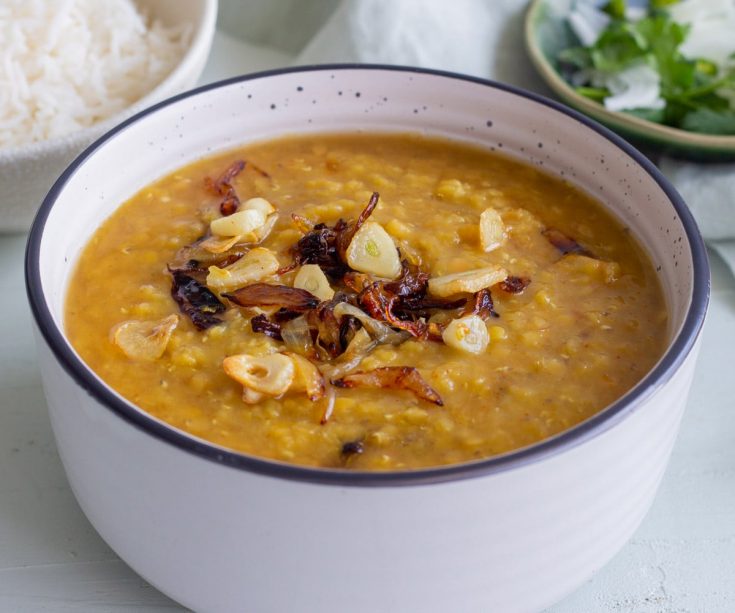 Masoor dal is a popular lentil curry recipe from the Indian sub-continent made with red lentils. This dal is easy to make, dinner in under 30 minutes!
Ingredients
1 cup masoor dal (red lentils)
3 cups water (adjust depending on consistency preferred)
½ teaspoon red chili powder
½ teaspoon garlic paste (minced garlic or fresh garlic, grated can be substituted but reduce the quantity as fresh garlic is stronger than paste)
¼ teaspoon turmeric
½ teaspoon salt
1 teaspoon lemon juice
For the tempering
1/4 oil
1 medium onion, sliced
4 cloves garlic, sliced
Instructions
Clean the masoor dal (red lentils) and wash them.
Add the lentils, along with fresh water to a small saucepan or pot. Add the red chili powder, garlic paste, turmeric and salt.
Bring to a boil, and then turn the heat down. Let the masoor dal simmer for about 10 – 15 minutes.
The lentils should have absorbed the water, and become soft. Stir the dal with a wooden spoon or a whisk, pushing it down to break down the lentils and achieve desired consistency.
At this point, additional water can be added depending on how thick or thin you want the dal to be.
Add the lemon juice and stir through. Dish out the masoor dal in a serving bowl.
Meanwhile, prepare the tarka (tempering) by heating oil in a small frying pan or a small wok. Add the sliced onion, and fry on medium heat till onions are soft and translucent, nearly to the point of turning golden.
Add the sliced garlic at this stage, and then fry the onions and garlic untill both are golden brown. Make sure to stir frequently so that the onions don't burn.
Once the onions and garlic are golden brown, pour them over the masoor dal along with the oil. The mixture will sizzle, so be careful.
Recommended Products
As an Amazon Associate and member of other affiliate programs, We earn from qualifying purchases.
Nutrition Information:
Yield:
3
Serving Size:
1/3 of recipe
Amount Per Serving:
Calories:

142
If you liked this recipe, here are some similar dishes you may enjoy!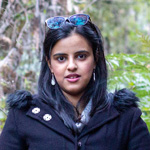 Kiran is originally from Pakistan, and is a food blogger and recipe developer. One of the things that she loves doing is learning about different cuisines and learning how food has shaped culture and history around the world. You can find Kiran on her blog MirchiTales.com as well as on Instagram.