Char Siu is a Cantonese-style roasted boneless BBQ pork that is commonly used in Chinese cuisine. Often called Chinese BBQ Pork, this savoury, succulent, and tender meat is eaten as a main protein with rice or noodles, or chopped up and used as a filling in buns known as Char Siu Bao.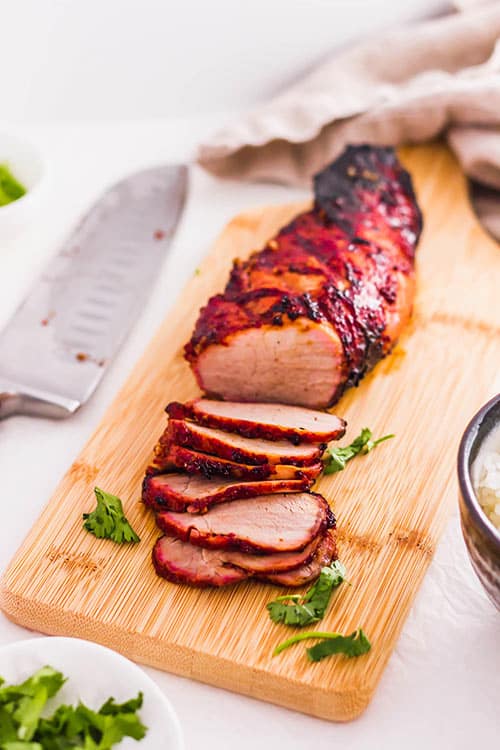 [DISCLOSURE: This article contains Amazon affiliate links. These links are provided to help you find some of the more specialty products we mention in the recipe. If you make any purchase after clicking through one of our links, we receive a small commission from Amazon, at no extra cost to you. Thank you for supporting Curious Cuisiniere!]
Growing up, my first memories of eating char siu were when my family would visit my grandparents who lived in the city.
My grandfather would bring back mysterious white styrofoam boxes, and my grandmother would be making rice and boiling green vegetables. When it was time to eat, my grandfather would open the styrofoam box to reveal roasted, sliced meat in the form of char siu (Chinese BBQ pork) and roasted duck.
The aroma of the roasted meats would fill the kitchen, and I remember eagerly taking a bowl of hot steamed rice and eating it with the savoury meats.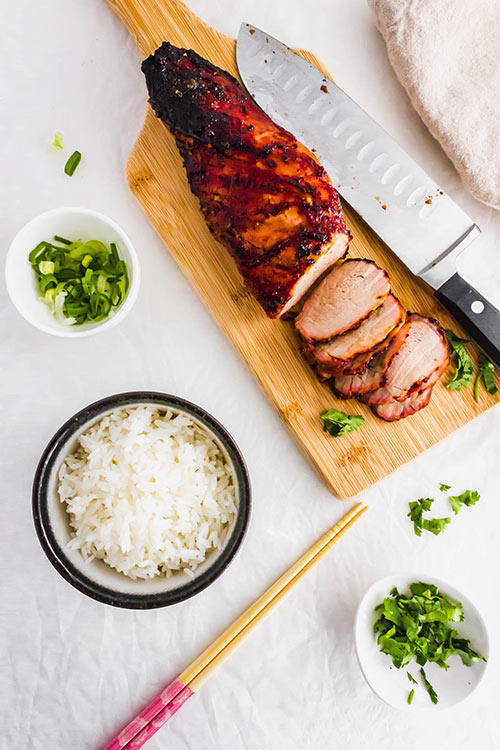 When I was a little older, I remember visiting Chinatown with my parents and seeing them stop into Chinese BBQ meat shops, where all they would serve were these roasted meats.
Roasted BBQ pork (char siu), roasted pig, duck, sausages… the meats would be hanging from the window and I recall my mother conversing in Chinese to the butcher to tell him which piece of char siu she wanted to take home. Then the butcher would take the piece of meat, slice it up and put into a white styrofoam box and we'd be on our way.
WHAT IS CHAR SIU?
Char siu literally means "fork" (char) "roasted" (siu), which refers to the way the meat is prepared — the meat is skewered onto a long fork and roasted over a fire, similar to BBQ.
Typically, Cantonese-style char siu is made with pork — either a pork shoulder or pork tenderloin.
Char siu is usually purchased from a Chinese BBQ meat shop and taken home to share with family alongside with rice, other meats, and vegetables.
It can also be purchased as part of a "rice box" meal, somewhat akin to Chinese "fast food" where you can choose assorted meats (such as char siu, chicken, or roasted pig), vegetables, and pair it with rice packaged to go.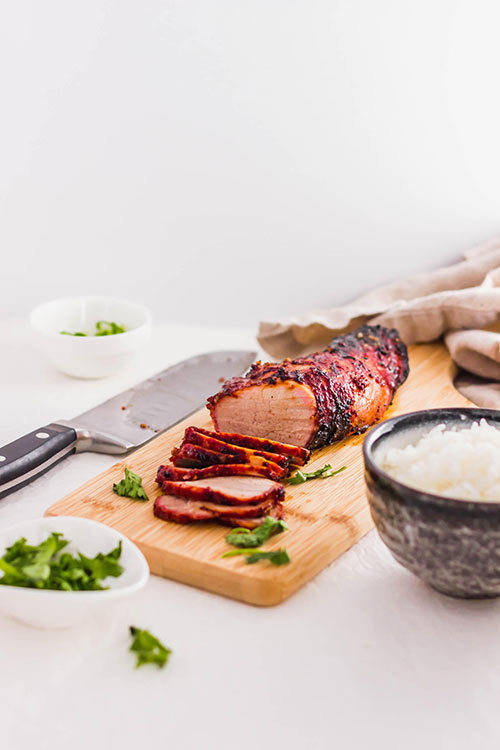 HOW DO YOU MAKE CHAR SIU?
To make char siu, the meat is marinated in a mixture of maltose (you can use honey if you can't find maltose), light soy sauce, 5-spice powder, hoisin sauce (which is a sweet and salty sauce that is made from soy beans), red fermented tofu bean curd, and Chinese rose wine.
Red fermented tofu bean curd, hoisin sauce, 5-spice powder, and Chinese rose wine can be found at specialty Asian supermarkets. (Or you can make your own 5-spice powder and hoisin sauce using our pantry staple recipes.)
Red fermented tofu bean curd is dry firm tofu that is soaked in a brine and has a salty taste. It get its red colour from red yeast rice.
If you're unable to find Chinese rose wine, you can substitute with a shaoxing wine, or a dry white wine, just for additional flavour.
5-spice powder is a blend of spices commonly used in Chinese cuisine, consisting of star anise, cloves, Chinese cinnamon, sichuan peppercorns and fennel seeds. It's aromatic, lightly floral flavour is great with meats.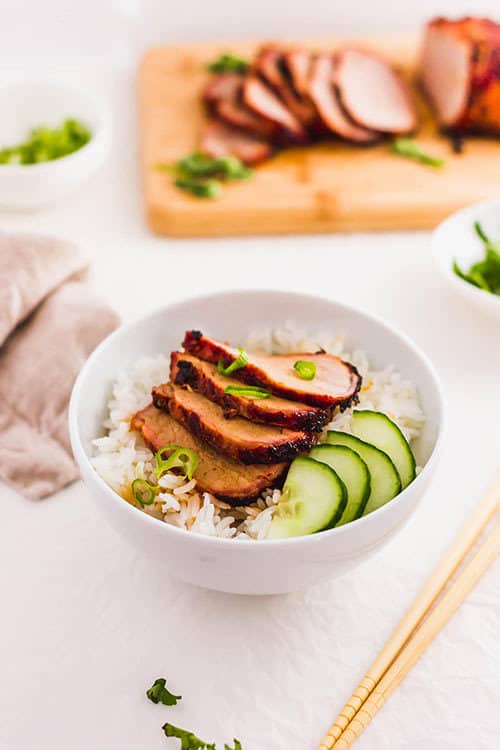 This classic Chinese BBQ meat dish is not only delicious, but iconic. At dim sum restaurants, you'll find char siu in everything from rice noodle dishes, to buns, and everything in between.
WHAT IS THE RED COLOR ON CHINESE PORK?
The hallmark of char siu is the red ring around the perimeter of the pork, similar to a smoke ring you would see on western BBQ'd meat.
Some places use artificial red food colouring to achieve this, but as I try to avoid food colouring, the maltose and red fermented tofu bean curd will produce great results.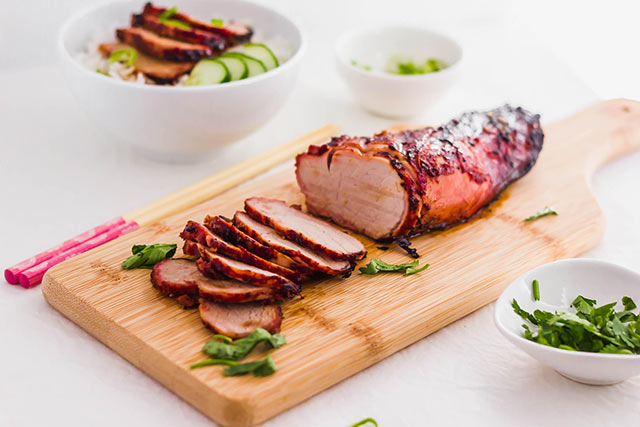 MY CHAR SIU RECIPE
In my homemade version, I've chosen pork tenderloin, as it is a leaner cut of meat, and easily found in supermarkets.
The pork tenderloin is then BBQ'd over a grill, which mimics the flavour of what you would find at a Chinese BBQ shop.
However, you can also roast the pork in the oven just the same.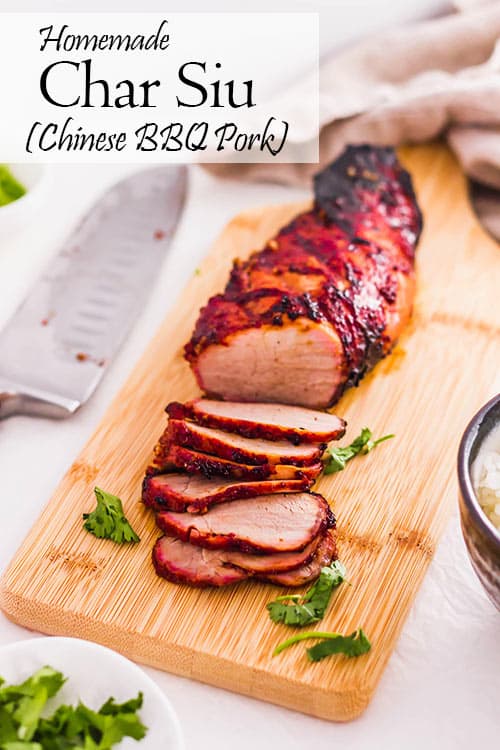 The flavour of char siu is savoury and slightly sweet, and has a fragrance from the 5-spice powder.
Sliced up, it is tender and juicy, making it a perfect pairing with steamed rice or noodles.
Chop up the roasted BBQ pork, add some caramelized onions, and you'll have the perfect filling for BBQ pork buns (char siu bao), which are another staple in Chinese cuisine.
Yield: 6-8 servings
Homemade Char Siu (Chinese BBQ Pork)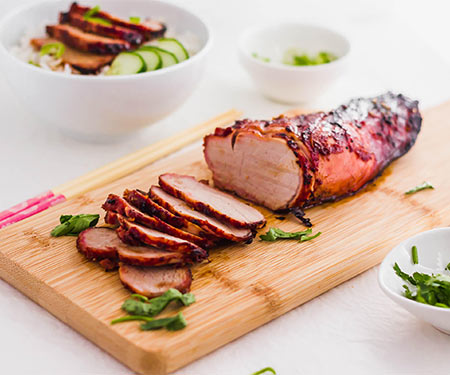 Char Siu is a Cantonese-style roasted BBQ pork that is commonly used in Chinese cuisine. This flavorful and tender dish is often called Chinese BBQ pork.
Total Time
12 hours
20 minutes
Ingredients
2 lbs pork tenderloin, or pork shoulder
6 cloves garlic, finely minced (roughly 2 Tbsp)
1/2 tsp grated ginger
1 Tbsp honey, for brushing on
Instructions
Preparing The Meat
Clean and trim the pork. If using pork shoulder, cut the pork into long strips about 2" wide.
In a large bowl, combine minced garlic, grated ginger, soy sauce, hoisin sauce, red fermented tofu bean curd (and sauce), rose rice wine, 5-spice powder, sesame oil, and maltose (you can use the same amount of honey if you don't have maltose on hand).
Add the pork into the marinade and use a spoon to scoop the marinade on top of the meat so that all portions of the meat absorb the marinade.
Cover and set aside in the fridge for at least 12-24 hours.
Remove the meat from the fridge at least 1-2 hours before roasting/grilling.
On The Grill
Heat grill to 400F.
Place meat on the grill.
Brush marinade on the meat. Cook for 15 minutes on one side and flip. Continue cooking until the meat reaches an internal temperature of 145F, approximately another 10 minutes.
In The Oven
Preheat oven to 400F.
Place meat on an aluminum foil-lined baking tray. Brush with the marinade and roast for 20-25 minutes, or until the internal temperature of the meat reaches 145F.
Finishing Up
After cooking (either method) remove the meat from the heat, brush honey on top and let the meat rest for 10-15 minutes before slicing.
Serve on top of steamed rice and vegetables.
Recommended Products
As an Amazon Associate and member of other affiliate programs, We earn from qualifying purchases.
Nutrition Information:
Yield:
6
Serving Size:
1 of 6 servings
Amount Per Serving:
Calories:

330
If you liked this recipe, here are some similar dishes you may enjoy!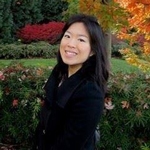 Michelle enjoys learning and discovering different foods from around the world and recreating them in her own kitchen. She is an avid matcha lover and believes that the best food is made from scratch. Michelle develops and photographs recipes at her blog SiftAndSimmer.com.