This Ham and Asparagus Tart is light and perfect for spring with strips of leftover ham and thin asparagus spears, roasted perfectly in a lemon herb crust.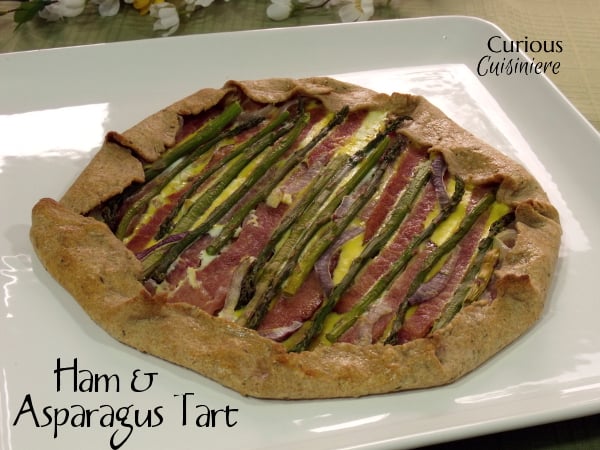 The asparagus we planted last year has started to poke their little heads out of the soil!
We were anxiously awaiting their appearance as a sign that last year's amateur gardening efforts didn't go completely in vain.
Don't get me wrong, we learned a lot last year.
I mean A LOT.
But, especially after the long deep freeze we had, we're rejoicing if anything decides to come back to life.
The really nice thing about asparagus is that it is a perennial vegetable, meaning it will come back year after year. (Unlike most other vegetables, which must be planted new each year.)
We planted our asparagus from root system sets we purchased at the local garden store. But, it took those root systems nearly half the growing season to show any sign of life, and half of them died in the process.
Since we're starting earlier this year, we are seeing pots of 1 year old asparagus crowns at those same stores, and we will be grabbing a couple to supplement the ones we have. Since asparagus need 2-3 years to become productive, all the plants will be at the same spot.
The sad thing is that we do still have another year or two before we get to do more than just look at our asparagus. For the first 2-3 years asparagus plants need to be left alone to grow, establish roots, and go to seed. We have been told that an asparagus patch can produce an abundance of asparagus for up to 20 years though, so it will be worth the wait!
In the mean time, we'll have to get our asparagus fix other ways.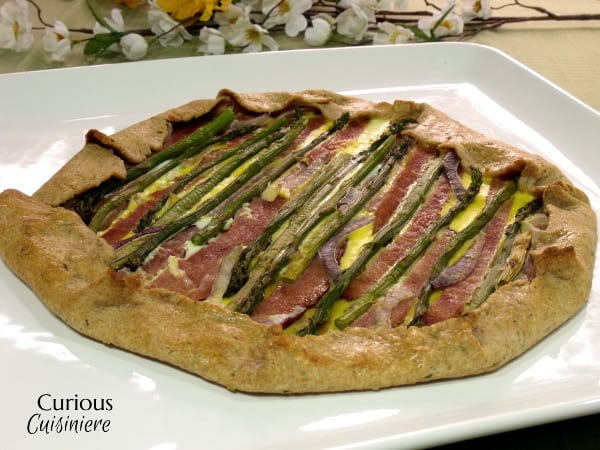 This simple Ham and Asparagus Tart is the perfect way to use the thinner spears of asparagus you may have seen around, particularly early in the season. A lemon and herb crust is the perfect accent to the bright asparagus and strips of flavorful ham.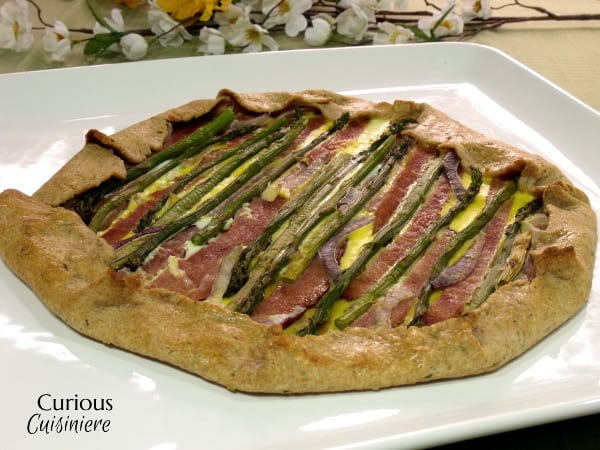 Ham and Asparagus Tart with a Lemon-Herb Crust
---
Ingredients
For the Crust
¾

tsp

salt

½

tsp

thyme

½

tsp

rosemary

½

tsp

oregano

3

Tbsp

olive oil

3

Tbsp

plain yogurt

1

Tbsp

lemon juice
For the Tart
1

egg beaten with 1 Tbsp water

2

slices

cooked ham,

cut into strips

1

small

red onion,

halved and sliced

¼

lb

thin asparagus spears,

trimmed of their woody ends and cut 6" long
Instructions
For the Crust
Combine flours, salt, and herbs in the bowl of a food processor. Pulse to combine. Add oil, yogurt, and lemon juice. Pulse until the dough comes together. (The dough will be tacky.)

Wrap dough in plastic wrap and place in the refrigerator to chill for 15 min.
For the Tart
When the pastry dough is chilled, roll the dough out on a lightly floured surface to roughly 14" in diameter.

Place crust on a baking sheet or stone.

Layer ham strips, red onion slices, and asparagus spears on the crust, leaving a 2" border. Gently fold this border up over the filling. (Be sure it doesn't tear, or the next step won't work too well.)

Pour beaten egg into the crust and place the tart in the oven.

Bake 10-15 minutes, until the eggs has set, the asparagus is roasted, and the crust is golden.
---
If you liked this recipe, here are some similar dishes you may enjoy!