Mshosh is a simple Armenian lentil salad made with dried apricots and walnuts. This budget-friendly recipe is easy to make, flavorful and very filling.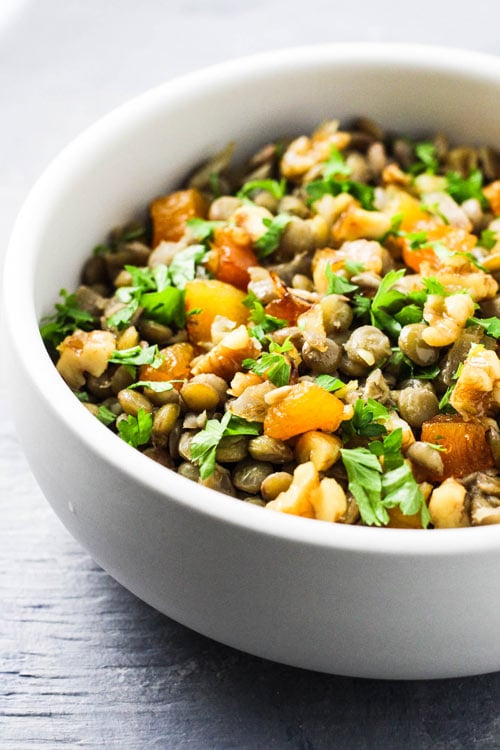 The legend has it that Mshosh is one of the oldest Armenian recipes. It's usually prepared during Lent and is more popular among Western Armenians.
How to Serve Mshosh
Mshosh is a very versatile dish. Although it's made with few ingredients, you can serve it in five different ways:
As a main dish – Mshosh makes a very filling main dish because it's high in protein and fiber.
As a side dish – Mshosh is a vegan main dish usually served during Lent but it also makes a delicious side dish for meat, poultry, and fish.
As a salad – Mshosh can also be served as a cold or warm lentil salad and makes a great addition to veggie and grain bowls.
As a spread – You can make a smooth and delicious spread out of Mshosh. Just put it into a blender or food processor and pulse a few times. The spread tastes great as a snack and can be served as an appetizer over crostini. You can also add it to wraps and sandwiches.
As a soup – Mshosh can also be made into a soup. Just add some vegetable broth to it until you reach the desired consistency. Bring to a boil. Reduce the heat, cover, and cook for about 10 minutes.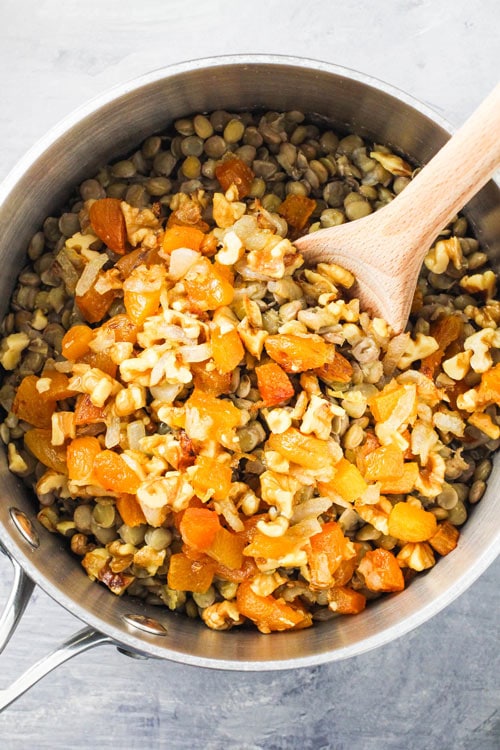 What Type Of Lentils to Use for Mshosh?
You can use any type of lentils for this dish.
The most popular types of lentils sold in North America are brown, green, and red lentils and all of them make a great base for Mshosh.
Keep in mind that red lentils fall apart during cooking, while brown and green lentils hold their shape better. So, the consistency of Mshosh will depend on the type of lentils used. The flavor will also vary slightly.
Lentils require much less effort to prepare than beans or chickpeas. They don't need to be soaked before cooking and cook quite fast, which makes them a convenient food to make on a weeknight.
All lentils tend to become quite soft after cooking, so if you have some left-over mshosh, you will probably discover that it becomes a bit mushy overnight. Not to worry! The great thing about mshosh is that it can be made into a delicious spread or soup.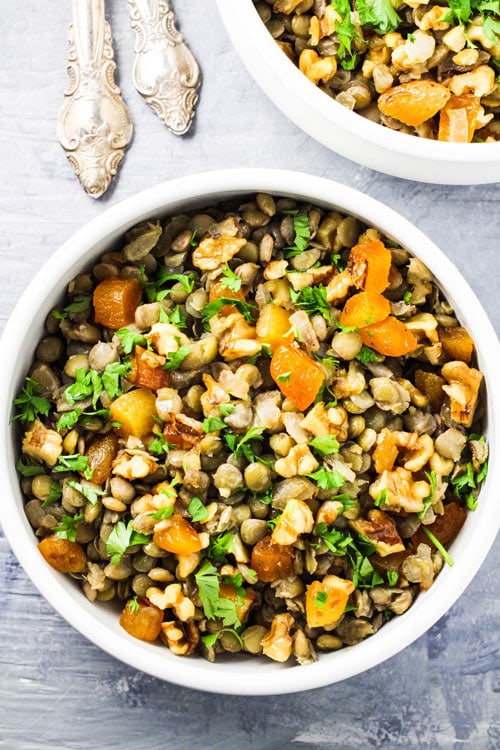 Nutritional Benefits of Mshosh
All ingredients used to prepare mshosh are very nutritious and make this modest little dish quite a nutritional powerhouse.
For example, lentils are high in protein and fiber, dried apricots are high in fiber and antioxidants, walnuts are a good source of healthy fats, and parsley is high in vitamins and minerals.
Thanks to the combination of protein, fiber, and fat, mshosh will keep you full for hours!
More lentil recipes from around the world
If you love lentils, you will love these other recipes using lentils from other corners of the globe.
Now It's Your Turn
So, what do you think about this Armenian recipe? Have you tried it before? Is this something you would like to make in your kitchen? Let us know in the comments below!
Yield: 4 servings (as a main dish)
Mshosh (Armenian Lentil Dish)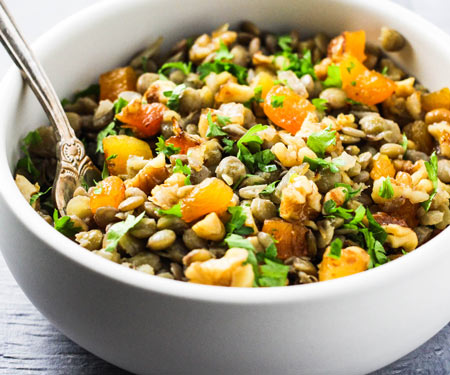 Mshosh is a simple Armenian lentil salad made with dried apricots and walnuts. This budget-friendly recipe is easy to make, flavorful and very filling.
Ingredients
1 cup dried lentils (green, brown, or red)
Salt, to taste
2 Tbsp olive oil
1 medium yellow onion, thinly sliced
1/2 cup chopped walnuts
15-17 unsweetened dried apricots, chopped (should yield 1/2 cup chopped)
Handful of parsley, chopped (for serving)
Black pepper, to taste (for serving)
Instructions
Rinse the lentils. Place them into a pot and add water. (If using green lentils, add 3 cups of water, otherwise use the amount of water listed on the packaging.) Cook according to the package instructions. Season with salt to taste.
While the lentils are cooking, heat the olive oil in a skillet over medium heat. Add the onion and cook, stirring occasionally, until golden (about 5 minutes).
Add the chopped walnuts and chopped apricots to the onions. Stir, making sure all pieces are covered in oil and cook for about 2 to 3 minutes, until the apricots start to caramelize and the mixture becomes fragrant. Turn off the heat and set aside until the lentils finish cooking.
When the lentils are done, take them off of the heat. (There should be little to no water remaining.)
Transfer the onion and apricot mixture to the pot with the lentils. Stir everything together, cover and let stand, off of the heat, for about 5 minutes to allow the flavors to blend.
Garnish with black pepper and parsley before serving.
Nutrition Information:
Yield:
4
Serving Size:
1/4 of recipe
Amount Per Serving:
Calories:

393
If you liked this recipe, here are some similar dishes you may enjoy!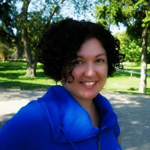 Maria Ushakova is a food blogger and recipe developer who loves creating easy and healthy recipes for her website MariaUshakova.com. When not researching the latest healthy food trends, Maria enjoys cooking Russian and Armenian dishes and exploring international cuisine. Maria is an aspiring food photographer and dog lover. She lives in Toronto, Canada, with her husband Sedrak and their dog Toby. Follow Maria for healthy meal ideas, cooking tips, food photography and more on Facebook, Pinterest, and Instagram.