This hearty Lentil Soup with Kale is a Brazilian staple on New Year's Day when eating lentils provides good luck for prosperity in the coming year.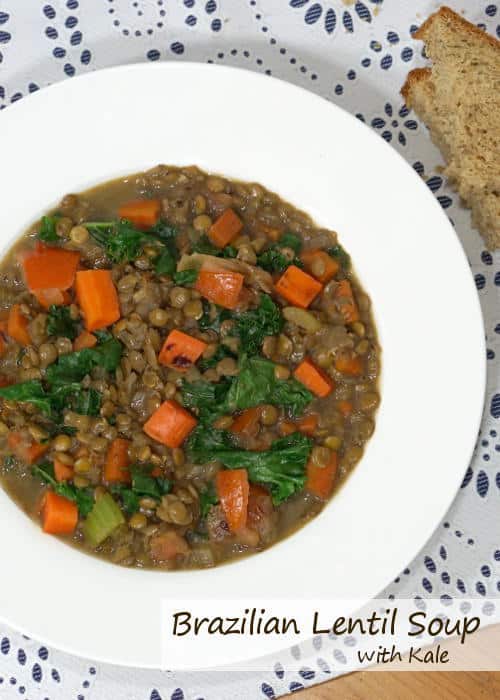 In Brazil, New Year's Eve (Reveillón) is a big deal! And while they eat lentils in many ways all throughout the year, they are a particularly important part of the New Year's celebrations. 
Lentils: A good luck food
Like many places around the world, beans are considered a good luck food to bring in the New Year. But, the tradition of eating lentils in particular was brought to Brazil from Italian immigrants, who also are known to particularly favor lentils as a New Year's food.
The round shape of the lentils is thought to resemble a coin, and the way the lentils swell up when they cook imitates the wish for wealth to expand in the coming year. In addition, the green of the lentils and kale symbolizes good health.
Brazilian Lentil Soup with Kale
This Brazilian Lentil Soup (Sopa de Lentihas) is a hearty and nutrient-rich soup, full of flavor from carrots, tomatoes, and celery and with a fun splash of color from chopped kale. After all the holiday indulgences is is a nice, healthier way to start off the New Year.
But, don't save it for New Year's. It really is a wonderful soup for any time you need a big bowl of comfort.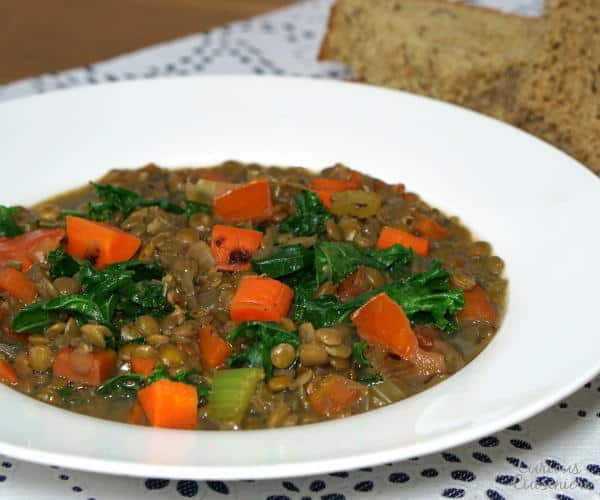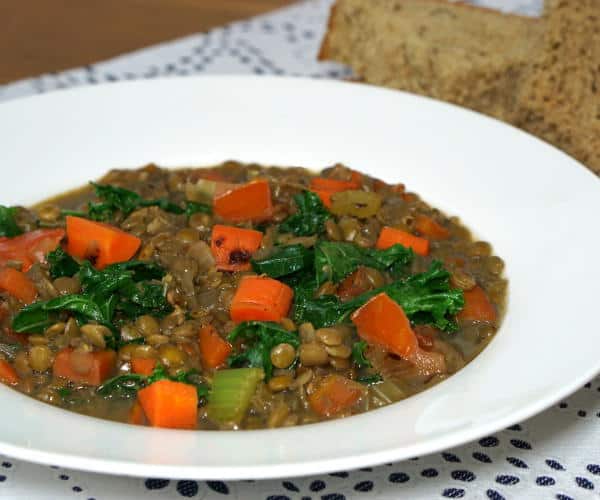 Brazilian Lentil Soup with Kale
---
Ingredients
1

Tbsp

olive oil

1

onion,

diced

2

carrots,

diced

1

celery stalk,

diced

3

garlic cloves,

chopped

5

c

chicken stock

or vegetable stock to make the dish vegetarian

1

tomato,

diced

1

c

lentils,

brown or green, dry, rinsed

1

bay leaf

½ - 2

cup

chopped kale,

veins removed

Salt and Pepper

(to taste)
Instructions
In a 2 quart soup pot, heat the olive oil over medium-high heat, add onions and sauté until soft, 2-3 min. Reduce the heat to medium and add the carrots, celery, and garlic. Sauté, stirring occasionally, until the vegetables are soft, 4-5 minutes.

Add the chicken stock, diced tomato, lentils, and bay leaf. Stir to mix. Increase the heat and bring the mixture to a simmer. Reduce the heat to medium-low and simmer, covered, until the lentils are tender, 25-35 min. Stir the soup occasionally. If the soup becomes too thick, add a little more water.

Add the chopped kale. Continue to simmer until the kale has wilted, 1-2 min. Taste the soup and adjust the salt and pepper as necessary.

Remove the bay leaf and serve.
---
If you liked this recipe, here are some similar dishes you may enjoy!