Beets, cucumbers, and yogurt combine to create Chlodnik, a surprisingly refreshing Polish Cold Beet Soup.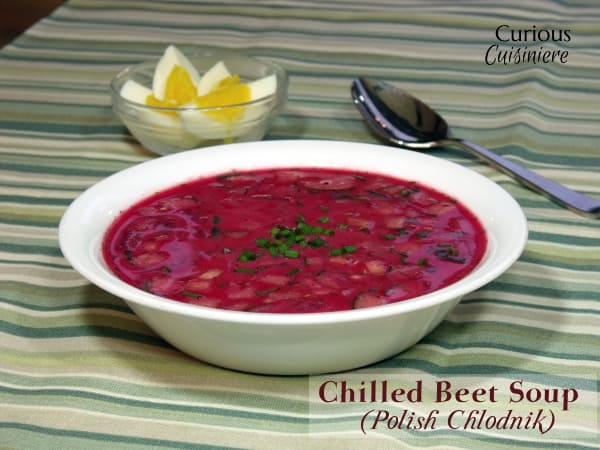 Summer Soups
Here in the States, we don't think about soup the way many other cultures do. Soup is a winter standby: something comforting for when we're cold.
How often do you crave a good soup in the summer?
Or, have ever told someone about a restaurant and said, "What you REALLY have to try is their SOUP."
Yeah, us neither.
The Polish Love Soup
The Polish on the other hand, they LOVE their soup. Never is a meal served without soup.
Tim's parents have told us many stories about going to do yard work on a hot summer day for Tim's Polish Great Aunt, and when they would come in for lunch, sweaty and tired, the first thing she would set before them was a steaming, hot bowl of soup.
Not quite what you would want for a mid-day pick-me-up.
Chlodnik: Polish Cold Beet Soup
This soup on the other hand would be a better warm weather choice.
Beet soup, also known as borscht is a well known, traditional soup in Poland, Russia, and Ukraine.
Chlodnik is the chilled version.
This soup is a combination of beets and cucumbers with sour cream, yogurt, kefir, or buttermilk. The result is a surprisingly refreshing and light soup with an incredibly intense pink hue.
Choosing Beets for Chlodnik
Be sure to pick young, baby beets for your soup, since smaller beets are sweeter and more tender. This will make all the difference in the flavor of your soup.
Chilled Beet Soup (Chlodnik)
Beets, cucumbers, and yogurt combine to create Chlodnik, a surprisingly refreshing Polish Cold Beet Soup.
Ingredients
½

lb

beets,

peeled and grated

1

c

vegetable broth

(we prefer low sodium)

1

c

buttermilk

or kefir

¾

c

plain non-fat yogurt

or low-fat sour cream

¼

c

lemon juice

1

small

cucumber

diced

2

Tbsp

fresh dill

or 2 tsp dry

1

Tbsp

fresh chives,

chopped, or 1 tsp dry

1

tsp

salt

3

Tbsp

sugar

optional, depending upon how sweet your beets are

4

hard boiled eggs,

peeled and quartered
Instructions
Place grated beets in a 2 quart saucepan. Fill the pot with water until the beets are covered by about 1 inch. Heat, uncovered, over medium-low for 45 minutes. (You want the mixture to steam, but never reach a boil. Boiling will create a bit of a bitter flavor in the final soup.) After 45 minutes, remove the pan from the heat and refrigerate until cool. (This can be done ahead of time, and you can leave your beets chilling up to 48 hours in the fridge.)

When you are ready to make the soup, add vegetable broth, buttermilk, yogurt, lemon juice, diced cucumbers, dill, chives, and salt to the chilled beet and water mixture.

Taste and add sugar if necessary.

Serve cold, topped with hard boiled eggs and additional dill or chives, if desired.
Nutrition
Calories:
194
kcal
|
Carbohydrates:
24.9
g
|
Protein:
12.7
g
|
Fat:
5.7
g
|
Saturated Fat:
1.9
g
|
Cholesterol:
167
mg
|
Sodium:
978
mg
|
Fiber:
1.8
g
|
Sugar:
20.1
g
If you liked this recipe, here are some similar dishes you may enjoy!