Dark chocolate and tart cherries evoke the flavors of German Black Forest Cake in this Black Forest Ice Cream that is made lighter with yogurt.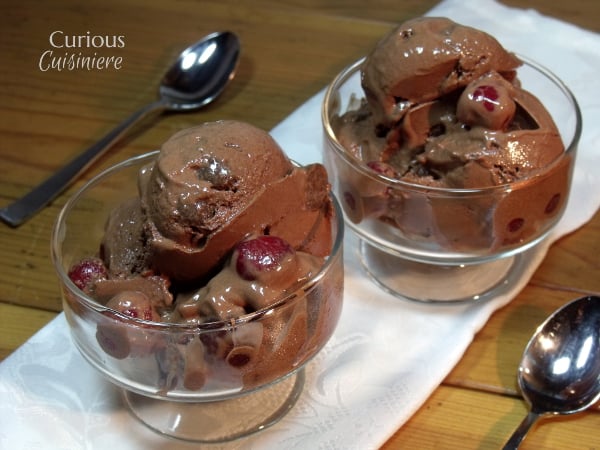 Welcome new gadgets!
We recently had an addition to our kitchen that I have been eagerly awaiting for a long time.
An ice cream maker!
Now, before I lose all of you without an ice cream maker, there are ways to make ice cream without one, it just requires a bit more attention and creativity.
We really should get a recipe up here soon for pureed banana 'ice cream', because it's awesome. Actually, I ended up with a serious brain freeze when we made it, just because I just couldn't get enough. But then again, I chop bananas and freeze them just to eat as a snack. (Anybody else with me?)
We've made granitas, which are more of a shaved ice dessert. And they've been quite tasty as well.
Patience and ice cream
However, our attempts at actual ice cream without a machine have been less than glamorous. It works, but you have to be patient. And, I'm not a particularly patient person. (I can't tell you the number of times this season that I got frustrated at my garden seedlings for not growing enough as I looked at them day after day.)
It's something I'm working on.
But in the mean-time the whole process of putting a tub of ice-cream base in the freezer and stirring on it every 15 minutes until you have your frozen treat just didn't work to well for me. Not to mention that we just couldn't get the consistency we were looking for. It was either a frozen solid block or closer to iced milk. Maybe we were doing something wrong, but eventually we gave up.
But now, things have changed.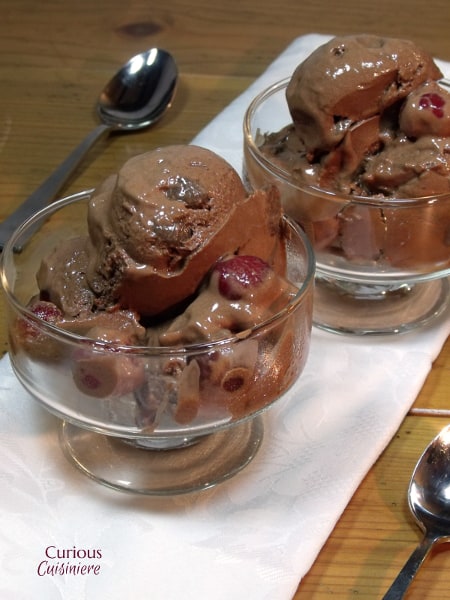 Frozen yogurt in an ice cream maker
Our first attempt at ice cream with our new toy was a custard from the recipe book that came with the instruction manual. It was tasty, but so rich and heavy that we couldn't eat more than a spoonful or two at a time.
And then we thought, why not try to lighten things up a bit by experimenting with the type of milk? Why not even use yogurt?\
Our Black Forest Ice Cream with yogurt
As we were cherry picking in Door County a couple of weekends ago, Tim suggested the idea of a Black Forest Ice Cream. (Black Forest Cake is one of his all time favorites.)
An idea was born, and we started to plan.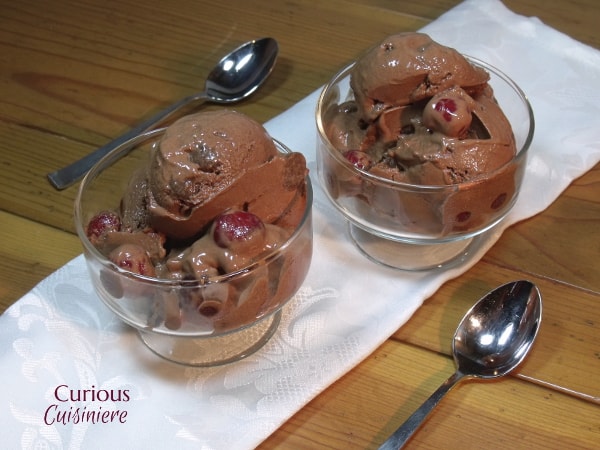 This frozen yogurt keeps to the more traditional German version of Black Forest Cake in that it is not too sweet.
The flavor of the chocolate, the brightness of the cherries, and the tang of the yogurt are all allowed to shine through to create a wonderfully tasty frozen dessert.
(As a side note, whole cherries and large chunks of chocolate get quite hard in the freezer. Be sure to chop your cherries and use small chocolate chips for a more enjoyable eating experience.)
Black Forest Frozen Yogurt Ice Cream
Dark chocolate and tart cherries evoke the flavors of German Black Forest Cake in this Black Forest Ice Cream that is made lighter with yogurt.
Yield: 42 oz of ice cream
Ingredients
32

oz

plain yogurt

1

c

cocoa powder

½

c

sugar

(more if desired)

1

Tbsp

pure vanilla extract

2 ½

c

tart cherries,

pitted and chopped*

¾

c

dark chocolate chips,

chopped or use mini chips
Instructions
Be sure that your ice cream maker bowl is in the freezer or being prepped according to the manufacturer's instructions.

In a large bowl, combine yogurt, cocoa powder, sugar, and vanilla. Taste for sweetness, and add as your tastes prefer. (We opted for more of a dark chocolate flavor with just enough sweetness to smooth out the edges of the cocoa powder.)

Combine mixture well with a wire whisk until smooth. Cover and let refrigerate a minimum of 1 hour until thoroughly cooled. (We found that since the yogurt mixture is so thick, it worked best for us if it was as cool as possible before we started the freezing process.)

Remove yogurt mixture from the fridge and freeze according to your ice cream maker's instructions. (For us, it took the max time recommended - 40 min - to thicken up properly.)

Once ice cream has begun to freeze and thicken to a soft-serve consistency, turn off your machine. Transfer ice cream into a large, freezer safe container, mixing the cherries and chocolate chips in with the ice cream as you go.

Place mixture in the freezer for 1-2 hours before serving to allow for final setting up.

After this initial setting up, if you have leftovers you are keeping for delicious dessert later; remove the ice cream container from the freezer 10-15 min before serving to allow to soften slightly.
If you liked this recipe, here are some similar dishes you may enjoy!