Brightly colored layers of sweet honeydew and spiced cantaloupe make this Melon Granita the perfect sweet, guilt free treat for a hot summer's day.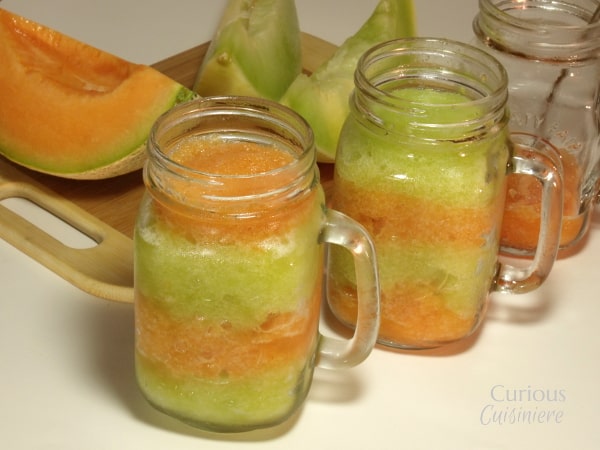 Today's we're all getting inspired by Shaina Olmanson's cookbook Desserts In Jars. Shaina has such creativity in her dessert recipes and in her presentation. There are so many recipes from the cookbook that I am excited to try like Peanut Butter Cup Cupcakes and her take on the Mexican classic – "Fried" Ice Cream.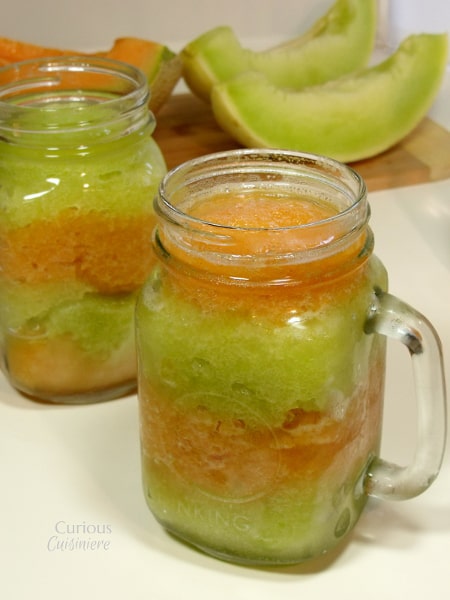 Tim and I decided to really get into the swing of summer (now that, as of Friday, they tell us it's officially here), with these Layered Melon Granitas.
A granita is a semi-frozen Italian dessert that falls somewhere between Italian Shaved Ice and Sorbet.
Making granitas is much simpler than making ice cream or sorbet, in that it doesn't require any special machinery. A fruit puree is simply thinned slightly with water, sweetened as needed, flavored as desired, poured into a container, and frozen. During the freezing process you occasionally mix it up a bit to break up the ice crystals, forming a nearly smooth consistency.
I'm so glad we've had a lot of rain this year, because it means the melon crop is going to be amazing!
I love melon. And in the summer when they are ripe, sweet, and in season, I am perfectly content with a big slice and a wad of napkins. (You know what the napkins are for. I know you've been there too!)
This Granita combines the sweet flavors of honeydew and cantaloupe to create a refreshing fusion with some subtle differences. We've added just enough spice to the cantaloupe to deepen its natural flavors, and just enough lemon to the honeydew to fill out its already light and bright disposition.
Stirring the Granitas every 30 minutes or so while they are freezing may seem a bit tedious, but it is well worth it for an end result with ice crystals so fine they are nearly creamy.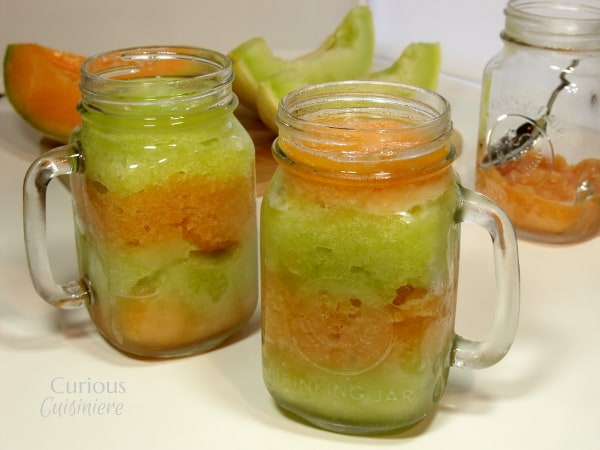 Layered Melon Granita
Yield: 5 (8oz) jars
Author:
Sarah | Curious Cuisiniere
Ingredients
For the Cantaloupe Granita
4 c diced cantaloupe (1/2 medium melon)
1 tsp sugar*
⅛ tsp ginger
Pinch of cinnamon
¼ c water (if needed)
For the Honeydew Granita
4 c diced honeydew (1/2 medium melon)
2 tsp honey*
1 ½ tsp lemon juice
¼ c water (if needed)
Instructions
Place diced cantaloupe, sugar, ginger, and cinnamon in a blender. Add water as needed to allow the mixture to blend well.
Taste for sweetness and add additional sugar as desired.
Pour cantaloupe mixture into a 4c container. Cover and place in the freezer.
Place diced honeydew, honey, and lemon juice in a blender. Add water as needed to allow the mixture to blend well.
Taste for sweetness and add additional honey as desired.
Pour honeydew mixture into a 4c container (not the same as the one with the cantaloupe mixture). Cover and place in the freezer.
Freeze both mixtures for 3 hours, stirring with a fork every half hour to break up the ice crystals.
After 3 hours, the mixtures should be thick. Stir the mixture again.
Layer spoonfuls of cantaloupe and honeydew mixtures in 8 oz glass jars or other serving containers.
Place the jars in the freezer and freeze for 1 hour before serving.
If you want to make these ahead of time, you can store them, covered, in the freezer until ready to use. Simply remove from the freezer 20 minutes before serving to allow the Granita to soften.
Notes
*You will want well-ripe fruit for this recipe. The riper the melon, the sweeter and more moist the fruit will be. Sweeter fruit means that you need to add less sugar. A more moist fruit will mean that you need less water. The melons should smell sweet through their rind.
As always, the views and opinions expressed here on Curious Cuisiniere are purely our own. We received the cookbook free of charge; however, we were not monetarily compensated for a positive review or the giveaway.
If you liked this recipe, here are some similar dishes you may enjoy!