This Bacon Egg and Cheese Pizza is everything good and tasty about breakfast, but piling it on a pizza crust makes it even better!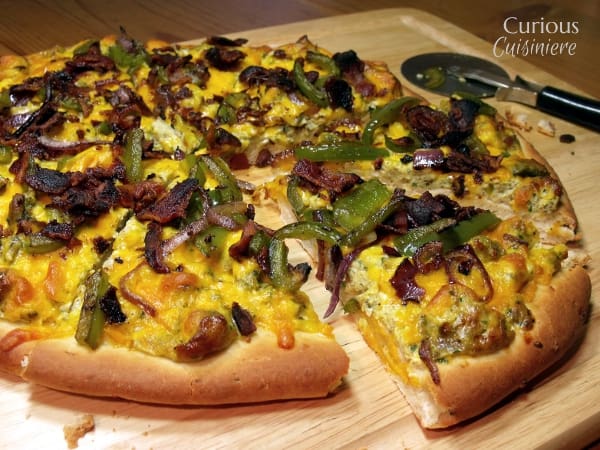 Making A Breakfast Pizza Topped With Scrambled Eggs
We've done Chicken Teriyaki Pizza. Zucchini Pesto Pizza. Mango BBQ Chicken Pizza.
But, this just might be a chart-topper.
When I told Tim that I wanted to do a breakfast pizza, he was excited. Understandably so. What could be better than turning the best meal of the day into handheld deliciousness?
But, as we started putting the pizza together we worried… would this actually work?
It smelled like breakfast.
It looked like pizza.
We hesitantly cut into the crust and took a first bite.
The same thought came out of both of our mouths (once we finished chewing, of course)… "Why didn't we do this sooner?!"
Our Bacon Egg and Cheese Pizza Recipe
I'm pretty sure I could eat this pizza every day.
I mean, its breakfast. And dinner. And cold pizza leftovers are perfectly acceptable for lunch.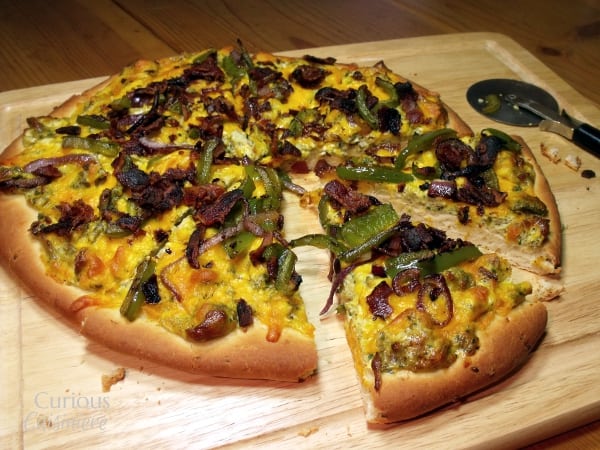 Rather than a pizza sauce, this breakfast pizza uses the moisture, creaminess, and flavor from scrambled eggs as it's 'sauce'.
So, there are no tomatoes in this pizza.
But that's ok.
The eggs are topped with cheddar cheese and bacon. Of course.
We also added onions and green peppers to give the pizza a bit more of a savory, pizza-y touch.
Would you eat a breakfast pizza?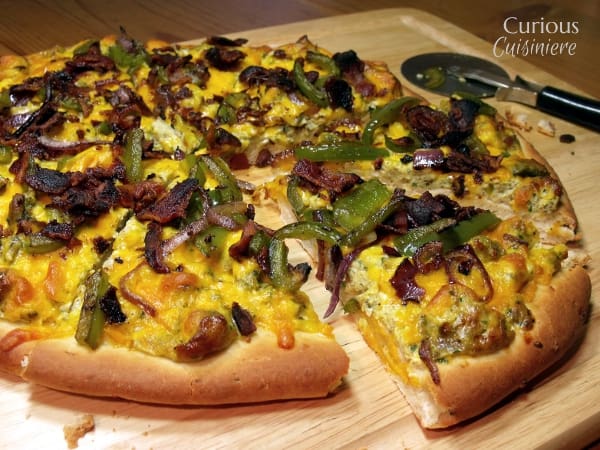 Bacon Egg and Cheese Pizza
Everything good and tasty about breakfast, but piling it on a pizza crust makes it even better!
Yield: 1 (12 inch) pizza
---
Ingredients
1

(12 inch) par-baked

pizza crust

4

strips

bacon

½

red onion,

sliced into strips

½

green pepper,

sliced

4

eggs

1

tsp

milk

1

tsp

parsley

1 ½

tsp

thyme

½

tsp

salt

¼

tsp

ground black pepper

3/4

c

cheddar cheese,

shredded
Instructions
Preheat oven to 400F.

Place par-baked pizza crust on a baking pan. Set aside.

In a medium non-stick skillet, cook bacon over medium-high heat until crisp. Remove from pan to a paper towel.

Drain all but 1 tsp of bacon fat from the pan. Add onions and green peppers. Saute over medium heat until soft (4-5 min). Remove veggies from pan into a small bowl.

In another small bowl, beat together eggs, milk, parsley, thyme, salt, and pepper. Pour egg mixture into skillet and heat over medium-low heat, stirring constantly to scramble the eggs. When the eggs hold together, but are still slightly moist, pour the scrambled eggs over the crust. Spread eggs to the edges of the crust with a spatula.

Cover eggs with ½ c of the cheese.

Spoon the onion mixture over top of the cheese, and crumble the bacon over the onions.

Top with remaining cheese.

Bake 7-10 minutes, until cheese is golden and eggs are no longer moist.
---
Save
If you liked this recipe, here are some similar dishes you may enjoy!