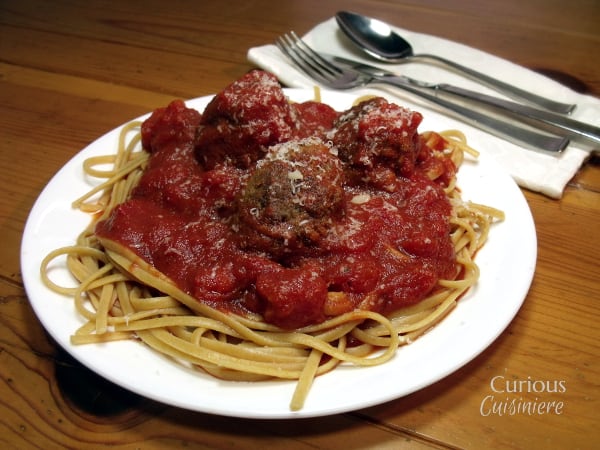 We're sending out a big "Happy Father's Day" from all of us with the Sunday Supper Movement today.
Hopefully you get a wonderful day to spend with your father, or to spend thinking of your father if you are not able to see him in person.
How else would the Sunday Supper crew celebrate today, but with a bunch of recipes perfect for Dad.
Most people tend to think sweet treats or grilling when they think Father's Day. So why am I bringing you spaghetti today and not some fancy grilled meat?
Let me tell you about my Dad and Spaghetti and Meatballs.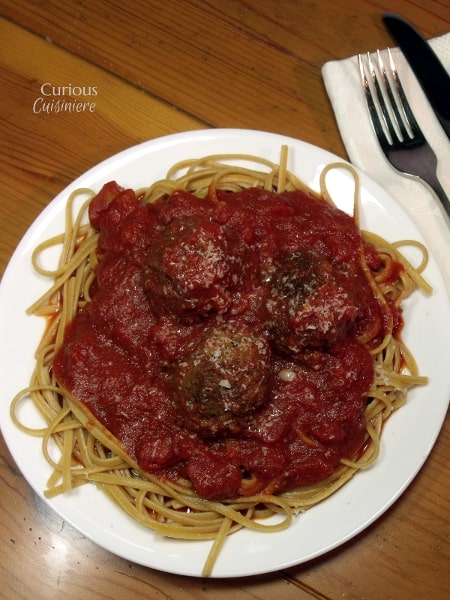 I wouldn't call my Dad a picky eater, but he does know what he likes.
And, he's probably what you would call a Spaghetti and Meatballs connoisseur.
For most of my childhood, if we went to an Italian restaurant, he didn't even have to open the menu. He knew before he hit the doors that he was getting the Spaghetti.
He's gotten a bit more adventurous lately, and might not always pick the Spaghetti, but it remains one of his all-time favorite dishes.
And, while I don't get to see my Dad today, we will be thinking about him with this Spaghetti.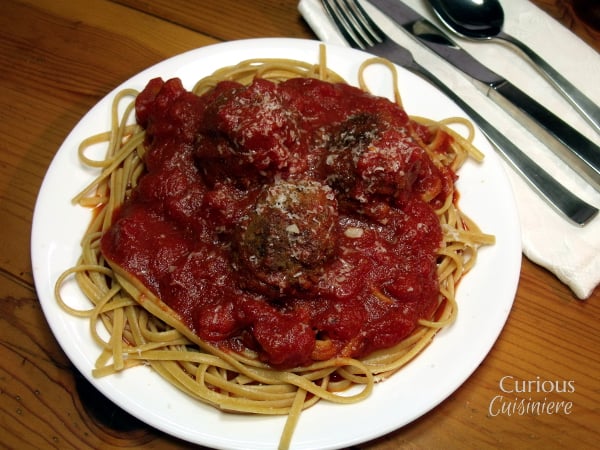 Spaghetti with Homemade Meatballs
Meatball recipe adapted from the Double Day Cookbook. Yields approx 15 (2") balls.
Author:
Sarah | Curious Cuisiniere
Ingredients
For the Meatballs
⅓ c milk
¾ c breadcrumbs
1 lb lean ground beef
1 Tbsp Worcestershire sauce
1 tsp garlic powder
1 tsp onion powder
1 tsp oregano
1 tsp basil
½ tsp thyme
¼ tsp salt
¼ tsp pepper
1 tsp oil (to get the frying started)
For the Sauce
2 (14.5 oz) cans diced tomatoes
2 (6 oz) cans tomato paste
1 ½ c water
¼ c dry red wine (We used Merlot.)
1 Tbsp garlic powder
1 Tbsp onion powder
1 tsp oregano
1 tsp savory
½ tsp salt
⅛ tsp ground black pepper
And Pasta
2 tsp salt
16 oz linguini or spaghetti
Grated Parmesan cheese for serving
Instructions
For the Meatballs
In a small bowl, mix together milk and breadcrumbs. Let soak while getting the rest ready.
Place beef and seasonings (not the oil) in a large bowl. Add milk mixture, and mix until just combined. (Your hands are your best mixing utensil in this case. Just roll up those sleeves and mash it together, but don't go too crazy. Over-mixing will cause the ground beef to get tough.)
Heat oil in a large, non-stick skillet.
Shape meat mixture into balls 1 ½ - 2 inches in diameter (about a rounded tablespoon).
Place balls into the frying pan. (Frying in batches if necessary to not over-crowd the pan.)
Fry, turning often to brown all sides, 12-15 minutes, or until deeply browned and firm.
(Meatballs can be prepared up to this point and refrigerated or frozen until needed. Cool completely before storing in an air-tight container. Bring back to room temperature before using.)
For the Pasta and Sauce
If you prepped the meatballs the day before, remove from the refrigerator and allow to come to room temperature.
In a large pot, heat 2 qts of water to boiling. Add 2 tsp of salt and pasta. Boil, uncovered, 7-10 minutes, until al dente.
In a medium saucepan, over medium heat, mix together diced tomatoes, tomato paste, water, and wine.
Once mixture begins to boil, reduce heat sustain a slow simmer.
Add spices and simmer 10 min, stirring occasionally.
Add meatballs to sauce, and simmer over medium-low heat for 10 minutes, or until meatballs are warmed through.
Serve with grated Parmesan cheese.
Be sure to stop in and say "Hi" to all the other #SundaySupper members as we celebrate Father's today!
Dad's Favorite Main Dishes:
Dad's Favorite Appetizers and Sides:
Dad's Favorite Desserts
Come celebrate Father's day with the Sunday Supper Team! We would love to have you join our Twitter #SundaySupper chat starting at 7:00 pm EST. Follow the #SundaySupper hashtag throughout the day to see the amazing recipes. We look forward to seeing you.  To join all you need to do is follow the#SundaySupper hashtag and share your favorite tips and recipes. Be sure to check out our #SundaySupper Pinterest board for more delicious recipes and photos.
Join us in Orlando this summer www.foodandwineconference.com
If you liked this recipe, here are some similar dishes you may enjoy!