Delicately crisp with a smooth interior, these chickpea fries might become your new favorite snack!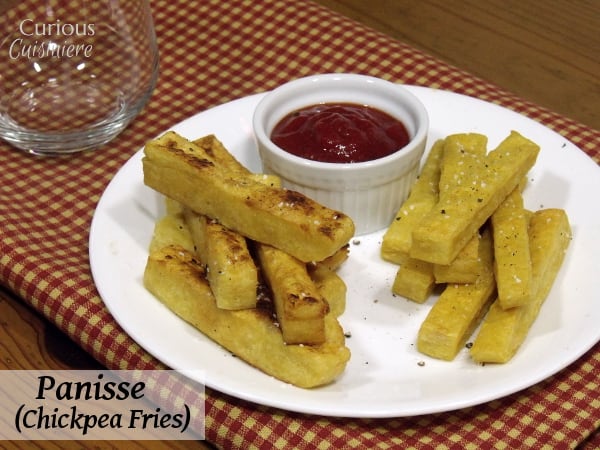 To see a panisse, you might mistake them for a French fry. A way to perfectly shaped French fry. But a French fry none-the less. Once you bite into it though, the creamy interior will clue you in that this isn't ordinary French fry.
It's Panisse! These "fries" hail from Liguria in north-western Italy, but they are widely popular in the south of France from Nice to Marseille.
While I never experienced these when I was in the south of France, I was introduced to the wonder that is baked or fried chickpea flour in Socca, the flatbread that was cooked in huge rounds at the Nice market. It's an addicting kind of thing, and ever since I introduced Tim to Socca, he has been on the search for other chickpea flour recipes.
Panisse are a fun snack, and go perfectly with a chilled glass of white wine. But, they can also be eaten as a side to a main meat. There is something about the sprinkling of coarse salt and cracked pepper that makes the nutty flavor of the chickpeas come alive.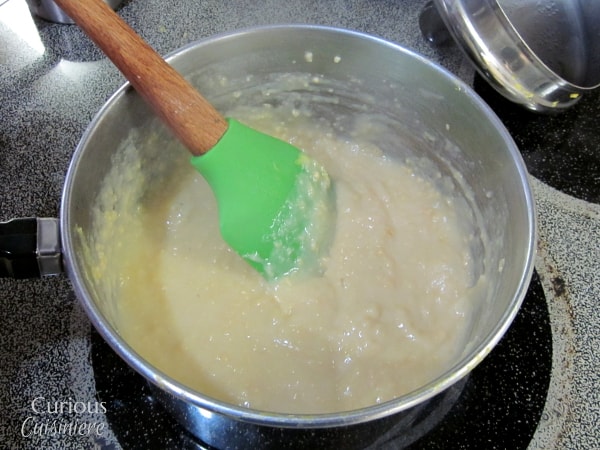 Making the batter for the fries is so simple. Like making polenta or cream of wheat, water is boiled and then the flour is stirred in until it turns thick and glossy. (The batter will be lumpy. Let your smooth batter OCD go, and just go with it. Everything will be ok in the end.) While still hot, the batter is poured into a greased pan and let cool. You could easily prep a pan of these ahead of time and keep them refrigerated until you are ready to bake or fry them. (Even up to a day or two, covered.)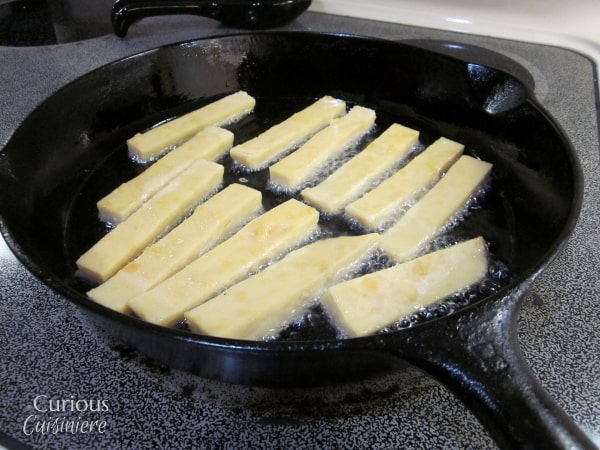 Typically panisse are deep fried, which normally would send us running. But, for authenticity's sake we gave in and pan fried them. Of course, we decided to try a batch baked as well, just to figure out if the frying really was worth it.
The verdict?
The fried versions had a delicate, crispy exterior and a soft and creamy interior. These panisses puffed a bit in the oil, creating a lighter consistency. They were so many textural elements of deliciousness all rolled into one finger-long stick.
It made the pan-frying worth it.
So, what about the baked version? These were still good, don't get us wrong. If we hadn't tasted their fried brothers, we would have been quite happy munching on the healthier, baked version. They didn't have quite the delicate crust, although they did have a bit of crispness to them. The interiors were still creamy, but a little more dense, since they didn't puff like the fried ones did.
You'll notice in the picture below, the pan-fried ones are on the left, slightly larger because they puffed and more golden. The oven-baked ones on the right still hold their shape and consistency well.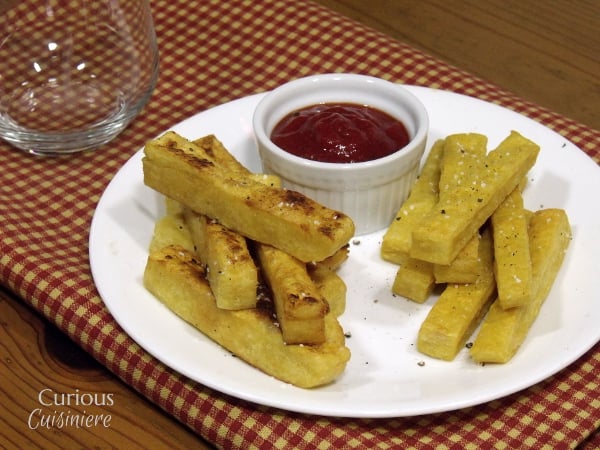 Overall, both make for a quite tasty alternative to French fries with a bit more flavor than your typical potato fry. The chickpea flour gives them a nice nutty flavor and a wonderfully creamy interior.

Chickpea Fries (Panisse)
This recipe yields about 20 finger-sized panisse 'fries.'
Ingredients
2 c water
1 tsp olive oil
½ tsp salt
1 c chickpea flour
Oil for frying OR 1 Tbsp melted butter for baking
Salt and pepper for servings
Instructions
Grease an 8x8 baking dish and set aside.
Heat the water, oil, and salt together in a large saucepan over high heat. Once the water is steaming and nearly at a boil, reduce the heat to medium-low. Sprinkle the chickpea flour into the water, whisking constantly until the mixture thickens slightly.
Switch to a flat-bottom spoon or spatula and continue stirring the chickpea mixture until it becomes thick and glossy, 7-10 minutes. (Your mixture will have lumps. Don't worry; they will go away during the final cooking process.)
Pour the hot mixture into the greased pan. Set aside to cool for 1 hour.*
To Pan Fry
When you are ready to fry your panisse, pour ¼ inch of oil into a heavy-bottomed sauté pan. (Cast iron works well.) Heat the oil over high heat.
While your oil is heating, un-mould your panisse by turning the baking dish upside-down on a cutting board. Cut the block into long strips or chunks, however you would like your panisse to turn out.
Place the cut panisse into the hot oil, being careful not to crowd the pan. Fry them for 3-5 minutes on each side, until golden. Remove the hot panisse from the pan and place on a paper towel lined plate. Sprinkle liberally with salt and pepper.
Continue with the remaining panisse.
To Bake
Preheat your oven to 450?F.
Line a baking sheet with aluminum foil and liberally grease the baking sheet with melted butter.
Un-mould your panisse by turning the baking dish upside-down on a cutting board. Cut the block into long strips or chunks, however you would like your panisse to turn out.
Place the cut panisse onto the greased baking sheet and brush each with melted butter. Place in the preheated oven and bake for 10 minutes.
After 10 minutes, remove the panisse from the oven and flip them on the baking sheet. Return them to the oven and bake for an additional 10 minutes.
Sprinkle liberally with salt and pepper to serve.
Notes
*Once cool, the chickpea mixture can be covered and refrigerated for up to two days.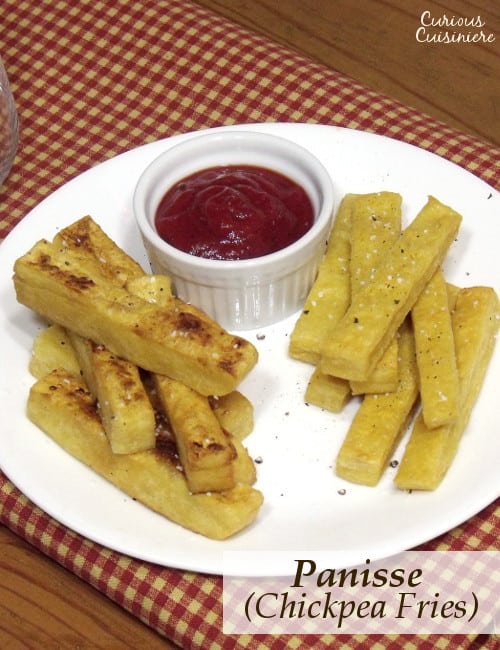 This week the Sunday Supper crew is bringing you a collection of dishes featuring beans! Thanks to Tammi of Momma's Meals for hosting this week's event!
Beantastic Beginners:
Bean-a-rific Soups and Stews:
Bean-a-licious Sides:
Incredi-bean Main Meals:
Amaze-beans Sweet Endings:
Join the #SundaySupper conversation on twitter on Sunday! We tweet throughout the day and share recipes from all over the world. Our weekly chat starts at 7:00 pm ET. Follow the #SundaySupper hashtag and remember to include it in your tweets to join in the chat. To get more great Sunday Supper Recipes, visit our website or check out our Pinterest board.
Would you like to join the Sunday Supper Movement? It's easy. You can sign up by clicking here: Sunday Supper Movement.
If you liked this recipe, here are some similar dishes you may enjoy!