A street food specialty of southeastern France, socca is the perfect flatbread for munching as an afternoon snack. And it goes great with a glass of rosé wine!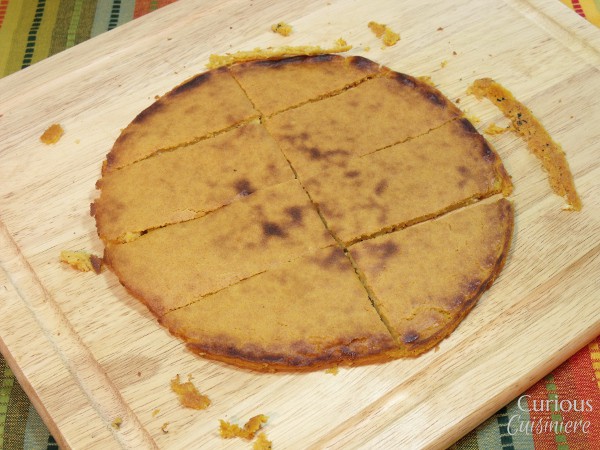 Socca Bread In South France
When I visited Nice a few years back, one of the 'sights' we were told we had to find was Chez Thérésa in the Cours Saleya open air market in the heart of Old Town.
The market was bustling with vendors, locals, and tourists. It was the hot spot to be on a beautiful day. And as we meandered with the crowd, we wondered if we would ever be able to find this famous Thérésa.
But then the crowd seemed to thicken, the air got slightly warmer, and a delicious toasted scent was distinct above the other wonderful smells of the market.
We were getting close.
As we peaked through the crowd, we realized it was in fact almost lunch time, and there was a large mass around a woman tending a steel drum. She took orders and directed patrons who desired to sit while pouring batter onto the large, fire-darkened top of the drum. The socca cooked in minutes, but the minutes dragged on in the presence of that heavenly scent, and as you realized the socca that your portion would come from was probably quite a few a way.
When the thin, crepe-like pancake was blistering nicely, Thérésa quickly sliced it into portions. Some went onto plates that were served to seated guests with a glass of rosé. Some were wrapped in paper cones and handed to those eagerly standing in line.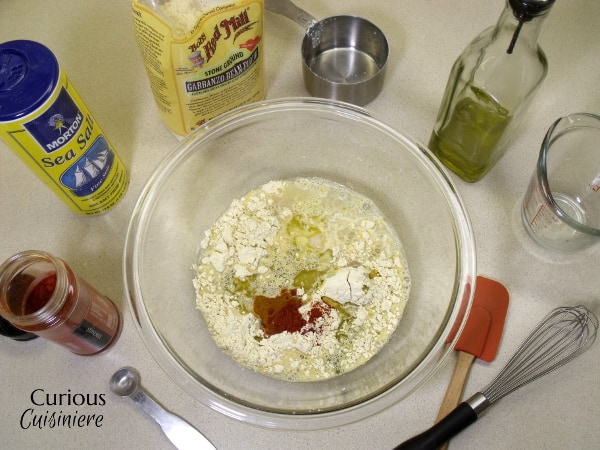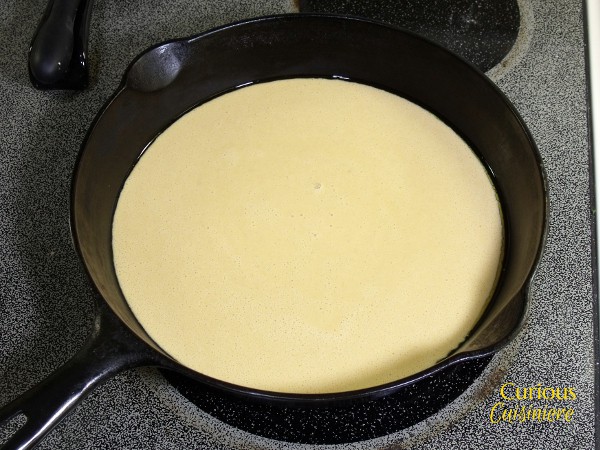 Socca: Chickpea Flatbread
Socca starts as a simple, thin batter of chickpea flour, water, and olive oil.
It is traditionally cooked over a fire, but a broiler or oven can work nicely instead.
No matter how you cook it, make sure you don't wait to eat it. Socca is best if eaten piping hot with a sprinkling of salt and pepper.
In my opinion, that's the essence of street food: simple and delicious.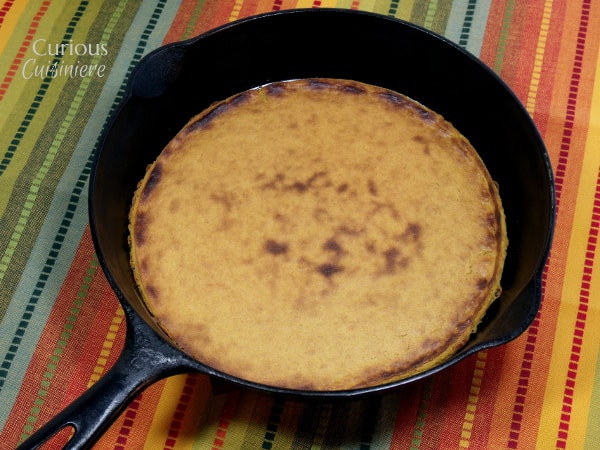 Socca (Chickpea Flat Bread)
A street food specialty of southeastern French cuisine, socca is the perfect flatbread for munching as an afternoon snack. And it goes great with a glass of rosé wine!
Yields 1 (10 inch) round
Ingredients
1

c

chickpea flour

1

c

water

1 ½

Tbsp

olive oil

1

clove

garlic,

minced

½

tsp

paprika

½

tsp

salt

1

Tbsp

olive oil
Instructions
In a medium bowl, mix all ingredients except the final Tbsp of olive oil. Stir until smooth.

Let the batter rest on the counter for 30 min, to allow the flour to absorb some of the water.

When you are ready to cook the socca, place the 1 Tbsp of oil in a 10" cast iron frying pan. Place the pan with the oil on your oven's middle rack. Preheat your broiler to medium high.

Once the oil and oven are hot, remove the pan from the oven, give the batter one good stir, and pour the batter into the hot pan.

Immediately place the pan back into the oven under the broiler.

Bake 10-15 min checking every few minutes, as baking times will vary depending on broiler. Your socca is done when the edges are pulling away from the sides of the pan and the top is beginning to blister from the heat.

Transfer to a cutting board and slice into pieces. Serve warm with salt and pepper.
Nutrition
Calories:
259
kcal
|
Carbohydrates:
30.7
g
|
Protein:
9.7
g
|
Fat:
11.8
g
|
Saturated Fat:
1.6
g
|
Sodium:
305
mg
|
Fiber:
8.8
g
|
Sugar:
5.4
g
---
This week's world street food extravaganza is hosted by Beate of The Not So Cheesy Kitchen and Heather of girlichef.
Bread on the Boulevard
Hand-Held Savory Eats
To-Go Containers
Sweets on the Streets
If you liked this recipe, here are some similar dishes you may enjoy!