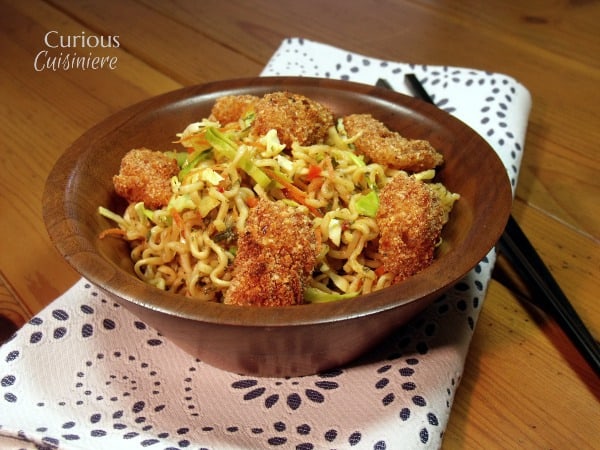 Tim and I have been to Thai restaurants a few times, and we really enjoy the food. The flavor and texture combinations are unlike what we normally gravitate to, which makes it an interesting treat.
The last time we went we decided we really wanted to branch out and try cooking more Thai and, in general, Asian style dishes at home.
This recipe was a first step, something quite different for us, but a pleasant surprise.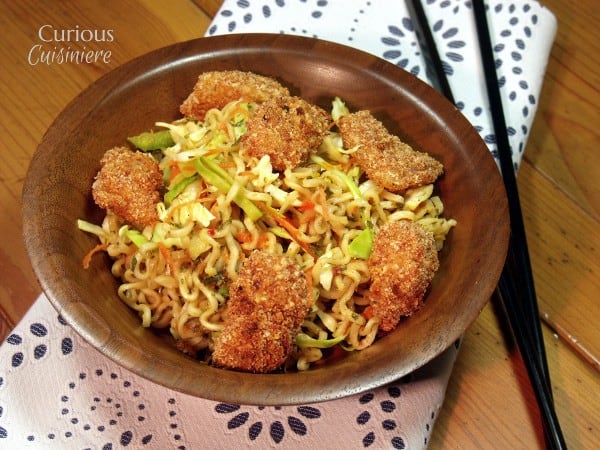 Thai cuisine is know for being lighter and quite spicy. Texture is a very important element in the dishes, as you will see from this salad.
Smooth noodles and crisp cabbage may seem like an odd pairing, but they work surprisingly well together to form a dish that is light, healthy, but still sustaining.
The crispy fish is baked, not fried, continuing the healthfulness of the dish. The fish does sneak in a bit of a kick from the red pepper flakes. If you're not a fan of spice, go ahead and leave the red pepper out of the fish. The dish will still be quite tasty.
Have you experimented with Thai food in restaurants or at home? Leave a comment! I'd love to hear your favorite dishes or see links to your tried and true recipes!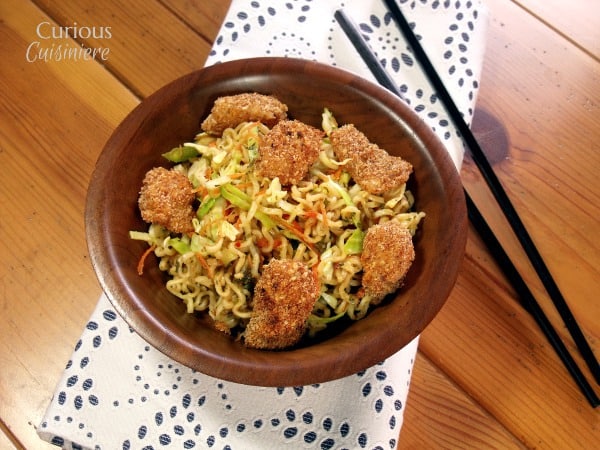 Thai Style Cabbage Salad with Crispy Fish
Author:
Sarah | Curious Cuisiniere
Ingredients
Spicy Lime Dressing
2 Tbsp lime juice
2 Tbsp cider vinegar
2 Tbsp oil
1 Tbsp parsley
2 tsp Thai red chili paste
2 tsp ginger
1 tsp soy sauce
1 tsp brown sugar
1 tsp garlic powder
Noodle Salad
1 pkg Ramen noodles
4 c cabbage, thinly sliced (about a half of a small head)
1 green pepper, sliced thin
1 c carrots, cut into matchsticks (about 2 medium carrots)
¼ c green onions, sliced
Crispy Fish
½ c breadcrumbs
1 tsp paprika
¾ tsp garlic powder
¼ tsp crushed red pepper
¼ tsp salt
2 lb whitefish (We like Pollock.) (If you normally pat your fish dry before using it, resist the urge this time. You'll want the fish slightly damp so that the breading sticks.)
Instructions
Spicy Lime Dressing
Whisk all dressing ingredients together and let set while you prepare the salad.
Noodle Salad
Boil Ramen according to the package directions, without using the flavoring packet. Drain noodles, and place in a large bowl. Cut the block of noodles into quarters, and toss noodles to separate. Let cool.
Once noodles have cooled, add remaining ingredients.
Top with dressing and mix until well coated.
Serve alone or top with crispy fish.
Crispy Fish
Preheat your oven's broiler at high.
In a small, flat-bottomed, bowl, mix together bread crumbs, paprika, garlic, red pepper, and salt.
Cut the raw fish into bite-size chunks.
A few pieces at a time, place fish in the breadcrumb mixture and coat fish with breadcrumbs.
Line a baking pan with aluminum foil, grease the foil with baking spray. Place the breaded fish pieces on the tray. Once all the fish pieces have been breaded and placed on the tray, lightly spray the top of the fish with a little more baking spray.
Place fish in the oven and broil for 5 minutes, or until fish is cooked and flakey. (Five minutes works well for the Pollock because it is a very thin fillet, about ½". If your fish fillet is thicker, you may need more time to cook the fish through.)
If you liked this recipe, here are some similar dishes you may enjoy!